Breaking Down Domino's Strategy: Simple Product, Elaborate Experience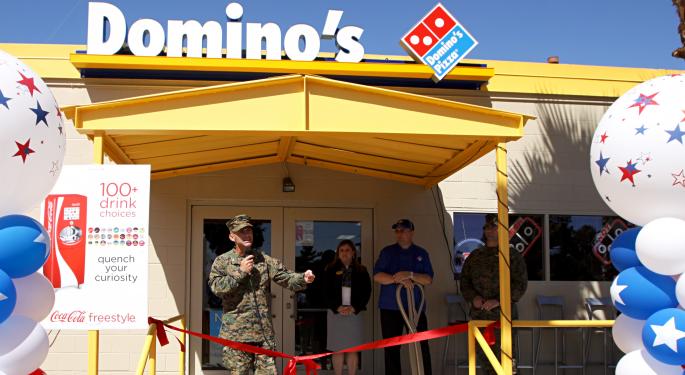 Since its awakening in 2009, when it conceded to the criticisms of dissatisfied customers and reinvented its ingredients, Domino's Pizza, Inc. (NYSE: DPZ) has had a near-complete turnaround.
Its stock is up 5,557 percent since its late-2008 nadir. It opened its 14,000th shop this year and expanded to new international markets, and it leads competitors in deliveries. Still, there's work to be done.
"We are an in-progress brand," Joe Jordan, Domino's chief marketing officer, said at Monday's media day. "We cannot be complacent."
Customer Service Innovation
Most of the progress the brand pursues is in consumer experience rather than the product, itself.
For pick-up customers, Domino's is finalizing a "pizza theater" store concept with an open or glass-walled layout to heighten client engagement in the creation process. The old "delivery factor" model is no longer conducive to the blossoming walk-in business.
Last year, it launched its wedding registry for bachelor parties and receptions, and it delivered pizza-based "life hacks" with IFTTT applets, if-then command chains triggering smart device activity by simple voice commands.
And these experiential improvements are building upon a near decades-long emphasis on technology, largely reliant on the 2013 Pizza Profile. The "backbone of all digital innovation" allows pizza-lovers to order via any platform if they first saved an order and credit card.
Cross-Industry Collaboration
The firm now completes an entire e-commerce transaction on Twitter Inc (NYSE: TWTR) and through text by the posting of a simple pizza emoji. It offers a "zero-click" app, which places a saved order within 10 seconds of simply opening the app. Facebook Inc (NASDAQ: FB) Messenger also caters to customers without pizza profiles.
The only popular platform that was omitted from the presentation was Snap Inc's (NYSE: SNAP) Snapchat, which was called an "interesting platform" by the Domino's team.
The fundamental profile accounts also paved the way for Domino's to partner with a number of corporations operating on the Internet of Things landscape.
The company's ordering technology is embedded in Amazon.com, Inc. (NASDAQ: AMZN)'s Echo, Apple Inc. (NASDAQ: AAPL)'s Watch, Samsung Electronics (OTC: SSNLF)'s Smart TV and Ford Motor Company (NYSE: F)'s SYNC.
And its strategy is non-exclusive, capitalizing on the various specialties of rival vendors. "We're not locked into any strategic partnerships," said Dennis Maloney, Domino's chief digital officer.
So for its 150 DXP vehicles, delivery cars with heated pizza compartments, Domino's teamed up with General Motors Company (NYSE: GM)'s Chevrolet, which built upon the base of its Chevy Spark. Roush Performance outfitted the car.
Wholehearted Embrace
The tech innovation isn't necessarily welcomed by everyone on the team. While the DXP vehicles are available to all franchisees, they hardly represent the most common mode of pizza transport. In most of the global markets, motorcycles and scooters carry more pizzas than cars do, and in Manhattan, nearly all orders are delivered by bike.
Still, at headquarters, the investment leans heavily into progress. And with all technology developed in-house rather than through third-party vendors, the various product platforms have called for the proliferation of IT staff.
"Technology in our space keeps changing so fast and keeps continuing to expand," Maloney said. "It's harder to maintain and keep innovating, so the question is how to do that in a sustainable way."
So far, it appears to have kept pace. Domino's prides itself on being at the vanguard of technology, as it had begun talking of voice activation at the same time Apple, Microsoft Corporation (NASDAQ: MSFT) and Amazon had.
"It kind of changed the people we were hanging out with," Maloney said.
Despite Domino's emphasis on technology and competitor Pizza Hut's debut of Pie Top Sneakers, the company is not necessarily working to develop hardware to compete in the IoT market. Through the IFTTT, customers are able to develop Domino's-connected products they personally deem valuable, which is a strategy management is content to rest on.
Meanwhile, it will continue to pursue consumer connection through existing technology. The goal is to be able to use any and all communications platforms and devices to order pizza — an "anyware" products suite.
Through this project, Domino's has seen great growth in digital sales, which now represents more than 60 percent of the total. It's subsequently become "an e-commerce company that sells pizza" instead of "pizza company that sells online," Maloney said.
Preserving Tradition
While Domino's innovates in customer service, from ordering to delivery to loyalty programs, the company's product strategy depends on consistency.
"Nothing created can disrupt operations," Jenny Fouracre-Petko, director of public relations and charitable giving at Domino's, said.
In the last few years, Domino's abandoned "limited time only" promotions and scaled back on the number of products it introduces — one per year or, at most, two. In 2016, Domino's only launched one product, its salad, and this year, on Monday, it introduced Bread Twists.
The stable menu prevents pizza-makers from having to focus on learning too many new tricks.
"What we don't do is innovate like other QTRs," Jordan said. "We're not into limited-time offers. For some companies, it might work, but for most and for us, it doesn't work. We need to keep things simple in our stores. If we're putting all this stuff in our crust and slowing down our make-line for the two people out of 100 that are going to go ahead and get that, and we're mucking up the experience for the other 98, that's not something we want to do."
A product either earns a permanent spot on the menu or none at all.
The emphasis on stability hasn't kept Domino's from experimenting, though. The company welcomes new product ideas so long as they support the overall theme.
"If it doesn't fit with pizza night, it probably doesn't fit on our menu," Jordan said.
It even gives a fair shot to some of the most ambitious inventions, few of which are successful.
"The biggest bust was our Oreo cookie pizza," Fouracre-Petko said, referencing a product from more than a decade ago. "It wasn't a bust, but it just was not around very long. It didn't really fit with our paradigm as well."
Policy Effects
The company executives expect little to interfere with the process of reinvention, remaining undaunted even by the disruptive state of American politics.
With most of its sourcing U.S. based, it sees no threat in changes to trade policy goes, and changes to public health approaches won't inspire alternative practices.
"From a food standpoint, it's all about choice, but we want to be proud of the food we serve," Jordan said. "Whatever we have in our food, we want to be able to say, 'Yes we have it, and here's why.'"
He added that, even if the federal government reverses Obama-era policies on, say, in-school health and wellness, Domino's won't change its formula by reintroducing salt or fat.
Related Links:
Fr. Emmanuel Lemelson Gives Deep Insight Into His Domino's Short
Domino's Pizza Is Lemelson Capital's Biggest Short, Debt Structure 'Resembles A Pyramid In Shape'
________
Image Credit: See page for author [Public domain], via Wikimedia Commons
Posted-In: Dennis MaloneyRestaurants Top Stories Exclusives Tech Trading Ideas Interview General Best of Benzinga
View Comments and Join the Discussion!