Benzinga Tastes the New Domino's Pizza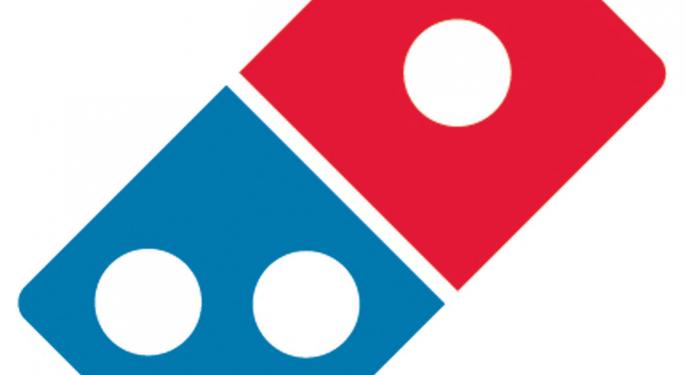 On September 24, 2012, Domino's Pizza (NYSE: DPZ) unveiled its latest Handmade Pan Pizza, claiming that they have given customers what they asked for. In the company press release, the customer requests from customers were " a crispy golden crust with a great buttery taste – and most importantly, handmade from fresh, never-frozen dough."
The pies will be debuted on Monday, October 1st when the advertising campaign begins nationally. On Thursday, several members of Benzinga's staff were lucky enough to receive an exclusive tasting of the new pizza, which left most of us pleasantly surprised.
Here are some user comments from the Benzinga staff:
"Huge fan of it man. Crispy and tasty. Love the sauce."
"Crust was great, cheese tasted less greasy than typical delivery pizza."
"I liked the texture of the bread, very soft. I also personally liked the amount of cheese on the pizza - very light, which made the slice look taste more like a healthy appetizer than usually for a pizza."
President and Chief Executive Officer Patrick Doyle was quoted in the press release saying, "The proof is in the tasting with this one," which I believe Benzinga can agree with.
The pizza arrived in the company's new black boxes, donned with the new logo and chock full of comments such as "You didn't just unveil our new pan pizza, you unveiled our new logo," a testament to the changes made with this latest version of the pan pizza. If the pizzas are made the same way as the ones we had delivered, Domino's should find success in branding with the new pie.
5,000 stores (out of 10,000 locations, the most recent having been opened just this week) have already released the new product, offering medium two topping pizzas for only $7.99, urging consumers to make their comparisons against the competition.
Since market open Thursday, shares of Domino's Pizza are up 2.23 percent to $37.12, while being up 8.98 percent year to date. Should the rest of the country take to the new pie the way Benzinga did, certainly shares will continue to be positively impacted.
Posted-In: Patrick DoyleRestaurants Reviews General Best of Benzinga
View Comments and Join the Discussion!