Unsound Financial Advice For Unknown Winner Of $447.8 Million Powerball Lottery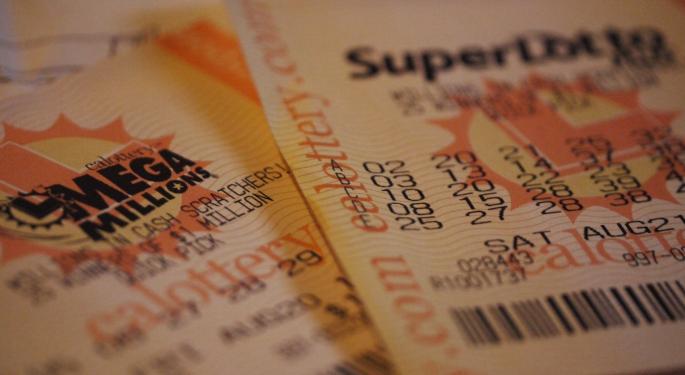 News agencies are filled with tips on how to avoid the fate of so many lottery winners: bankruptcy. Put your money in solid investments, don't live beyond your means, keep swindlers and other relatives at bay. Get a reputable financial planner.
This is not that story.
Last weekend, somebody who spent $2 on a lottery ticket at the Marietta Liquor and Deli in Sun City, California, won $447.8 million. That person has yet to come forward, and this is a handy guide on just how to blow it all in one year. You're welcome.
Food
Now that you're rich, you'll want to eat sushi twice a week. Masa Takayama's eponymous restaurant in New York City costs an average of $900 for a dinner for two. Spend the rest of your dinners doling out for French cuisine at Joël Robuchon in Las Vegas, where dinner for two averages $850.
For breakfast, you can get a $1,000 Lobster Frittata at Norma's in New York City. It's eggs with 1 pound of lobster and a pile of caviar.
For lunch, you can get a $214 grilled cheese sandwich at Serendipity 3 in New York. The bread is made with Dom Perignon champagne and edible gold flakes, white truffle butter and rare Caciocavallo Podolico cheese.
So, factoring in a 20 percent or more tip (15 percent is so gauche), you'll blow roughly $384,000 eating out half the time. Dining in the rest? A family of four spends $289 on food a week, but, for argument's sake, you're rich and probably will spend closer to $1,000.
So, your food bill will cost $436,000. Throw in booze, and make it about $500,000. Not bad.
Clothing
You're supposed to spend 5 percent of your budget on clothing. Since your budget is $447.8 million sans taxes, you get to spend $22.39 million on clothing.
You can start at Oscar de la Renta in New York City, the most expensive store in America, where people spend an average of $3,217 per trip.
Shelter
According to Realtor.com, the most expensive house on the market is Spelling Manor, priced at $200 million. The 56,500-square-foot manse was owned by the late Aaron Spelling, the mastermind behind such television fare as "Charlie's Angels."
Situated on five gorgeous acres, the place has 14 bedrooms, 27 baths, a bowling alley, nightclub, beauty salon and tanning rooms — and parking for 100 cars.
The current owner, Petra Hunt, was 22 when she bought the LA digs. It's good to be an heiress. Just ask Ivanka Trump.
Transportation
You'll need a fleet of vehicles packed with Bugattis and Ferraris and Porches. Go for one each of the 10 most expensive cars in the world. It'll cost you $48.7 million. Throw in dealer extras like floor mats, and we round up to $50 million.
And since it looks like you're dining a lot in New York and living in LA, you're going to need a jet. The Gulfstream G450 is the epitome of luxurious personal air travel. It'll cost you about $40 million and roughly another $5 million to operate for a year.
Vacation
Only the two people who actually booked flights know how much it will cost to ride along on one of Elon Musk's SpaceX rockets. But in Russia, where everything has a price and everything is for sale, NASA pays the Kremlin $70 million a seat to send astronauts to the International Space Station.
Take a date, and that's $140 million.
Bottom Line
Not counting the taxes you'll have to pay for winning a Powerball jackpot, you have just spent $457.89 million, easily wiping out your winnings and plunging you deep into debt, to boot.
To quote the New York State Lottery motto (read with cartoonish NYC accent): "Hey, you never know."
Image: Mark Ou, Flickr
Posted-In: lottery PowerballPsychology Opinion Personal Finance General Best of Benzinga
View Comments and Join the Discussion!