What Jobless Claims, Google Searches And Escort Services Can Tell Us About The Stock Market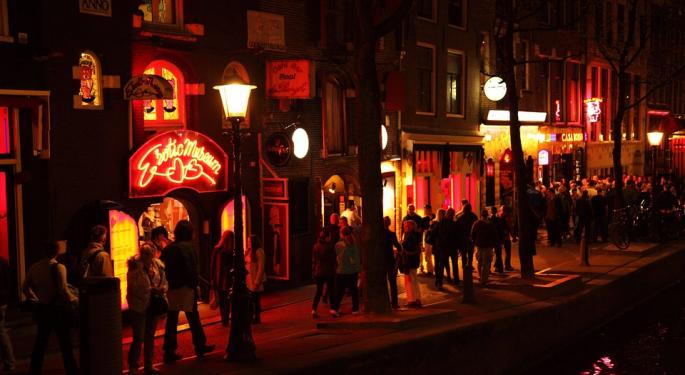 Uncertainty returned to the market yesterday as the major indices closed with their biggest loss since before November. There has been plenty of speculation that such a downturn was inevitable, including economist and editor with Moneyball Economics Andrew Zatlin.
On Tuesday's edition of Benzinga's PreMarket Prep morning show, Zatlin explained how he arrived at his conclusion without the traditional bellwethers of economic health and market stability.
"We hear consumer sentiment index...or we get those consumer confidence-type indices. Those are garbage indices," said Zatlin. "They're picking up the phone and literally talking to 400 people once a month. That's meaningless"
Why Jobless Claims Is A Reliable Indicator
Instead, Zatlin turns to jobless claims, which he explained reveal a contemporary and comprehensive picture of the health of the economy, more so than the backward looking jobs numbers released monthly by the Bureau of Labor Statistics.
Zatlin said of jobless claims, "They're comprehensive, it looks at everyone in the country who stepped up and said I don't have a job this week, and it's real time, so you get a real finger on the pulse of what businesses are doing in terms of their hiring and firing."
The key insight the jobless claims provide, according to Zatlin, is the historical correlation between that data and changes in the market.
"You take, the S&P 500 year-over-year, you take jobless claims year-over year—but you flip it—you will find a correlation of almost 90 percent. They move at the same pace in the same way. And it makes sense because the stock market is responding to the exact same signals that the jobless claims are responding to, and that's business activity," Zatlin said.
What Zatlin saw in the recent market rally was a clear divergence of about 5 percent between the number of claims and the price of the S&P. From that, he expected a correction from the market based on how the market has reacted in the past.
"Which line blinks first? When they do get out of sync and they do diverge...the one that blinks is the stock market. It always mean reverts to the jobless claims level," Said Zatlin. "It's a simple metric and it works every single time."
The Vice Index
Zatlin also expanded on his own ad hoc methods in determining consumer confidence, and it doesn't involve retail sales.
"I have been able to quantify luxury spending in a way that cuts across every socioeconomic and demographic grouping in the US We're talking [tens of] millions of transactions per month. Basically it's alcohol, it's pot smoking, it's prostitution and gambling."
One of those businesses, let's call it the escort service sector, Zatlin found was was especially opportunistic as economic optimism swelled post-election, as that industry raised its prices.
"And they raised it significantly," he said. "We're talking 10, 15 percent, and this was not a result of something like inflation."
And Zatlin said that "consumers" were not turned off by the markup. In fact, despite several headwinds—like social unrest and rising gas prices—facing consumers between the end of 2016 and the first few months of 2017, households remained undaunted in their spending.
"The latest data incorporates the things like, 'Hey, I've got less mad money in my pocket because I've got to spend more of it on electricity and gas.' Zatlin said. "At the same time there was that hopeful sentiment that something is going to happen in terms of better wages and so forth. What happened is the latter won out, people are spending money."
Good Signs from Google
Another resource Zatlin pays close attention to in gauging consumer sentiment is Alphabet Inc (NASDAQ: GOOG) (NASDAQ: GOOGL) search term history. Specifically terms that include things like "jobs," "salary," and "inflation."
What Zatlin has noticed with searches regarding these relevant terms is that Americans are mostly happy with their personal finances.
"What we've seen is over the past couple years, it goes back a decade or so, you can see this steady trend that says: look, people feel good," Zatlin said. "They feel good about their jobs, based on what they are looking at. They feel good about their household finances, based on what they are looking at."
Another upside Zatlin gathered from the Google data is that, beyond feeling secure with their budget, Americans are also eager to remain informed if events take a turn.
"The Google data was very interesting, there is a very strong awareness of things in the economy. Recently, over the past couple of months there has been a fear that the market is entering a bubble. There's a concern about things like interest rates and inflation. I like seeing that uptick in interest in those kind of concerns because it says that the US household is also not blind."
To hear the full conversation with Andrew Zatlin tune in at 35:00 mark in the track below.
PreMarket Prep is a daily trading ideas show that focuses on technical analysis and actionable short term trades. You can listen to the show live every morning from 8-9 a.m. ET here, or catch the podcast here.
Posted-In: Psychology Econ #s Economics Markets Tech Media Interview General Best of Benzinga
View Comments and Join the Discussion!