Public Gaffes By Public Figures: Gender Discrimination Still An Issue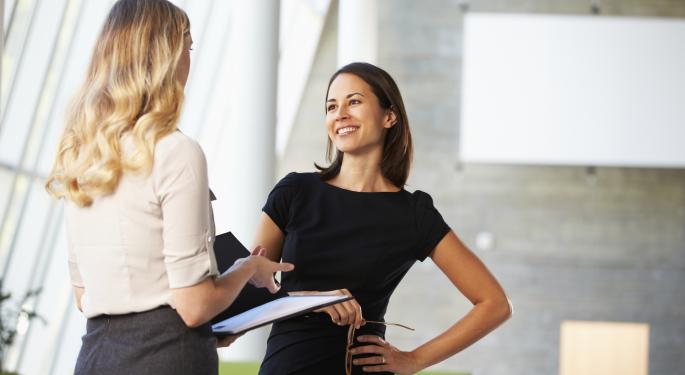 With Microsoft Corporation (NASDAQ: MSFT) CEO Satya Nadella suffering from some moderate-to-severe PR burns after a bit too much time in the spotlight, gender discrimination once more comes to the forefront of sensationalized news flubs.
While Nadella's comment about how women should not ask for raises and that Karma would even the "paying" field has received more of a backlash than similar public gaffes, it is by no means a solo event.
Nadella has since tweeted and emailed an apology attempting to retract his October 9 statement.
Related Link: 5 Companies That Are Empowering Women
Business Is Still A Man's World?
Microsoft's Nadella is not the only offender. Recall Abercrombie & Fitch CEO Michael Jeffries' male-gaze, objectifying stance toward employment and marketing: Jeffries' brand "targets its marketing at a particular segment of customers," he has stated, emphasizing the importance of sexually-infused seduction advertising techniques.
"[Sex appeal]'s almost everything. That's why we hire good-looking people in our stores. Because good-looking people attract other good-looking people, and we want to market to cool, good-looking people. We don't market to anyone other than that." –Michael Jeffries, Abercrombie & Fitch CEO
Discrimination Only Against Females? Not Likely.
The gender-biased blunders are not just males in power dissing subordinated women not in power, though. A New York Daily News article sites a discrimination case brought against Nancy Silberkleit, Archie Comics' co-CEO. "Nancy Silberkleit is accused by her male employees of gender discrimination such as referring to them as 'penis' instead of by name."
Nor do these public image fiascoes involve only hetero-sexism. Chick-Fil-A is still reeling from homophobic accusations that took news outlets by storm more than two years ago.
Female Public Figures Portray Defeat
Amid these controversies are a few disheartening public comments that highlight why discriminatory comments gain traction.
Anne-Marie Slaughter, president of the New American Foundation, notable professor at Princeton and past director of policy planning for the U.S. State Department, published a starkly honest -- 12,844 words strong -- confession in The Atlantic. "I'd been part, albeit unwittingly, of making millions of women feel that they are to blame if they cannot manage to rise up the ladder as fast as men and also have a family and an active home life (and be thin and beautiful to boot)."
Slaughter continues, "Yet the decision to step down from a position of power –- to value family over professional advancement, even for a time -– is directly at odds with the prevailing social pressures on career professionals in the United States."
PepsiCo, Inc. (NYSE: PEP) CEO Indra Nooyi offered similar sentiments, "I don't think women can have it all, I just don't think so."
"Hi, Foot. Meet Mouth."
Regardless of whether these public comments were made in error (such as Nadella's ill-thought statement) or after deliberate consideration (as Slaughter's confession clearly was), they can cause irrevocable repercussions.
How such statements are handled will also notably affect the company's image, but even if they are optimally addressed, some things are not easily retractable.
There's Still Hope.
Despite Nadella's quick tweet and email apology, Microsoft is still suffering from undesirable scrutiny. Fortunately, this is not always the case.
Case in point: after noticing that Dicks Sporting Goods Inc.'s (NYSE: DKS) 2014 basketball catalog lacked equal representation, 12-year-old McKenna Peterson wrote a letter pointing out the obvious exclusion of female players.
Dick's Sporting Goods CEO responded appropriately.
"Dear McKenna,
I wanted to respond to your letter about our basketball catalog. You pointed out our obvious mistake -– that no female basketball players were featured in our ad. I'm sorry, we clearly messed up and I can personally guarantee that next year's basketball catalog will prominently feature female athletes, as it should have this year…"
-Ed Stack, CEO Dick's Sporting Goods (full letter is available here).
Even with that appropriate response, it seems very likely that the future will bring more gender-discrimination PR fiascoes.
Posted-In: Anne-Marie Slaughter Archie Comics Chick-fil-A dick's sporting goodsPsychology Topics Top Stories General Best of Benzinga
View Comments and Join the Discussion!