Where to Invest Excess Money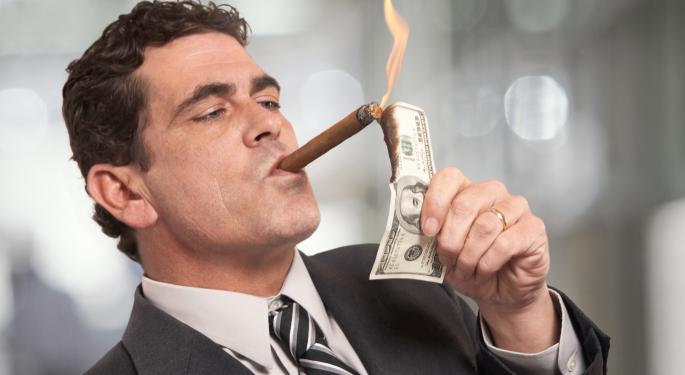 While Benzinga mostly covers actionable trading ideas and news stories, we've decided to delve a bit deeper into personal finance.
The team at Benzinga would like to assist readers with not just their investing endeavors, but their financial lives as a whole. And today, we continue this effort with where to invest excess money.
Due to varying risk tolerances and financial skills, a wide range of methods exist for managing extra money. Some stuff it under the mattress. Others "invest" in lottery tickets, which could be considered the most aggressive (and foolish) strategy known to man.
Where should you, the sane investor, invest excess money?
Determine Your Risk Tolerance
Determining your risk tolerance is crucial in any investing endeavor, whether it be for retirement or, in this case, excess cash. Take the following factors into consideration:
Age: in general, it is wise to invest more conservatively as you grow older
Goal: to "get rich," you'd invest very aggressively for high potential returns while you'd invest your child's college savings more conservatively to avoid losing it all
Investment experience: the more experience you have, the more comfortable you'll be investing aggressively
Time horizon: longer time horizons allow for more aggressive investments, as more time is available to recover potential losses
It is highly advisable to speak with a financial advisor at this point to accurately determine your risk tolerance and select the appropriate investments. That said, let's move on to a general overview of where you may want to park your excess money.
Low Risk Tolerance
Bonds and CDs offer very low yields, but the risk of default is minimal. This is specifically the case with government bonds, since Uncle Sam's theoretically unlimited tax powers virtually assure you'll get your money.
Money markets are another safe bet for conservative investors, but offer very little other than the protection of your principal.
Related: The Basics of the Bond Market
Higher Risk Tolerance
Those with a higher risk tolerance should focus more on equities.
Within this type of investment, penny stocks are among the riskiest. These are stocks that trade below $5, have a low market capitalization and are loosely regulated. Investors rarely earn substantial profits from such stocks but, if the company ultimately flourishes, huge profits can be made from the exponential increase in value.
Large-cap equities are among the least-risky equities, as you're dealing with established, high market capitalization businesses. Companies like Coca Cola (NYSE: KO), McDonald's (NYSE: MCD) and Wal-Mart (NYSE: WMT) will be around for a while, so the risk of losing a substantial portion of your principal is very negligible. Go with large-cap stocks if you're interested in stock investing but don't want to push your luck.
Mutual Funds: a Happy Middle-Ground
Mutual funds are professionally managed and consist of multiple bonds, stocks or combinations of investment types. The exposure to multiple investments mitigates risk while participating in potential market gains, making mutual funds a great vehicle for balancing risk and reward.
Posted-In: Psychology Personal Finance General Best of Benzinga
View Comments and Join the Discussion!