Market Astrology: Another Economic Downturn?
Going forward into May there are several key astrological events that could have an impact on the markets, creating more downside pressure. In Mid-March there was a very powerful grand trine that helped to propel the markets to a new high on April 2nd.
The planets Jupiter and Venus conjoin in Taurus were trine Pluto and Mars, creating a bullish move in the markets - and potentially a peak. Pluto has since moved retrograde on April 10th which could bring an unexpected turn of events into the Fall just prior to the elections.
In May Saturn will square the Federal Reserve Jupiter, and at the same time square the United States Mercury in the 8th house (of investments, pensions, taxes, international finance, and bankruptcy) and could bring more negative news regarding more unemployment and a further setback in the markets.
Venus (rules banking and finance) will move retrograde in Gemini (the sign of treaties and negotiations) and square the Federal Reserve's Lunar Nodes (opposite points on the ecliptic).
The Moon's Nodes influence money trends, the markets, and world power. The square with Venus could bring a harsh rebuke to the Fed's policies and there could be a further setback in the financial sector. These transits also suggest there will not be additional QE3 that is approved by Congress.
America may have to endure another downturn in the markets. There is a caveat to this potential setback with a very positive aspect of Neptune trine to the U.S. Venus throughout 2012 that could prevent a correction from becoming too severe. Here are some dates to watch for:
The technical signals on the market indexes continue to look bearish on April 23rd. Watch for a potential move up in the markets April 25th-30th. The first week of May we could see more downside pressure. May 3, 2012 we could see a more severe drop in the markets as well as the financials.
There is potential for a rebound up in the markets for mid-May; however, May 18, 2012 is another very crucial day for the financial sector and could bring more downside pressure.
May 26th-June 11th: We could have a very harsh correction similar to August 2011.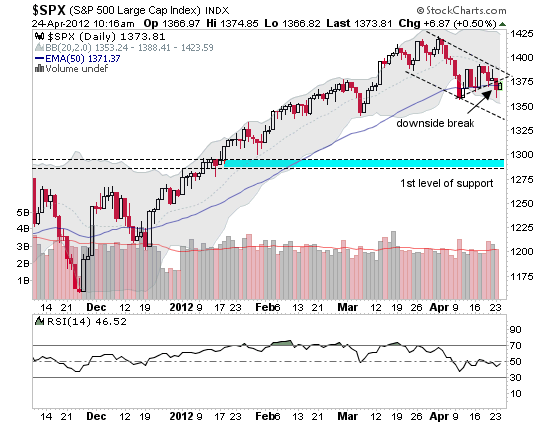 Chart courtesy of Zentrader
Editor's note: This article was contributed by Karen Starich, Astrology Traders
Posted-In: Fed market astrologyPsychology Topics Economics Markets Trading Ideas General Best of Benzinga
View Comments and Join the Discussion!