5 Things You Might Not Know About Kamala Harris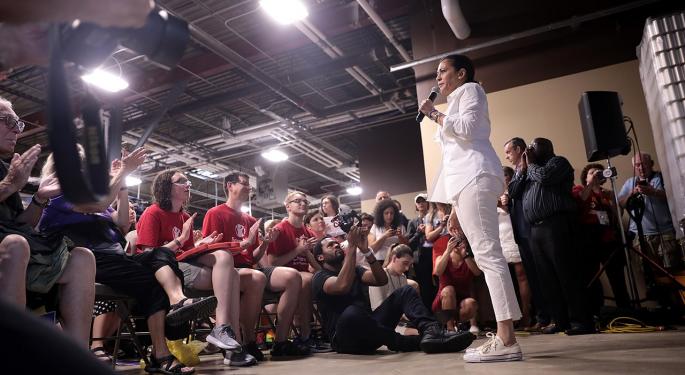 On Jan. 20, 2021, Kamala Harris made history when she became the nation's first female vice president, serving alongside President Joe Biden.
Harris served as a U.S. Senator from 2017 to 2021, representing the state of California. Prior to that, she was the attorney general for the state of California from 2011 to 2017.
Here are five fun facts you may not know about Vice President Kamala Harris.
1. Harris the Stepmother: Harris married Doug Emhoff in 2014, making her a stepmother to Emhoff's two children, Cole and Ella. The two children sometimes call Harris "Momala," a playful take on her first name. The children didn't like the term stepmom or stepmother and chose this as the term to use instead.
2. Collects Chuck Taylors: During her campaign to become the 46th President of the United States, Harris could be seen wearing some comfortable shoes. Harris is a collector of Converse Chuck Taylor shoes. The shoes, which were initially designed for basketball, are well known as a pop culture icon. Converse is a Nike Inc (NYSE: NKE) brand.
Related Link: 5 Things You Might Not Know About Joe Biden
3. Political Science Degree: Harris graduated with a degree in political science and economics from Howard University. She will be the first vice president to graduate from the historically black university. No U.S. president has attended Howard University.
4. Harris Loves to Read: The vice president loves reading. During her 2020 campaign, Harris shared her favorite books with Book Riot. Among the favorites from Harris are "Native Son" by Richard Wright, "The Kite Runner" by Khaled Hosseini, "The Joy Luck Club" by Amy Tan, "Song of Solomon" by Toni Morrison and "The Lion, the Witch and the Wardrobe" by C.S. Lewis.
5. Sorority Member: While at Howard University, Harris was a member of the Alpha Kappa Alpha sorority. This was the first Black Greek Letter Organization for women, established Jan. 15, 1908, at Howard. Harris remains close with many of her sorority sisters, called sorors, from Howard.
(Photo: Gary Skidmore/ Wiki Commons)
View Comments and Join the Discussion!
Posted-In: Howard University Joe Biden Kamala HarrisPolitics General Best of Benzinga