Now That Bill O'Reilly Is Gone, Who Is The Biggest Ratings Hog In Media?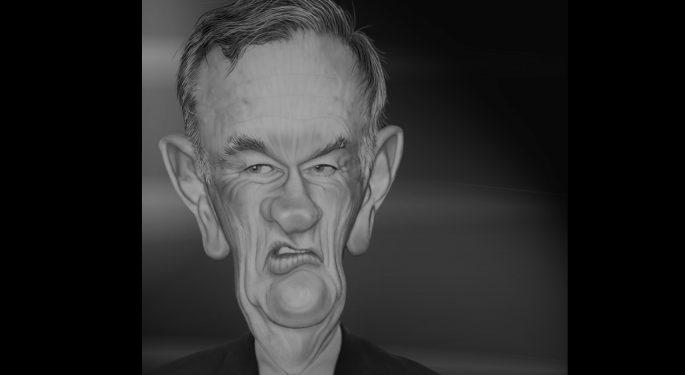 Bill O'Reilly was the undisputed king of Fox News; for years, he boasted the highest viewership numbers for a news talk show. But shareholders of Fox News' parent company, Twenty-First Century Fox Inc (NASDAQ: FOXA), are now wondering what impact O'Reilly's departure from the company means for the bottom line.
According to Statista, O'Reilly's daily show, "The O'Reilly Factor," boasted "considerable pulling power," and the removal of O'Reilly could prove to be a move that will be "deeply unpopular" with the show's massive fan base — and advertisers who pay big money to target the show's largely loyal fanbase.
Statista further suggested O'Reilly's departure could hurt ratings for its prime-time lineup by at least 25 percent. The estimate may or may not prove to be conservative; after the report was published, O'Reilly stated he will start a daily podcast on his personal website. The first show is scheduled for Monday.
By The Numbers
Here is a look at the size of O'Reilly's fanbase (average viewers per day in Q1, 2017) compared to other news-hosts at both Fox and other networks, according to Statista's data:
Bill O'Reilly's "The O'Reilly Factor" — 3.98 million.
Tucker Carlson's "Tucker Carlson Tonight" (Fox News) — 3.27 million.
Sean Hannity's "Hannity" (Fox News) — 2.87 million.
Rachel Maddow's "The Rachel Maddow Show" (MSNBC) — 2.23 million.
Lawrence O'Donnell's "Last Word With Lawrence O'Donnell" (MSNBC) — 1.83 million.
Repeat of "The O'Reilly Factor" — 1.65 million.
Chris Hayes' "All In With Chris Hayes" — 1.51 million.
Anderson Cooper's "Anderson Cooper 360" — 1.36 million.
Repeat of "Tucker Carlson Tonight" — 1.12 million.
"CNN tonight" (CNN) — 1.06 million.
Related Links:
Just How Much Money Did Bill O'Reilly's Show Make? This Analyst's Estimate Might Surprise You
Fox News Will Thrive Even Without An O'Reilly Factor, Analyst Says
_____________
Image Credit: By DonkeyHotey (Caricatures Roger Ailes and Bill O'Reilly) [CC BY 2.0 (http://creativecommons.org/licenses/by/2.0)], via Wikimedia Commons
Posted-In: Bill OReilly Fox Fox News The Oreilly FactorPolitics Top Stories Media General Best of Benzinga
View Comments and Join the Discussion!