The Company That Wants To Be The Yelp For Marijuana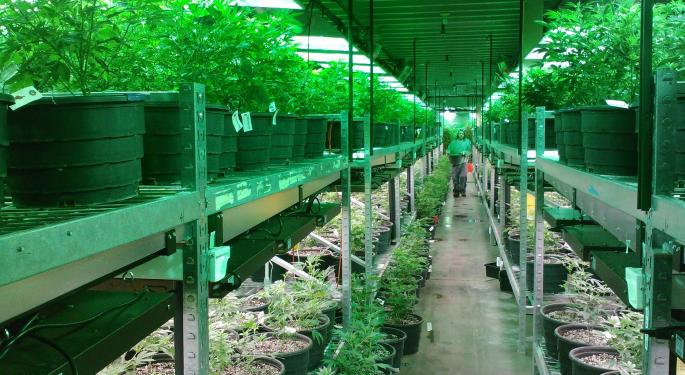 It's been a hot year for the marijuana industry. Eight states expanded legalization measures on Election Day, bringing the total number of states where marijuana is legal for either medicinal or recreational purposes to 29.
Coinciding with that is the big rally in marijuana stocks, which one industry expert categorized as "the second boom" for the sector.
MassRoots' Mass Appeal
Isaac Dietrich is trying to capitalize on the industry's recent success. His company, MassRoots Inc (OTC: MSRT), is trying to become "the Yelp Inc (NYSE: YELP) for cannabis."
"Whenever someone does anything cannabis related through their phone, we want it to be through us," he told Benzinga.
MassRoots, the company that bills itself as "the social platform for marijuana," is an app that facilitates connections between cannabis users and local dispensers. It makes money from registered dispensaries, which pay monthly listing fees depending on their preferred level of exposure.
Because the app only registers cannabis communities in permitted states, legalization of the drug in recent years has prompted expansion of the company's geographic reach. Prior to the election, MassRoots serviced all 26 states with legalized marijuana.
While the company is still in its relative infancy, Dietrich said MassRoots had 900,000 users on its platform in October. He's projecting a growth rate of 30,000 users per month.
Expansions: Advertising, Monetization
Dietrich is also looking to add mainstream advertising partners to the platform, like Uber and Fusion, to increase the company's revenue. Weedmaps and Leafly, two MassRoots competitors, are expected to generate digital advertising revenues of more than $25 million and $15 million respectively in 2016.
"We're focused on introducing new monetization channels within our mobile applications while exploring strategic partnerships to expand our platform's capabilities," he said.
Revenue
The company recently announced that it made more money in the second quarter of this year, at $480,000, than all previous quarters combined.
The CEO added that MassRoots presently has $5 million in operating revenue — the largest cash on hand in corporate history — and he predicted that MassRoots could generate annual revenue north of $1 million from medicinal operations alone.
Nevertheless, MassRoots hasn't participated in the recent marijuana stock rally. However, Dietrich predicted the company would continue to scale based on the recent election results.
"We are confident that the current political climate coupled with increasing demand in regulated cannabis markets presents a tremendous growth opportunity for MassRoots," he said.
Performance
MassRoots is up 10.71 percent since it began trading OTC on November 30.
Posted-In: Cannabis Politics Topics Top Stories Startups Small Business Tech Interview Best of Benzinga
View Comments and Join the Discussion!