Why Kevin O'Leary Thinks Trump Could Still Win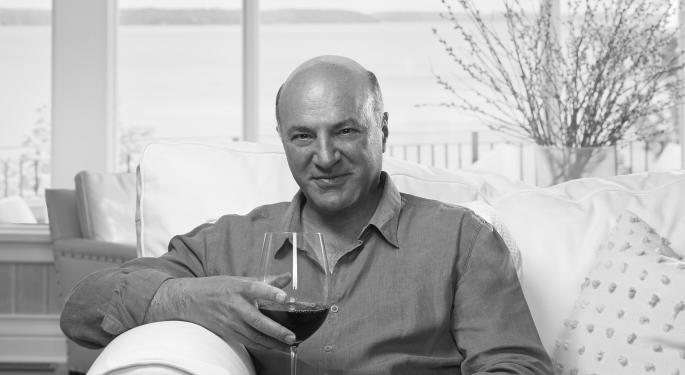 While Hillary Clinton narrowly leads Donald Trump in the RealClearPolitics polling average, an on-the-ground report from Pennsylvania paints a different picture of the presidential race.
Kevin O'Leary, "Shark Tank" investor and founder of O'Leary Wines, told Benzinga in an interview that an experience with a crowd of fellow wine aficionados in Philadelphia last week changed his perception of the race.
O'Leary's Non-Scientific, 580-Person Poll
"I went to a suburb of Philadelphia to do a wine signing for O'Leary Wines. Philadelphia is 100 percent Democratic, Dem's own that place and they're wildly ahead in the polls. There were 800 to 1,000 people there. I love to meet people one on one, and it's just the two of us, the guy who bought the wine or the woman who bought the wine and me signing it, which allows for very frank and candid conversation. So, I decided after about 100 people go by, 'Why don't I do just a poll?' I mean, I've got a sample size of about a thousand people. Why not just ask people who they're voting for? I'd say about a third of them wouldn't answer and I get that. I got 580-something responses, and Hillary only won by two votes. What does that tell you?"
What It Could Mean
RealClearPolitics polling averages have Clinton ahead of Trump by nearly 4 points in Pennsylvania. O'Leary's experience was anecdotal and confined to one area of the state, but could indicate that certain states aren't in the bag yet for either candidate.
Or, "it tells you that people that drink wine like Donald Trump," O'Leary said.
And Relating That Back To The Market
Either way, the investor has taken election volatility into account in setting up his next trades.
"These are good faring people, middle America, suburban," O'Leary said. "I thought to myself, 'Oh my goodness, I've got to get back to my trading desk and start to think about this, because at that time, everybody was saying it's a slam dunk [for Clinton], just 10 days ago."
On November 18, O'Leary will be sharing his 2017 investment outlook at the CFA Society of Detroit's Annual Forecast Luncheon. See here for more information. 
Image Credit: Provided by and used with expressed permission from Kevin O'Leary's office.
Posted-In: 2016 presidential election Donald Trump Hillary Clinton Kevin O'LearyPolitics Top Stories Interview General Best of Benzinga
View Comments and Join the Discussion!