Kevin O'Leary: 'You Can't Call This Race, And We're Gonna Have A Hell Of A Time'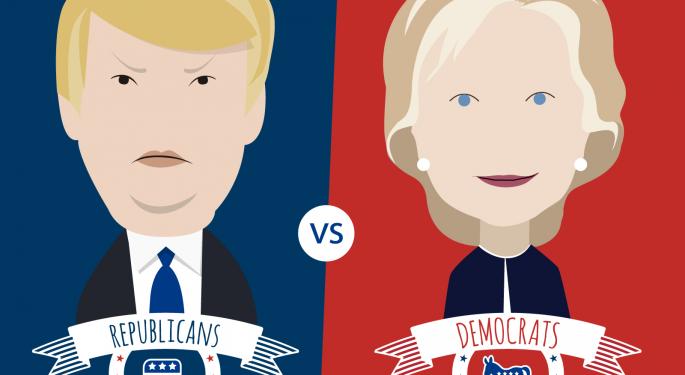 With five days until Election Day, Hillary Clinton's late-race gains over Donald Trump in the polls has narrowed significantly. Early voting numbers show what could amount to a dead heat in battleground Florida, and seemingly, anything could happen.
One famous investor, however, thinks the American public isn't getting the full picture of the race.
Kevin O'Leary, O'Shares Investments chairman and investor panelist on ABC's "Shark Tank," weighed in on the presidential election ahead of Tuesday's vote in an interview with Benzinga.
O'Leary: 'You Can't Call This Race'
"I can officially say now, you can't call this race, so we're going to really have one hell of a time," O'Leary said. "What's really interesting is that it's not that the trends are wrong in the polling, but the margin of error in this cycle is extremely high."
O'Leary said that margins in polls this cycle are around 700 to 800 basis points, compared to around half that in more traditional elections.
Complexity Of Poll Numbers
The latest CNN/ORC poll has a margin of error of 3.5 points, CBS/NYT polling has a margin of three points. The RealClearPolitics polling average has Clinton ahead 47 percent to 45.3 percent. No polls making up that average had a margin of error higher than 4.5 percent.
Despite those margins, O'Leary thinks there's something in the water in regards to polling.
Republicans In New Mexico? 'That's Insane.'
"That's evident by watching where these candidates are going," O'Leary said. "You see Republicans going into New Mexico. That's insane, unless they see something in their polling data that tells them that state is up for grabs. There is nothing that would tell me that's a good idea except they know something I don't know."
O'Leary said that the election volatility has put his investment strategy "a little more defensive going into next week."
Image Credit: By VectorOpenStock (Own work) [CC BY-SA 4.0], via Wikimedia Commons.
View Comments and Join the Discussion!
Posted-In: 2016 presidential election cnn CNN/NYT pollsPolitics Top Stories Media Interview General Best of Benzinga