Sectors and Stocks To Watch If Hillary Clinton Is Elected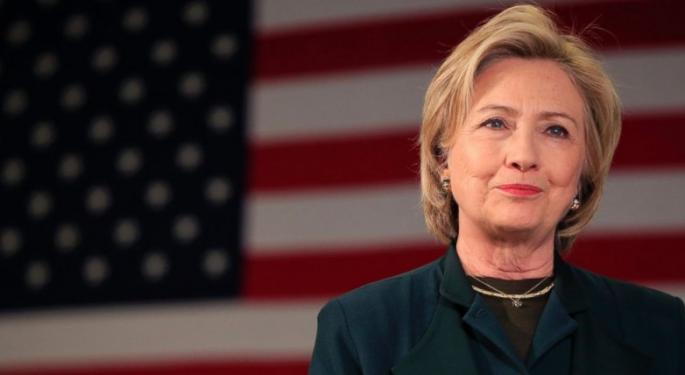 Are we in store for a Democratic presidency in November's upcoming election? The latest June 20-24 poll conducted by Reuters/Ipsos shows Dem contender Hillary Clinton with a 13.3 percent lead over GOP rival Donald Trump. Among those surveyed, 46.6 percent say they support Clinton, 33.3 percent are for Trump with the remaining 20.1 percent saying they don't want either candidate.
Regardless of which side you're on, it can help to take stock of how equity markets could react if Clinton becomes the next U.S. president. Here are some themes and names to keep your eyes on:
Aerospace and defense. The recent Orlando nightclub attack that killed 49 people and injured 53, has put the war on terror at the forefront of many Americans' minds. Under the Obama presidency, there have been seven other terrorist attacks on U.S. soil or diplomatic property.
Hillary Clinton is serious about strengthening the U.S. military and has received more donations from defense industry workers than any other candidate. Clinton has made clear she wants to further crack down on ISIS and some believe she could be more aggressive with military force than Obama based on her experience as Secretary of State. As a result, the aerospace and defense sector is likely to benefit under a Clinton presidency. Deloitte Global predicts that the aerospace and defense sector could rise 3 percent this year.
General Dynamics Corporation (NYSE: GD) is one stock to watch in this theme. It supplies U.S. military with tanks, nuclear submarines, light-armored vehicles and information technology systems. U.S. government accounts for 57 percent of the company's sales. Zachs Investment Research reports that the consensus EPS forecast for the quarter is $2.3. Last year's reported EPS for the same quarter was $2.27. At 15 times price-to-earnings (P/E) General Dynamics shares are cheaper than the broad market's 19 times.
General Dynamics has a 41.61 market cap and is predicted to announce its next earnings on August 3, 2016.

Source: Zachs Investment Research, NASDAQ
Another company to watch is Northrop Grumman Corporation (NYSE: NOC) with a P-E ratio mostly in line with the market. As a top defense contractor for the U.S. government, Northrop Grumann is one of the leading producers of unmanned aerial vehicles (UAVs), the fancy term for drones.
Last August, the Pentagon announced plans to increase the number of drone flights by 50 percent over the next four years. In addition, use of drones would no longer be restricted to the U.S. Air Force but also include flights by the Army, Special Ops and government contractors.
With Clinton in office, a push for increased military spending could mean more drone production – and military drones don't come cheap. The popular MQ-9 Reaper costs $56.5 million while the MQ-1B Predator has a $20 million price tag.
Related stocks: Boeing Co. (NYSE: BA), L3 Communications Holdings, Inc. (NYSE: LLL), Lockheed Martin Corporation (NYSE: LMT), Elbit Systems Ltd. (NASDAQ: ESLT), Leidos Holdings, Inc. (NYSE: LDOS), Raytheon Company (NYSE: RTN).
Related motif: Modern Warfare
Solar. A Clinton passion is renewable energy, something she has repeaterdly advocated in her campaign. Alternative energy sources such as solar, wind, hydropower and geothermal should get a continued boost under a Clinton White House as some predict it could account for 25 percent of gross power generation in less than two years.
The solar industry in particular is gaining traction: in 2015, U.S. solar installations surpassed natural gas for the first time and the Solar Energy Association predicts that the existing U.S. capacity for solar will double in the next two years.
Clinton has committed to solar installations using 500 million solar panels by the year 2020. That would significantly increase U.S. capacity by five to seven times. In addition, federal tax credits for solar investments were renewed until 2023 and over 25 states already offer solar power incentives to residents. More could follow suit.
It hasn't been smooth sailing across the solar sector this year, however. SunEdison Inc. went into debt restructuring talks at the end of March and shortly thereafter filed for bankruptcy at the end of April. Critics say the company tried to grow too fast in too many directions and pushed the limits of its financial structure.
SolarCity Corp (NASDAQ: SCTY) future is also up in the air. Tesla Motors Inc. (NASDAQ: TSLA) announced this month they want to acquire SolarCity for $2.5 billion. Analysts and shareholders on both sides have expressed concerns over corporate governance and cash burn if the companies merge. It remains unclear if SolarCity will approve the deal. Several members of SolarCity's board have already recused themselves from voting due to close ties with Elon Musk and Tesla.

SolarCity Corporation has a 2.18 billion market cap and is estimated to announce earnings on August 3, 2016. Source: Motif Investing, NASDAQ
Related stocks: SolarEdge Technologies Inc (NASDAQ: SEDG), JinkoSolar Holding Co, Ltd. (NYSE: JKS), First Solar, Inc. (NASDAQ: FSLR), Sunrun Inc (NASDAQ: RUN), SunPower Corporation (NASDAQ: SPWR) and JA Solar Holdings Co, Ltd. (NASDAQ: JASO).
Related motifs: Fossil Free, Cleantech Everywhere.
Hospitals and health care. Clinton is a staunch backer of the Affordable Care Act (aka Obamacare) and has said she wants to expand coverage including to the 30 states that currently do not participate.
Increased participation in Obamacare could benefit many segments of the health care industry including hospitals, medical technology companies, managed care facilities and insurance providers. Greater access to preventative care could help make universal coverage more cost-effective and affordable.
Some analysts report the health care sector has already seen improvements in the overall cost structure and rising demand for healthcare services. Other positive trends for the industry include solid balance sheets, good dividend yields and an aging population. Factors that could work against the industry may include increased government and pricing regulation.
Hospital Corporation of America (HCA) reported an increase in admissions on a same-facility basis last quarter and a corresponding 2.2 percent rise in revenue. HCA has a network of 180 hospitals in 20 states and 15 of them currently have not expanded coverage to include ACA. An expansion of Obamacare could bring in even more admissions.
Related stocks: Universal Health Services, Inc. (NYSE: UHS), Community Health Systems (NYSE: CYH), Cerner Corporation (NASDAQ: CERN), Express Scripts Holding Company (NASDAQ: ESRX), Envision Healthcare Holdings Inc (NYSE: EVHC), Meridian BioScience, Inc. (NASDAQ: VIVO).
Related motif: Obamacare.
Step up to a new world of investing with Motif. Open an account today and check out unique ideas such as our Democratic Donors or Republican Donors motifs that you can't be find anywhere else.
Investing in securities involves risks, you should be aware of prior to making an investment decision, including the possible loss of principal. An investment in individual stocks, or a collection of stocks focused on a particular theme or idea, such as a motif, may be subject to increased risk of price fluctuation over more diversified holdings due to adverse developments which can affect a particular industry or sector. Investments in ETFs can include those with a narrow or targeted investment strategy and can be subject to similar sector risks than more broadly diversified investments. Motif makes no representation regarding the suitability of a particular investment or investment strategy. You are responsible for all investment decisions you make including understanding the risks involved with your investment strategy.
Posted-In: Politics General Best of Benzinga
View Comments and Join the Discussion!