David Petraeus On Why Cybersecurity Is A 'Big, Big Challenge' For The U.S.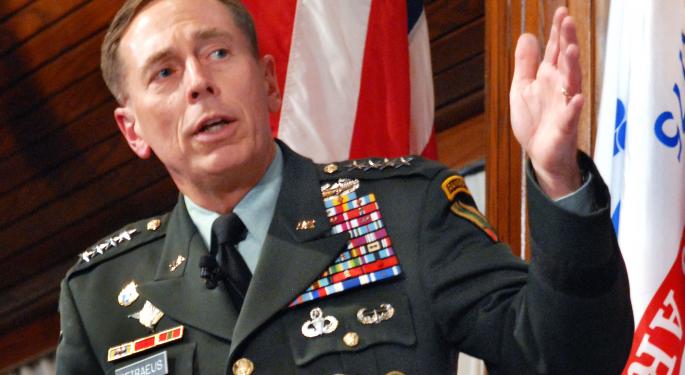 Considering the pace that hack attacks have taken place in the last few months, not only has cybersecurity become an important issue for the general public, but for the administration as well.
Retired U.S. Army General and former CIA Director David Petraeus was on this week's edition of Wall Street Week, where he discussed how devastating cyber attacks are for the U.S. and how dangerous this problem can become in the future.
Big, Big Challenge For U.S.
Petraeus thinks that hack attacks are "an enormous threat." He was asked whether it is a bigger threat than terrorism, to which he replied, "It depends on the day. In recent weeks and months, it arguably has been. When you look at the massive theft of personal data, the massive theft of intellectual property, the damage done to just to normal business by denial service attacks – look at the sheer cost of all of this to businesses in this city in particular.
" And I know there are banks that spend $500 million a year on cybersecurity now. Now, these are massive banks and they can afford it, but this is a big, big, big, big challenge for our country."
Related Link: Hacking Attack Highlights U.S. Lack Of Cybersecurity
Origination
Petraeus was also asked about where he thinks these threats originate from. He replied, "Well, it originates in a number of different places. There is no question that the biggest, the industrial strength threat, emanates from China."
Could Be Worse In The Future
On whether cyber threat would be a worse problem five years from now, Petraeus said, "I fear that it will be, because again, there are lots of others out there. The Syrian Electronic Army has done a lot of damage around the world. There are groups in Russia; certainly there are other groups in the Mid-East. And you find a situation where extremists, you know it doesn't take much in this world if you have some very, very capable, nefariously brilliant people."
Image Credit: Public Domain
View Comments and Join the Discussion!
Posted-In: China Cybersecurity David Petraeus Russia Syrian Electronic Army VetrPolitics Media Best of Benzinga