2 Charts That Show How Gridlocked The 113th Congress Was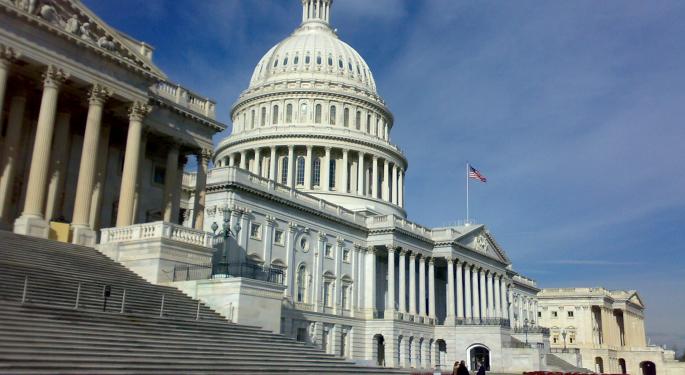 The 113th Congress narrowly avoided becoming the least productive in American history. It beat the 112th Congress, current record-holder for fewest bills passed into law, by a slim margin of 296 to 284 laws.
Not only is it near the worst of all time for law count, but the 113th Congress displayed an unprecedented amount of gridlock and lack of productivity for almost the entirety of its two-year existence. Here's the percentage of its total bills it passed every month, over the course of two years.
Note: Each number on the x-axis represents one month in the two-year cycle of each numbered Congress. Month 25 represents the last few days in January before the incoming Congress convenes.
It had passed a mere 197 bills leading up to December, and only then did its members reach enough compromise to pass 99 bills–a hefty 33 percent of the total bills they passed over the course of two years.
For perspective, here's the percentage of total laws, on average, that every Congress since the 93rd passed each month it was in session. Essentially, it's when the average Congress passes its bills into law during every two-year cycle.
The graph above illustrates a logical pattern surrounding when bills become law: bills are introduced near the beginning of a Congress's first year in session, the number of bills passed tends to increase every month and then peaks before Congress breaks for recess at the end of the year. The pattern repeats itself in year two, with legislative activity peaking in October, then tapering down until the next Congress convenes on Jan. 3.
So while extreme gridlock is proving to be the norm, at least Congress has some sense of urgency near the end of each session. Even the 113th Congress, one of the most gridlocked of all, felt some pressure to find compromise at the end.
Research More Bills and Resolutions FindTheBest
The post One More Chart Shows Just How Gridlocked The 113th Congress Was appeared first on FindTheBest: The Official Blog.
Image credit: Bjoertvedt, Wikimedia
The following article is from one of our external contributors. It does not represent the opinion of Benzinga and has not been edited.
Posted-In: Politics General Best of Benzinga
View Comments and Join the Discussion!