Americans Aren't Nearly As Angry As The GOP Over Obama's Executive Order On Immigration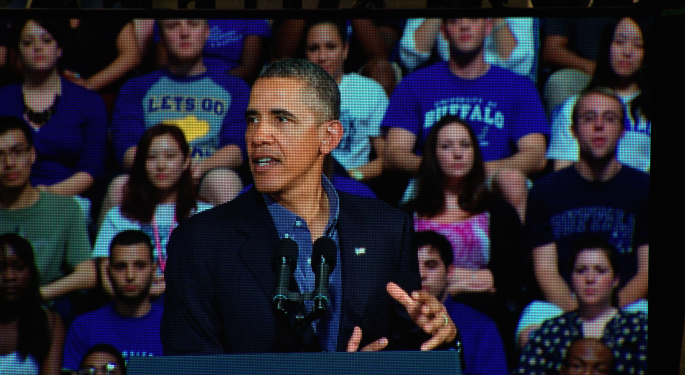 Republicans are incensed over Obama's decision to go it alone with immigration reform.
A few House Republicans even made statements earlier this year that if Obama issued an executive order on immigration, it would be grounds for impeachment. Those threats have died down since the order was announced, but GOP discussion regarding the appropriate response still abounds.
Options range from taking Obama to court (like they're already doing over the Affordable Care Act), to cutting off funds for immigration enforcement, censuring the president in a symbolic vote of disapproval, blocking his judicial nominees, and even cancelling the State of the Union Address.
Despite such rancor among Republicans in the halls of Congress, American opinion on the president hasn't swayed much in one direction or the other. According to polling company Gallup, Obama's approval rating remained surprisingly flat—even improving slightly—from the week he announced his executive order to the week after, increasing from 42 to 43 percent.
Note: Obama announced the executive order on Nov. 20
What's more, the president's approval among Hispanic voters improved by 10 percentage points, jumping from 58 to 68 percent. Nor did this increase mean there was a drop in popularity with white voters, whose approval of the president remained unchanged at 31 percent.
So while the GOP fumes and the general public shrugs, the overriding questions remains: was the president's executive order justified?
A majority of people—56 percent—disapprove of the way Obama used an executive order to achieve policy goals, but a 72 percent majority agree with the order's substance, according to a CNN/ORC poll.
Under the order, eligible immigrants will be able to apply for work permits and start paying taxes, allowing the Obama Administration to prioritize the deportation of individuals who have recently entered the country or have criminal histories.
What it does not do is grant a path to citizenship; only Congress can do that. Instead, it extends (and preserves) protection to about 5.7 of the estimated 11 million unauthorized immigrants in the country, according to White House estimates reported by Vox.com. The protection only lasts for three years at a time however, and can be overturned by future presidents.
Not only do a majority of Americans see a need for immigration reform, but the Senate passed a comprehensive, bipartisan immigration bill with a 68-32 majority last year. The bill, according to another CNN/ORC poll, had 88 percent approval among the Democratic public and 72 percent approval among the Republican public.
Had the House passed the bill (they still haven't acted on it), it would have granted millions of unauthorized immigrants a pathway to citizenship, allocated billions of dollars to border enforcement, and overhauled the current system for immigrating into the U.S. The Congressional Budget Office also predicted the bill would have boosted U.S. GDP by 3.3 percent, according to numbers cited by The Economist.
The argument against President Obama's executive order (mirrored in public sentiment) isn't so much about its content, but rather that it's unconstitutional and acts in defiance of Congress. House Speaker John Boehner (R-OH) went so far as to equate the president to acting like a "king" or "emperor," saying that "we will not stand idle as the president undermines the rule of law in our country and places lives at risk."
Junior Republican Senator Ted Cruz (R-TX) made similar remarks on Fox News saying that Republicans needed to "reign in" the president so he doesn't become "an unconstitutional monarch, imposing his own policies in defiance of the American people.
While equating the president to an emperor or monarch is perhaps extreme, is there any basis to Rep. Boehner's and Sen. Cruz's allegations?
The president counters that his actions are similar to those of many presidents before him, as he said in his Nov. 20 address to the nation: "The actions I'm taking are not only lawful, they're the kinds of actions taken by every single Republican president and every single Democratic president for the past half century."
According to fact checking organization Factcheck.org, however, "there are some fundamental differences between Obama's actions and those taken by past presidents,"
The main difference between the orders issued by Presidents Reagan and H.W. Bush—whose orders the White House has equated to Obama's order now—is that Reagan and Bush exerted their presidential authority in response to congressional action—clarifying a bill that Congress had already passed. Obama, on the other hand, responded to congressional inaction.
Both Reagan and Bush's executive orders were in response to the Immigration Reform and Control Act passed in 1986. Under the act, immigrants who had lived continuously in the United States since 1982 could apply for a permanent residency, but it was unclear what would happen to ineligible spouses and children. Reagan extended protection to the underage children of eligible parents, fixing a clear gap in the legislation Congress had already passed. President Bush further addressed the issue by extending protection to spouses as well.
In an effort to further equate the scope of Bush Sr.'s actions to the scope of Obama's, White House spokesman Josh Earnest stated, "Even somebody like President George H.W. Bush took steps to expand the Family Fairness Program to cover more than 1.5 million unauthorized spouses and children. This represented 40 percent of the undocumented population of roughly 3.5 million undocumented immigrants in the country at that time," in a Nov. 18 press conference
Factcheck.org, however, was unable to verify Earnest's claim, and found that 250,000 was a more realistic estimate of the number of immigrants affected by Bush's order.
It's hard to deny, then, that Obama's executive is fundamentally different from the actions of presidents before him. But was it illegal? Many legal scholars say no. And was the order—given wide public support for reform and unprecedented levels of Congressional gridlock and inefficiency—an overreach of power? That's for you to decide.
The post Americans Aren't Nearly as Angry as the GOP over Obama's Executive Order on Immigration appeared first on FindTheBest: The Official Blog.
Image credit: Maureen, Flickr
The preceding article is from one of our external contributors. It does not represent the opinion of Benzinga and has not been edited.
Posted-In: Obama Approval Rating Obama Executive Order On ImmigrationPolitics General Best of Benzinga
View Comments and Join the Discussion!