10 Things Jon Stewart Thinks About Media, Politics And Change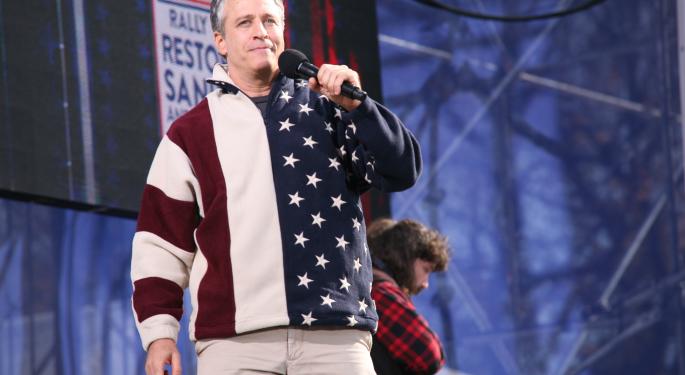 New York Magazine writer Chris Smith recently chatted with Jon Stewart about media, politics and change.
Stewart had quite a bit to say.
On Satire's Relationship With Journalism:
"I think we use it to the best of its ability but recognizing its limitations. You know, satire isn't journalism. That's not to suggest that we're not responsible for the content that we put out there. I stand behind the point of view.
"That being said, the tools we use are exaggeration, hyperbole, puns, imitation, ridicule. Sometimes they can cut through things in an easier way but generally in a more superficial way. It distills something to a more visceral element that does not generally present a grander picture."
On News Versus Comedy:
"Well, I don't see them as two poles. But I do think that the general sense of our show as somehow being more authentic or having integrity is based almost purely on a dissatisfaction with traditional journalism. We are, in some ways, the cheap protest vote. I remember people said I was voted the fourth most trusted. But my name being in there was a fuck-you to everybody else.
"A dildo rolled in glitter would serve the same purpose as my name in that conversation. I still think there is room for the type of network that would be purely based on the functioning of government as opposed to the drama and the daily dalliances and story lines.
"Rooting out corruption could be a 24-hour, seven-day-a-week business. I think that could be interesting. It does not exist. That's why we make fun of CNN, because they are an opportunity squandered. You just think, boy, what you could do with all those wonderful toys."
On BuzzFeed And Vice News:
"I scroll around, but when I look at the internet, I feel the same as when I'm walking through Coney Island. It's like carnival barkers, and they all sit out there and go, "Come on in here and see a three-legged man!" So you walk in and it's a guy with a crutch."
On Comedy's Impact On Egypt:
"Egypt is a place where comedy can actually make real change, because satire is not part of the conversation. Bassem is presenting ideas that are anti-authoritarian in a way that people have never heard. His really was an important voice in their revolution."
On Flirting With Possibility Of Hosting 'Meet the Press':
"First of all, NBC didn't offer anything. They were exploring it in the way of, 'Maybe it's time to do something ridiculous.' There was definitely a meeting. I spent most of it telling them what a crazy idea I thought it was and kind of going through all of the different reasons why I did not think it was appropriate either for me or for them. That venue feels like an Establishment vehicle. They run on access.
"There's a certain symbiosis with politicians. I am a part of an Establishment but in a slightly different element. We'll do certain bits that would be disqualifying in terms of that person ever talking to us again, and I'll say to other people on the staff, 'You know, what's nice about this show is that when I leave, I'll leave with no friends but you people.' I think I would be too reactionary to execute something like Meet the Press properly. I mean reactionary in the sense of, "What's wrong with you!" Nobody wants to be yelled at."
Related: Meet The Man Fighting Google
On "Fake News":
"I don't know that what we're doing is fake. It's jokes about the news. Look, as long as there are ten shows about finding people who know how to sing, I think we're pretty safe. There will never be a saturation point of good comedy."
On Stephen Colbert's Move To CBS:
"Being on Viacom (NASDAQ: VIAB) cable networks is really not that different a universe than CBS (NYSE: CBS) late night anymore. Your address matters much less now in the democratized world of Hulu or YouTube. No matter how it's done, he will be as subversive in different ways."
On Stephen Colbert's Character:
"Stephen's talent is very apparent to everybody, but if you'd been to his 50th-birthday party and you saw the love bomb he was surrounded in — I said to my wife, "I will guarantee you this party spawns a thousand arguments on the drive home." Everybody got in the car that night with their spouse and it was, "Why don't you love me like people love Stephen?!" Or, "Why can't you be a kindhearted and good individual like Stephen Colbert!?" It was one of those magical nights, filled with the warmth and affection of friends and family. I just think viewers are really going to enjoy getting to know Stephen."
On John Oliver's New Show:
"See, I don't view the jokes as secondary. They're doing a longer-form version of a similar process. I think what John's been able to do really effectively is utilize those same tools but in this more considered form, and that's really exciting to watch."
On Media's Contributions To The Political Divide:
"It's possible. We're part of the media landscape, and the media landscape has become more striated. But there's a difference between four half-hours a week and 24 hours a day, seven days a week, hammering away, like Fox News. They've tapped into a real feeling of persecution in a horrible, amazing way."
Jason Papallo had no position with the mentioned entities while writing this article. Visit Jason on Twitter at @JasonPapallo.
Image credit: Cliff, Flickr
Posted-In: Hulu John Oliver Jon Stewart Maziar Bahari RosewaterPolitics Media General Best of Benzinga
View Comments and Join the Discussion!