Lockheed Martin Corporation Vs. The Boeing Company: Which Will Canada Choose?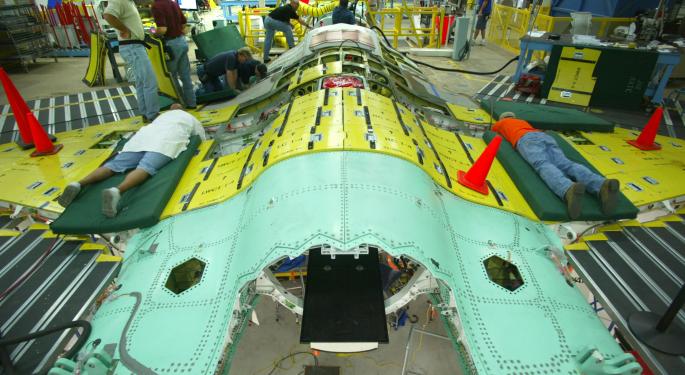 The Canadian government has a big decision to make: What should it choose for its next military aircraft purchase?
The contenders are the Lockheed Martin Corporation (NYSE: LMT) F-35 Lightning II and the F-18 Super Hornet from The Boeing Company (NYSE: BA). Reports indicate that jet fighters manufactured by European companies, such as BAE Systems PLC (NYSE: BAE), are not in the running.
Which aircraft has the inside track, and will investors benefit?
Joint Strike
The F-35, also known as the Joint Strike Fighter, is a state-of-the-art, fifth generation military aircraft and is loaded with the latest technology in electronics, software, sensors, engines and airframe. A typical F-35 will average about $85 million for those ordered in 2018 and delivered in 2020.
The F-35 was originally picked for an $8.3 billion order by the country's Conservative government back in 2012 but was subsequently cancelled.
According to some reports, the F-35 has the inside track for the revised procurement deal. This could benefit shareholders of Lockheed Martin, which depends on the Lightning II for much of its success. The company derives a third of its revenue and earnings from its Aeronautics segment, which oversees construction of the F-35.
Meanwhile, engine maker Pratt & Whitney, a division of industrial giant United Technologies Corporation (NYSE: UTX), which the provides F135 powerplant used on the aircraft, also stands to profit from sales of the F-35 to Canada.
Boeing Won't Be Stung
On the other hand, defense is not as important at Boeing. About 64 percent of revenue and 92 percent of operating earnings come from the Chicago-based company's commercial aircraft segment. Investors likely won't notice much of an impact from the decision in Ottawa, regardless of which way it goes.
Boeing is predicting a market worth more than $5 trillion in commercial aircraft orders over the next two decades. The company will probably direct most of its efforts toward ensuring the 787, 737 Max and 777X programs are successful.
Last Thoughts
A big decision, whether to buy the F-35 or the F-18, is due in Canada. Whatever the government decides could affect fortunes at three American companies.
European companies like BAE Systems will likely lose out altogether. The order probably is more important for investors of Lockheed Martin, and to a lesser extent, United Technologies.
Shareholders of Boeing likely won't be impacted all that much. They will be watching the skies for success in the commercial aircraft business instead.
Disclosure: At the time of this writing, Mark Morelli had no position in the equities mentioned in this report.
Posted-In: Canada defense stocks fighter jetsPolitics Top Stories General Best of Benzinga
View Comments and Join the Discussion!