Marijuana Weekly Roundup: The New York Times Is Ready For A Change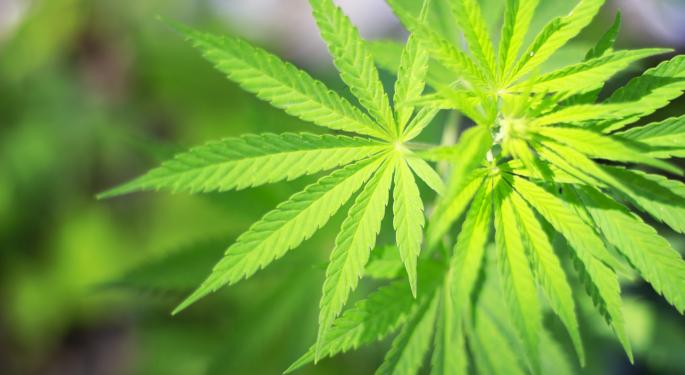 The New York Times Calls for Marijuana Reform
Starting last week, The New York Times released a series of articles calling for marijuana policy reform, making it the first major media outlet to outspokenly promote legalization.
The six-part series highlights the paper's position on the issue, focusing on states' rights, criminal justice, health and more. 420 Investor Alan Brochstein discussed this inspiring series on the Benzinga PreMarket Prep show -- listen here.
Marijuana Advertisement Published In Major Newspaper
For the first time ever, a marijuana company posted a full-page advertisement in a major newspaper.
Online marijuana information source Leafly, which is owned by Privateer Holdings, ran a full page ad in Saturday's New York Times, congratulating New York residents on the passing of the Compassionate Care Act, which legalized marijuana for medical use.
Related Link: Denver Airport Rental Car Companies Scour Vehicles For Marijuana Left By Tourists
Leafly has been called the Yelp of the marijuana industry, providing users with information about marijuana, helping to match suffering patients with the proper strain for their disorders. Their new slogan, "Just Say Know," encourages cannabis users to familiarize themselves with the marijuana they use to treat their medical issues.
Tech Startup Conference: Marijuana Edition
This fall, some of the nation's top web-developers will flood into Denver for the Marijuana Tech Startup Weekend to code the future of marijuana technology.
Tech magazine Wired published a three-part series about how Silicon Valley entrepreneurs are rushing to "cash in on cannabis," highlighting how budding technologies will help revolutionize the way canna-businesses operate. The conference will connect marijuana industry leaders with coders (and capital) from Silicon Valley.
One Seattle Police Officer Writes 80 Percent Of All Marijuana-Related Tickets
Since recreational marijuana use was legalized in Washington this January, the Seattle police department has given out 82 tickets regarding marijuana. It is legal to possess and consume marijuana, but it is illegal to use marijuana in public places, and if caught, the user might be ticketed.
Out of the 82 tickets issued in Seattle since January, one police officer has written 80 percent of all citations. Though the name of the police officer has not been officially released by Seattle PD, the Seattle Times published an article stating that the officer is most likely long-time bicycle officer Randy Jokela.
Bankrupt City In California Is Looking To Capitalize On Cannabis
This July, San Bernardino, California, celebrated the second anniversary of filing for bankruptcy, and activists are now hoping that marijuana tax revenue can give the city the boost it needs to get back on track. The city was concerned about where it would find the funds to crack down on illegal medical marijuana dealers popping up across the city, so activists promoted a regulation process that would put the "drug money" into the city's hands.
City Council Member James Mulvihill told FoxNews.com that "Prohibiting them [medical marijuana businesses] is obviously not working. It's almost easier to regulate it than prohibit it."
Mulvihill supports a plan that would allow for fewer than a half dozen dispensaries, and he believes the city would be able to charge more than $60,000 in fees to the businesses, as well as a 10 percent tax on the product sold. San Bernardino is one of the more than 200 California municipalities that has an outright ban on marijuana dispensaries.
Posted-In: Compassionate Care Act marijuana marijuana legalization Marijuana Tech Startup Weekend New York TimesPolitics Topics General Best of Benzinga
View Comments and Join the Discussion!