Overstock, Free Processing And Oppressive Regulations Highlight Bitcoin's Week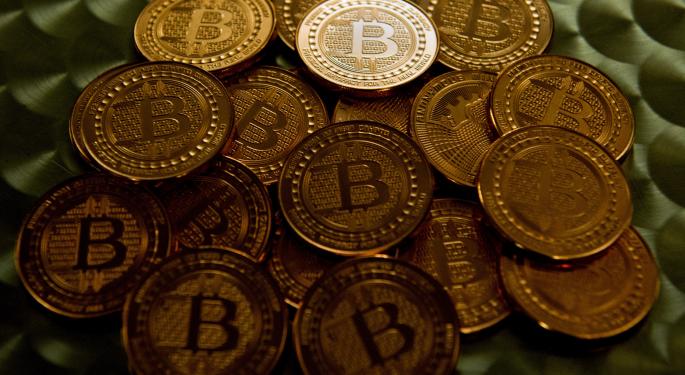 This week's bitcoin news included Overstock's (NASDAQ: OSTK) continued innovation, free processing from BitPay and one U.S. representative encouraging regulatory engagement from the bitcoin community.
Overstock Wants To Issue Stock Via Bitcoin Technologies
Overstock CEO Patrick Byrne said the company is exploring the issuing of stock on bitcoin technologies. This would make it the first publicly traded company to do so. Byrne wants the new securities to be as close to common stock as possible: having voting rights, receiving proxy statements and complying with government laws.
Mashable reported that Overstock also wants to offer employee bonuses in bitcoin. Overstock said employees opting to receive bitcoins instead of cash will receive slightly larger bonuses. Overstock had previously stated paying employees, suppliers and vendors in bitcoin would bring additional savings to their supply chain.
Related Link: Where Is Bitcoin Growing Faster Than The Internet?
Wikipedia Takes Bitcoin Donations
Wikipedia, the sixth-most visited site on the Internet, now accepts bitcoin donations through Coinbase. As part of the announcement, Coinbase said it will waive conversion fees for non-profits. Key to their decision were making donating simple and inclusive, as well as following IRS guidelines.
BitPay Offers Free Plan
BitPay announced it will have an unlimited free level of service. Merchants can use BitPay's programming interfaces, apps and plugins, and get support for free. BitPay has business plans and enterprise plans with increased functionality such as Quickbooks integration. BitPay wants to have one million merchants by the end of 2016.
Japan Investigating Mt. Gox Coins
Coindesk reported the Tokyo police have begun investigating the Mt. Gox collapse. Police believe 27,000 bitcoins were stolen from the exchange.
Stripe Funds Bitcoin-like Currency
Fortune reported that Stripe invested $3 million into a new payment network. The network was created by Stripe CEO Parick Collison and Jed McCaleb, who helped build Ripple. The pair created a non-profit, the Stellar Development Foundation, to create and own the payment network, called Stellar. The Stellar network is designed to let users send currencies like dollars and euros around the world interchangeably.
U.S. Representative: NYDFS Proposal Oppressive
Texas Representative Steve Stockman said the New York Department of Financial Services BitLicense is oppressive for small businesses. He said the regulations don't help bitcoin companies, but instead are banker-friendly and growth harming.
Stockman continued by saying the regulations are "a banker's dream come true. It's basically putting a hedge around the banks, protecting the banks."
He urges the bitcoin community to gain consensus on sensible regulations and educate lawmakers on their position.
Disclosure: At the time of this writing, David Smith has a long bitcoin position and owns So What's Bitcoin?
View Comments and Join the Discussion!
Posted-In: Bitcoin bitcoin weekly recap BitPay OverstockPolitics Topics Tech General Best of Benzinga