Belle Isle Lease A Welcome Takeover To Cash-Strapped Detroit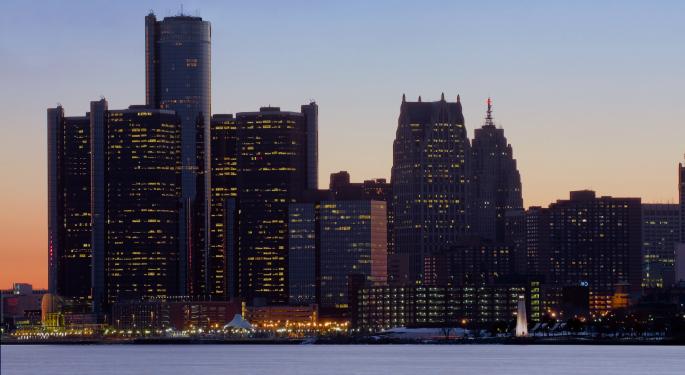 The talk may finally start coming to an end -- Belle Isle, the largest island park in the country, has been signed over to the state of Michigan.
On January 1, one of Detroit's former crown jewels will be leased to the state over the next 30 years, with plans to apply for grants investing $10 million to $20 million in the park's infrastructure.
Despite a January City Council vote against placing a leasing proposal on a future agenda, Gov. Rick Snyder and Emergency manager Kevyn Orr have brought the plan forward.
"As a resident that uses Belle Isle daily, I can't wait to see the island reach it's true potential," Nicholas Mukhtar said. "I think most residents are excited to take advantage of the improved facilities on the island."
Raised in Shelby Township, Mukhtar has lived in Detroit's Midtown district for the past five years. Over the last two years, he has spent much of his time developing and founding the non-profit corporation, Healthy Detroit. Their mission: To improve the health and quality of life for individuals, families, and communities in Detroit by focusing on prevention and wellness.
"The $20 million dollars in upgrades the state has promised will help give residents access to very important resources that are necessary for active, healthy living," he said.
Restoring the Crown Jewel
At the turn of the new year, state residents will be required to have Michigan's Recreation Passport on their vehicles, which costs $11 per year. Those entering the 985-acre park by foot and bike can do so free of charge. Along with potential income from new park passes, the deal will help save the city between $4 million and $6 million annually.
Despite the expected improvement to the decaying park, many residents and Detroit City Council members are still not in favor. Councilwoman JoAnn Watson said the state takeover "sounds like rape to me. It should never be touched. It's a disgrace before God to have this outrageous ceasing of an asset." The trivialization of such an act does not sit well with some.
"Watson is representative of everything that has been wrong in Detroit the last 40 years," MLive's Lansing city reporter Jay Scott Smith said via email. "Those of her ilk are why the city ended up in this spot."
Smith, born and raised in Detroit, goes on to say that this is something that should have happened two decades ago.
"To hear a city that routinely elects and re-elects incompetent and corrupt people and others simply refuse to vote in elections, yet complain about their voting rights and "Democracy" being stolen from them is laughable," Smith said. He and Mukhtar both agree that the revitalization of Belle Isle is crucial to the city, no matter how it gets done.
The Belle Isle Safari Zoo, which once housed over 150 animals, closed in 2002. The Belle Isle Aquarium, at the time the oldest continually operating aquarium in North American, closed in 2005. The park's Conservatory stills houses a greenhouse and botanical gardens, while the aquarium only recently reopened as a shell of its former self.
"Detroit's current financial condition prohibits the city from investing in the much-needed restoration of Belle Isle," Mayor Dave Bing said in a statement.
Building Toward the Future
The leasing announcement comes off the heels of another big advancement for the city. Google (NASDAQ: GOOG) For Entrepreneurs announced that they are making the new Grand Circus Detroit LLC one of its seven-city networking routes that connects other entrepreneurs around North America.
"Our team has been incredibly impressed with the great work these hubs have done in their cities and are excited to partner with them to do even more," said John Lyman, head of partnerships for Google for Entrepreneurs.
The recent attention technology hubs have been gaining only adds to the makeover of the city. Despite a majority of Detroit's smaller and derelict neighborhoods being overlooked in favor its downtown areas, the revitalization has to start where the attention can be seen.
"Belle Isle should be to Detroit what Grant Park is in Chicago or Central Park to New York City," Smith said. "Nothing bad can come from the upkeep being outsourced to the state rather than having an already broke city that is spread incredibly thin on everything (not) try to maintain it. It's lunacy that it even took this long."
A Better Community
In addition to cleaning up and restoring Belle Isle's facilities, the deal could also take up to 22 Detroit police officers off the island and into the city. The Department of Natural Resources law enforcement and Michigan State Police would take over security measures. For a city that again came in as one of the most violent in America, more officers on the street can't hurt.
There have been outcries from city residents on Facebook (NASDAQ: FB), local news broadcasts and other platforms who have voiced displeasure with Snyder's takeover and Orr's management.
Healthy Detroit is looking to restore many smaller public parks around the city's blighted neighborhoods: Belle Isle is a much bigger dog in this fight. Mukhtar feels where residents are coming from, but understands what must be done.
"Unfortunately, it's both necessary and inevitable. There's no better plan on the table to get us out of debt and restore basic city services to the residents. We just have to do what we have to do to move forward, and I think many residents share that sentiment."
View Comments and Join the Discussion!
Posted-In: Dave Bing Detroit Downtown Google For Entrepreneurs Healthy DetroitPolitics Topics General Best of Benzinga