Tesla Faces Vehicle Sales Pushback from North Carolina Lawmakers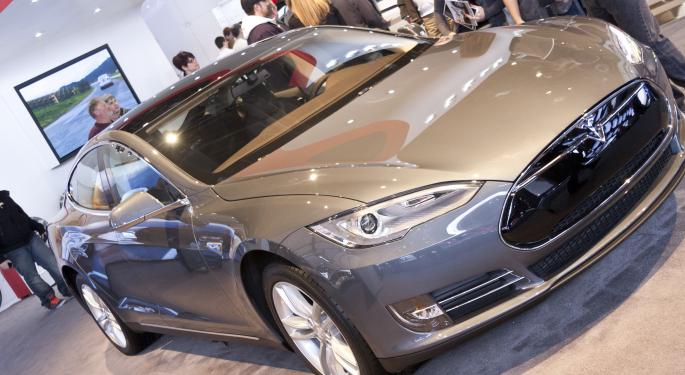 On Monday, Senate passed a bill allowing North Carolina to ban the direct sales of Tesla (NYSE: TSLA) vehicles to consumers.
Specifically, the bill would make it illegal for any automaker to bypass dealerships and sell directly in the state. The bill is sponsored by the North Carolina Automobile Dealers Association (NCADA), a trade group representing the state's franchised dealerships.
If this bill passes, which it still needs to pass the full House to do so, Tesla would be blocked from selling cars in the state of North Carolina. This is due to Tesla's unique business model.
Tesla's business model is unique in that it sidesteps selling their vehicles through licensed dealerships and instead sells directly to consumers through its company owned stores and service centers. This is similar to what Dell (NASDAQ: DELL) did with its products from 1985-1993. Dell explicitly excluded third-party retailers such as Best Buy (NYSE: BBY) and Wal-Mart (NYSE: WMT) and took it upon themselves to sell directly to consumers.
Tesla has several reasons for pursuing this unique model, outlined by CEO Elon Musk in a public letter. Mainly, Musk states that existing dealerships would have a fundamental conflict of interest between selling traditional gasoline cars, which are the majority of their business, and promoting the advantages of a purely electric car.
While being much more risky and costly than the traditional franchise model, selling cars through their own stores would allow Tesla to properly promote and educate the public on their vehicles.
The letter also explains why Musk believes that Tesla's unique business model shouldn't be attacked for being unfair. The alleged unfairness of Tesla's model, however, is primarily the reason the North Carolina Automobile Dealers Association has decided to take legal action against Tesla.
Robert Glaser, President of the NCADA, stated in a CNBC video on Wednesday with Tesla's vice president, Diarmuid O'Connell, that the traditional "franchise retail system has been in place for 100 years, it works to protect consumers, it works to protect the customers, it works to protect our employees and our families… We just believe that Tesla, or any manufacturer, should play by the same set of rules that everyone else plays by."
Glaser feels that the fundamental pillars of the franchise retail system are being threatened by Tesla's business model and that Tesla is not playing by the same rules as everyone else and that is why the bill was filed.
O'Connell responded to Glaser's claims by saying that the NCADA are changing the rules of the game and preventing consumers from buying any car they want from the, "privacy of their own home."
Both sides offer valid arguments for why the other's actions are "unfair".
Benzinga spoke to an analyst who asked not to be identified to get their take on the matter. They agreed with Tesla and their pursuit of their unique dealership free business model. As selling their vehicles through franchised dealers would present a conflict of interest for the dealerships, the analyst agreed that dealers' ability and desire to promote the benefits of Tesla's purely electric cars would be hindered in fear of sabotaging their own sales of gasoline cars.
Nevertheless, Tesla intends to continue to pursue its unique model. Musk doesn't seem too concerned either, stating in his letter, written prior to the CNBC interview, that, "They [prosecutors] will have considerable difficulty explaining to the court why Tesla opening a store…is somehow contrary to the best interest of fair commerce or the public."
Tesla announced Friday that they will be offering 3,393,793 shares at a price of $92.24 per share. That's up from their previous offering earlier this week of 2.7 million shares.
Tesla opened Friday at $92.50
Posted-In: Apple DELL Diarmuid O'Connell Elon MuskPolitics Topics Legal Management Best of Benzinga
View Comments and Join the Discussion!