What's Going On? Market Q&A With TDA's Chief Market Strategist JJ Kinahan
After the recent bout of volatility and several major indices dipped into correction territory, investors might be getting a little fearful that this bull market can't keep going forever. As always, panic and fear don't mix well with a sound approach to investing and trading.
But that doesn't mean you should just sit back and not keep an eye on your investments and what's going on in the markets. So, we reached out to JJ Kinahan, chief market strategist at TD Ameritrade, to ask him some of the questions that have been top of mind for many investors given the recent market moves.
Question: A lot of investors are wondering "what's going on and what happened over the past few weeks?"
JJ: It's been well over a year since there have been more than brief, small bouts of volatility and we're finally seeing some larger price swings in the short-term. Over the course of 2017, it seemed like there really wasn't anything that could derail the stock rally.
After 2018 got off to a strong start, there were some other influences that might've caused investors to rethink their positions and what they wanted to pay for stocks. Among those fears were higher interest rates and the potential for higher inflation.
One thing people were pointing to as kind of the match that lit the fuse with the recent correction (although there were a number of factors) was a strong jobs report and a rise in Treasury yields on Friday, Feb. 2. Unemployment remained at 4.1% and average hourly earnings were up 2.9% year-over-year. If wages rise, the thinking is eventually prices could follow, and that might put pressure on the Fed to hike rates more aggressively.
After that report came out, 10-year U.S. Treasury bond yields had popped up to as high as 2.85%, a nearly four-year peak, by late Friday. The 30-year yield pierced 3%. Two days prior to all that, the U.S. Treasury said that the size of its auctions of bills, notes and bonds was going to increase in upcoming months, which is another factor that has the potential to push interest rates higher. In addition, the Fed has started to unwind its balance sheet and end an era of "cheap money".
Another factor that people were pointing to as a cause was a collapse in some leveraged volatility products after a large spike in the VIX (the CBOE Volatility Index, or VIX, is a measure of market expectations of near-term volatility based on S&P 500 index option prices.) On top of all that, there was a lot going on over the past few weeks. Politics were in focus with budget deadlines, the debt ceiling, and ongoing trade agreement negotiations, and there was a lot of economic data being released.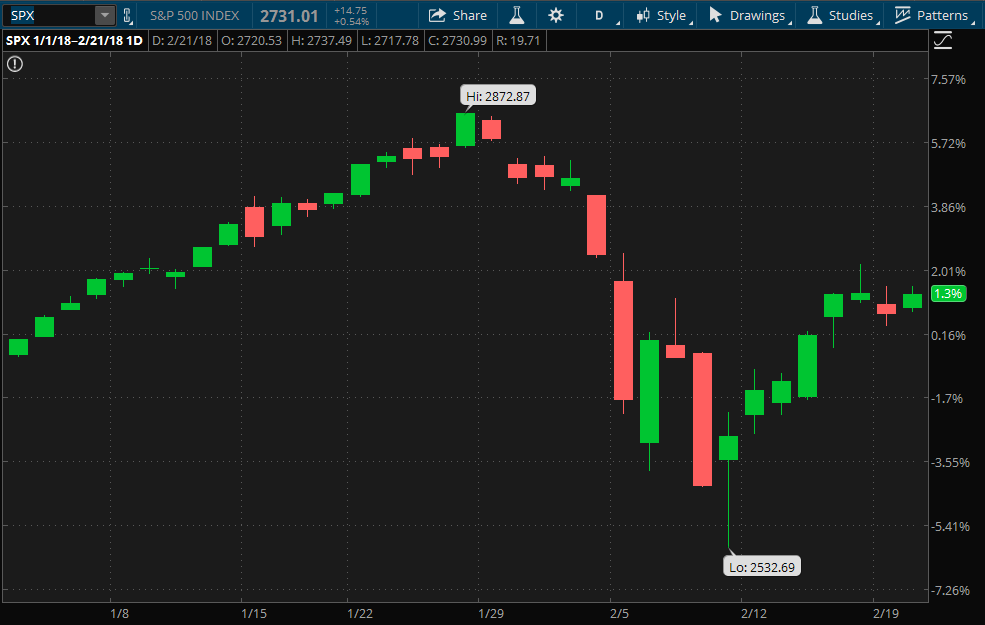 S&P 500 SINCE START OF 2018. Taking a step back and keeping perspective can help you stay calm during major market swings. The S&P 500 (SPX) did selloff quickly, but with the recent rebound, the SPX is now up slightly on the year. Chart was pulled on 2/21/2018. Chart source: thinkorswim® from TD Ameritrade. Not a recommendation. For illustrative purposes only. Past performance does not guarantee future results.
Question: Was there anything fundamental, from an economic or company perspective, that might have caused this? Was there anything unusual that you noticed?
JJ: It's important to remember there are many different factors impacting markets and there really isn't one thing you can point to and say with any kind of certainty that it was the cause.
There's a natural flow to markets. Many people were waiting for a 5% to 10% correction just due to the fact that there weren't any selloffs in 2017. They just didn't think it was going to happen as quickly as it did, which was an unusual aspect of this correction.
Investors have been a little more fearful of the possibility of higher inflation and interest rates. Inflation has remained low despite solid economic growth in the U.S. and that interest rates have also remained close to historic lows through the Fed's and other central banks' monetary policies.
But other than that, economic growth in the U.S., and in major economies like China and Germany, has remained solid. And most analysts don't see a risk of recession in the near future, which is typically a factor in longer downturns in stock markets, although the economic expansion has been running for quite a while now.
Company reports also looked pretty good so far during this quarter's earnings season. 80% of companies in the S&P 500 (SPX) had reported as of February 16, and 75% of them had reported earnings above estimates, according to FactSet.
Question: What are some takeaways and things that investors should keep in mind during heightened volatility and market corrections? What can they do about it?
JJ: First and foremost, don't panic. This is also why it's typically a good idea to think in partials by scaling in and out of investments, and look at drops as a potential opportunity, although this does add to transaction costs.
It is really important to remember why you're investing and what your goals are. Also, knowing your time horizon and risk tolerance is key too. Over the long-run, stocks have gone up, but nobody can say with any kind of certainty what's going to happen in the future.
Times like these are a good reminder to check in on your investments on a monthly basis, or at least once a quarter, to make sure they are aligned with your goals.
Instead of worrying about all the noise and headlines, focus on what you can control. You can control your risk exposure, your time horizon, when and what you're buying and selling depending on risk levels of stocks, rebalancing your portfolio, stuff like that. You can't control wage growth, inflation and other things that are still going to impact your investments.
Market corrections are natural, and they're going to happen. What we don't know is when, how severe they might be, and how long they're going to last. Expecting the unexpected can be a good frame of mind for investors and traders to have.
Question: We talk a lot about having an investing plan, but could you elaborate a little bit on that for people who aren't familiar with what that is?
JJ: It's really a series of steps that you have developed to follow that can potentially help minimize the impact of emotions and help you stay on track to pursuing your financial goals.
If you're younger and just getting started, maybe your plan is something as simple as just contributing enough to your 401(k) to get the company match. With a company match, it could be one of the best returns you're going to be able to get.
Everybody is different and there isn't necessarily a one-size-fits-all approach, but this is something you might want to check in on regularly. One reason you should be reviewing your investments and planning on a monthly basis is because your life can change a lot. Perhaps you go from being single to married with a family, or you're about to retire. You're going to have different needs in the short- and long-term and you want your investments to be positioned to help you meet them.
Like I said earlier, focus on what you can control. Having a plan you can stick to regardless of market conditions is something that can help you keep a calm head when things get volatile.
Information from TDA is not intended to be investment advice or construed as a recommendation or endorsement of any particular investment or investment strategy, and is for illustrative purposes only. Be sure to understand all risks involved with each strategy, including commission costs, before attempting to place any trade.
Posted-In: JJ Kinahan TD Ameritrade The Ticker TapeMovers & Shakers Interview General
View Comments and Join the Discussion!