How Are Traders Reacting To All-Time Highs?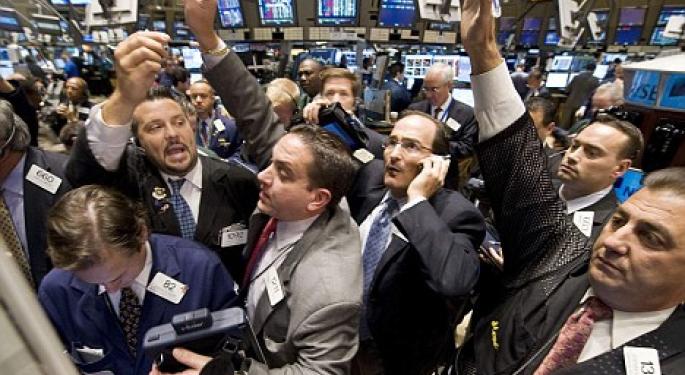 Investors have been riding high this year. The Dow posted nine consecutive all-time high closes in the past two weeks, and traders have responded appropriately. The Investor Movement Index, or IMX, an index TD Ameritrade tracks to measure investor sentiment, also hit an all-time high this month.
A high IMX indicates that TD Ameritrade clients are historically optimistic about market conditions. Since the VIX volatility index is also recording notable lows, traders are increasing market exposure in order to cash in on market indicator all-time highs.
What Are Traders Doing?
According to TD Ameritrade, trader sentiment has been ticking upward for three months. Trader behavior largely mirrored that of the broader market, as they bought Amazon.com Inc. (NASDAQ: AMZN), Microsoft Corporation (NASDAQ: MSFT) Tesla Motors Inc (NASDAQ: TSLA), and Alibaba Holding Group Ltd (NYSE: BABA). These large-cap tech stocks boosted market indices to all-time highs as investors continued to buy into them.
The Amazon effect continued to ripple through the market, as well—when Nike Inc. (NYSE: NKE) announced it would sell shoes through Amazon, traders fled the stock.
While traders bought Tesla, they shunned an auto stock that had delivered quality earnings and cost reductions—General Motors Company (NYSE: GM)
As can be expected in a month without buyout rumors, traders flew away from Twitter Inc (NYSE: TWTR).
What Does This All Mean?
The IMX provides a look into how retail traders are feeling, which can be a bellwether for how well information is dissipating into the financial world and what general market sentiment looks like. It tends to fluctuate with domestic financial events, such as debt ceiling debates in Congress or Fed moves, and geopolitical events like wars.
While President Donald Trump's aggressive rhetoric towards the Korean peninsula might shake investors and cause confidence to dip next month, the markets seem content to continue their bull run.
Photo credit: Flickr, TheTaxHaven
View Comments and Join the Discussion!
Posted-In: IMX TD Ameritrade Investor Movement IndexMovers & Shakers Markets General