Jim Harbaugh Speaks To Millennials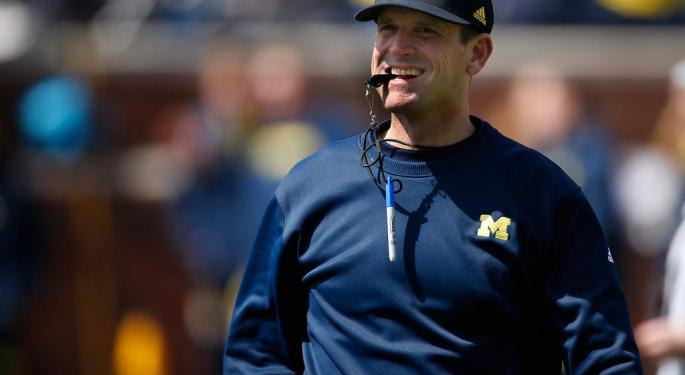 Head Coach Jim Harbaugh of the University of Michigan Wolverines football team scored perhaps the biggest off-field victory of his brief tenure.
The man held off-season sports camps in coveted SEC territory, employed sleepovers as a new recruiting tool and plans to hold spring practice at the IMG Sport Academy in Florida. Now, thanks to his "Signing With the Stars" event, as well as his impressive track record, Harbaugh has Michigan on the radar of every top-notch underclassmen in high school football.
Millennial Focus
Teenagers have always been starstruck. Now that technology has made fame and celebrity status more central than ever, how can one blame Harbaugh for using social media to his advantage?
Millennials (as well as many non-millennials) are glued to their screens through a variety of media. Look no further than the popularity of Facebook Inc (NASDAQ: FB), Twitter Inc (NYSE: TWTR), Instagram and Snapchat.
Interestingly, mainstream media such as ESPN, don't focus on the impact of social media and how it has changed our views of self-absorption and how this is exemplified in sports.
If you can't be a star, why not mingle with the stars? Cam Newton's commercial success is proof that being a bit self-absorbed, albeit in a team sport, retains little or no stigma with the younger generation. Harbaugh is shrewdly capitalizing on teenagers' obsession with recognition and fame.
For those who want to criticize the overexposure of non-proven athletes, just ask an any educator how to deal with this not-so-new phenomena. Simply stated, it's their world -- get used to it.
The Event
Harbaugh's star-studded gala -- which included the likes of UM alumni Tom Brady, Michigan native Derek Jeter, rap stars Migos and Lil Wayne, World Wrestling Entertainment, Inc. (NYSE: WWE) legend Ric Flair and even poker champ Phil Hellmuth -- covered the entire spectrum of sports and entertainment.
What a thrill for these young recruits to rub shoulders with their idols. Whereas the fame of their high school stardom does exceed that of the typical teen's Instagram selfie, most of those youngsters will not go on to play in the NFL, or even see significant playing time at Michigan.
In a world in which recognition is usually evanescent, why not applaud them for their accomplishments, and provide them with a moment they will cherish for a lifetime?
Going Forward
Now that the pros and cons of the event have been discussed, what does it mean going forward? First of all, Nick Saban and Urban Meyer may be kicking themselves for not coming up with the idea first, and plans could be in the works for similar events to be taking place at their respective schools (Alabama, Ohio State) at the conclusion of next recruiting season.
More importantly, a handful of young students are being rewarded for hard work and will be afforded the opportunity for an education at one of world's finest academic and athletic institutions. Harbaugh's results on the field and on the impact of the lives of these young athletes will be determined in the not-so-distant future.
Joel Elconin is the co-host of Benzinga's #PreMarket Prep, a daily trading idea radio show. He is also a 1985 graduate of the University of Michigan and a multi-generational season-ticket holder.
Posted-In: Jim Harbaugh Michigan football NCAAMovers & Shakers Psychology Opinion Success Stories General Best of Benzinga
View Comments and Join the Discussion!