Exclusive: CEO Kal Raman On How Xome Changes The Home Buying Paradigm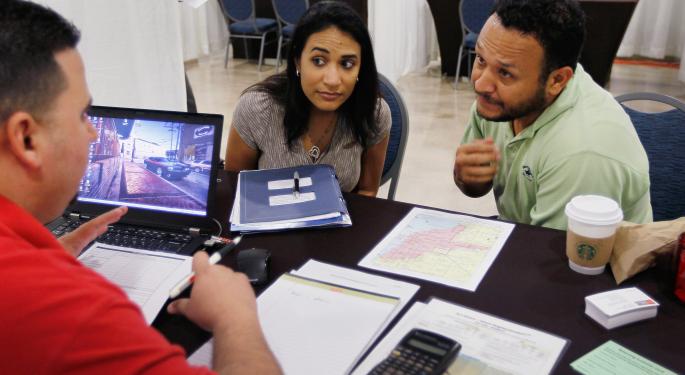 Investors who listened to Nationstar Mortgage Holdings Inc (NYSE: NSM) CEO Jay Bray's Q1 earnings comments back in May, heard about "…the evolution of Solutionstar into a comprehensive real estate technology company that we expect to revolutionize the way real estate transacts."
On June 9, Nationstar's Seattle-based Xome real estate platform was officially launched as a potentially disruptive one-stop shopping paradigm for buying and selling residential real estate.
Xome (pronounced "Zome") CEO Kal Raman has a technology resume which includes high level positions at Groupon, Amazon.com, and as CEO of Drugstore.com.
Last week, Raman explained to Benzinga how Xome had assembled the tools needed "to build a great experience," and create an end-to-end solution for both consumers and agents.
Xome Timeline
Raman came aboard as CEO in November 2014, and has moved at Internet speed to assemble the components required to streamline a complicated process and provide a digital solution.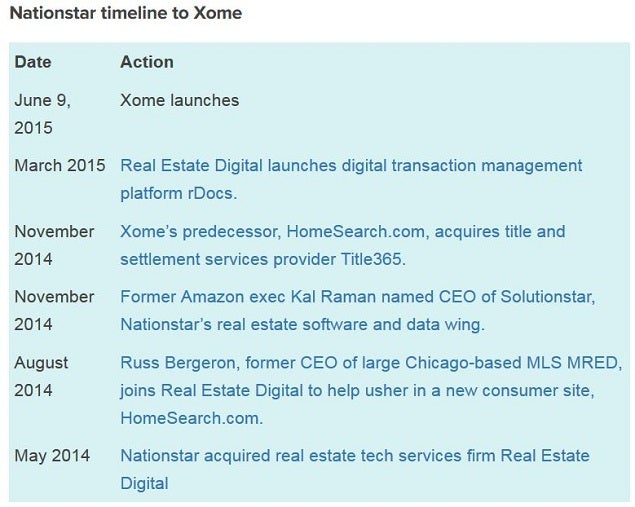 Source: Inman.com - June 9, 2015
In building Xome, the goal was to provide customers an easy, low-cost, alternative for viewing homes listed for sale, pre-qualifying for a mortgage, selecting a Xome vetted real estate agent; and then tracking the transaction using the Xome dashboard, or with the aid of a 24/7 Xome "concierge" available online or by phone for both buyers and agents.
Xome Mission
Raman explained, "At Xome, we believe that buying or selling a home should be easy, transparent, fun and should save time and money for the customers."
During the first two-weeks, over 25,000 people have downloaded the Xome app from the App Store; and Raman felt confident that a goal of 1 million downloads could be reached within three months.
The Xome Agent Network is the lynch-pin of its discount brokerage business model. By utilizing the Xome platform to select an agent and find a home, buyers can expect to save at least 1 percent of the real estate commission.
Raman feels that "we are in day one of this revolution of making the home buying and selling experience better using technology."
Digital Document Solution
Mortgage qualification and approvals, coordinating appraisals, home inspection, title insurance, property inspections and casualty insurance can be a time consuming, and frustrating experience for all parties involved in the transaction.
Raman explained that "Xome has built a technology back-end which is regulatory compliant and transparent to the customer and agent."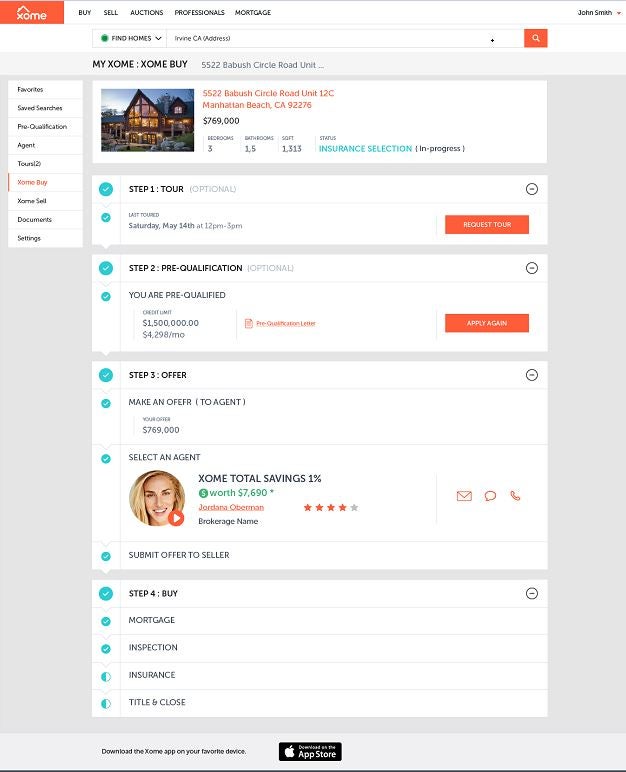 Xome - Buyer screenshot
Initially, Xome customers will need to use Nationstar's Greenlight Loans or Freedom Mortgage to receive automatic notifications and approval updates on the dashboard.
However, it is Raman's intent for Xome to be a "neutral mortgage market," and he plans to be able to offer Xome customers additional lenders integrated with the Xome back-end in the near future.
Xome Agent Network
Raman mentioned that after two weeks about 20,000 agents were in various stages of the process to become approved by Xome.
Depending upon state law, Xome agents are expected to rebate 1 percent of the fee at closing or offer the buyer a discounted commission in order to be referred by Xome.
Raman understands that top producing real estate agents want to focus on listing and showing homes, signing contracts and closing home sales. He feels that Xome can be viewed by agents as a virtual back-office, which will be able to expedite the approvals and paperwork in order to facilitate faster closings.
In return, Xome is compensated by a sliding-fee from $300 to $1,000 depending upon the home price, paid at closing.
Xome Has Deep Wall Street Roots
Private equity firm Fortress Investment Group LLC (NYSE: FIG) provides the majority of the financial horsepower behind Nationstar Mortgage.
If the Xome business model is successful in attracting buyers and agents and scales up quickly, one alternative would be a spin-out Xome from Nationstar at some point in the future.
Shares in a fast growing "start-up" could be a silver-lining for Nationstar shareholders who have seen share prices cut in half over the past 12 months.
Investor Takeaway
If consumers prefer the Xome value proposition, and Millennials begin to flock to the platform, more and more pre-qualified leads will be generated for Xome real estate agents.
These are real estate agents that Zillow Group Inc (NYSE: Z) hopes will pay monthly for the privilege of being featured as a Premier Agent; a very different business model than the Xome fee, which is only paid when a transaction is closed.
It remains to be seen how eager real estate agents will be to sign up and participate in the Xome discount brokerage model in order "to test the waters," and find out if Xome's pre-qualified leads and back-office performance is worth paying the fee.
While Raman was quick to point out to Benzinga that real estate services is not a "winner-take-all" marketplace, he also sounded confident about the appeal of Xome's value proposition and integrated solution.
View Comments and Join the Discussion!
Posted-In: Jay Bray Kal Raman Solutionstar XomeFintech Exclusives Interview Real Estate Best of Benzinga