A Technical Look At How Financials Paved The Way To New All-Time Highs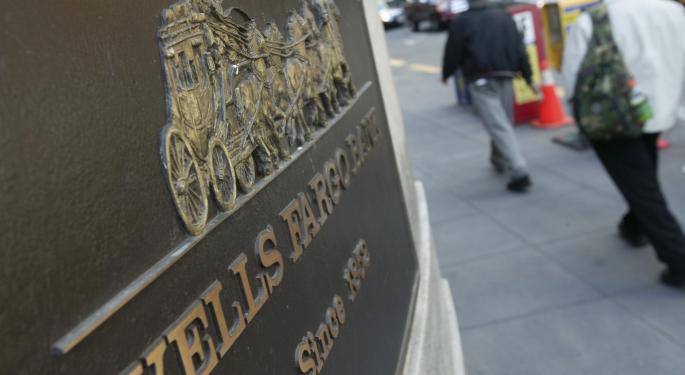 As the market reached new all-time highs in Friday's session, examining the particular dynamics of the recent rally can help predict what issues may encourage the continuation of this up-trend.
Finding Value In Value Stocks
Since the Ebola lows in mid-October, investors have been flocking into value stocks. The list of issues making new all-time highs on a daily basis resembles the portfolio of Warren Buffett's Berkshire Hathaway Inc. (NYSE: BRK-B).
Since its low ($132.03), it rallied to a new all-time of $150.68 reached in Friday's session. It has made a new all-time high in nine of the last 10 trading sessions, as well as new all-time closing high. Despite a flat year in 2012 and a modest rally in 2013, the issue has posted a 21 percent year-to-date gain, far exceeding the S&P 500's year-to-date gain of 11 percent.
Berkshire Hathaway's two largest holdings -- Procter & Gamble Co (NYSE: PG) and Wells Fargo & Co (NYSE: WFC) -- also just happen to have dividend yields north of 2.5 percent, on top of the huge accumulation in principal over the past year.
Related Link: Morgan Stanley Likes Bank Of America, Citigroup In Large-Cap Space
Money Moving Out Of Momentum Stocks
While the big money has been pouring into value stocks, the momentum stocks have been left behind. Issues with high price-to-earnings ratios or none at all have been cast aside. For example Tesla Motors Inc (NASDAQ: TSLA), Twitter Inc (NYSE: TWTR) and Netflix, Inc. (NASDAQ: NFLX) all have repelled from all-time highs.
Even during Friday's strong market, many of the the momentum stocks traded in the red. Tesla was lower by 2 percent, and despite trading slightly higher for the session, Priceline Group Inc (NASDAQ: PCLN) was 17 percent away from its all-time high made in March ($1378.96).
The exception in this space is Apple Inc. (NASDAQ: AAPL), which rallied from its mid-October low ($95.18) to its all-time high made on November 25 ($119.75). However, it is hard to categorize the issue as purely a momentum stock, since it has explosive growth and sports a respectable 1.63 percent dividend yield.
Oil Stocks Under Pressure Due To Lower Crude Oil Prices
With oil stocks in the doldrums due to the depressed price of crude oil, many of these issues have backed off from all-time highs and are struggling to recover. Exxon Mobil Corporation (NYSE: XOM), which peaked in July ($104.76), has retreated and found support at $90.00 level, but has been unable to recover much past $95.00 during the market's thrust to new all-time highs. Similarly, Chevron Corporation (NYSE: CVX) has backed off from its all-time high ($135.10) to a mid-October low ($106.65), and was trading roughly $5.00 higher in Friday's session at $111.77.
Financials Lead The Way
Financials have been leading the charge in this particular sub-trend of the rally. For whatever reason, the strong jobs report has sent this sector into orbit. With the broad market posting about a quarter percent gain, Goldman Sachs Group Inc (NYSE: GS) and Morgan Stanley (NYSE: MS) are higher by more than 2 percent.
Goldman Sachs, which rallied to $196.59 in Friday's session, is approaching the $200.00 level for the first time since May 2008. Morgan Stanley, which has been the wary outcast of financials, is approaching levels not seen since September 2008.
Citigroup Inc (NYSE: C) was higher by 2 percent and is trading at levels not seen since January 2009. Bank of America Corp (NYSE: BAC) was higher by 2.5 percent, but has yet to reach it multi-year made back in March ($18.03).
Wells Fargo & Co (NYSE: WFC) made a new all-time high at $55.33, although it has sold off on Monday.
Money never sleeps; in this bull market, it justs moves around. For now, the money is moving into the financials and could be a major contributor to the anticipated Santa Claus rally.
Posted-In: Santa Claus RallyTechnicals Movers & Shakers Trading Ideas General Best of Benzinga
View Comments and Join the Discussion!