What It Will Take For This Tech Expert To Exit Twitter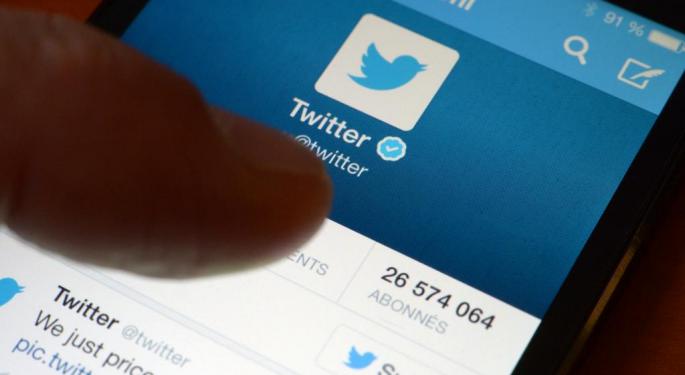 Twitter Inc (NYSE: TWTR) shares have been all over the map since its IPO last November. After debuting at $45.00, it briefly declined to $38.80 before exploding to its all-time high in December 2013 at $74.73.
From that level, it imploded to far below its IPO price to $29.51.
Lock-Up Selling
The final leg down of that decline came about as a huge amount of previously locked-up shares became available for sale. Traders and investors taking note of the price action in Facebook Inc (NASDAQ: FB) under similar circumstances feasted on the issue.
The final leg of this vacuum occurred in three trading sessions that coincided with the expiration of the lock-up. From Twitter's May 5 close of $38.75, it briefly traded down to $29.51 only two days later and rebounded to end the session at $30.66.
Relief Rally
From its May low, Twitter meandered its way back in the lower $40.00s on the heels of short-covering coupled with a host of Wall Street upgrades. Before its second quarter earnings release it lingered under $40.00 and ended the session before the announcement at $38.59.
Related Link: Twitter Analyst Roundup On Q3 Report
Better than expected earnings on July 29 pushed shares to rally to $55.99 by mid-October.
Off that level, investors began to "take some chips off the table" prior to the company's third quarter earnings release.
Was Wall Street Looking For More?
When Twitter posted in-line third quarter earnings and slightly better than expected revenue on October 27, its stock was punished. It appears Wall Street could have been searching for a better revenue outlook.
From its October 27 close at $48.56, it fell to $43.78 in the following session. In six of the last seven trading sessions, in fact, shares have built a base around the $40.00 level, with lows during this period ranging between $39.74 and $40.16.
Significance Of The $40.00 Level
This type of price may imply two different scenarios or a combination of both. It's possible large investors are attempting to build sizable positions -- some may view it as undervalued at its current price (based on price history).
In addition, perennial bears who battled the buyers during Twitter's most recent rally may be attempting to bring in shorts.
Whatever the case may be, $40.00 appears to be shaping up to be a huge level of support for Twitter.
What One Expert Has To Say
A long-time follower of the issue, tech stock strategist Sean Udall is finding significance in the recent pricing action for a few different reasons.
"Here is a company with twice the growth rate of Facebook, trading at a 50-percent discount based on several growth metrics," Udall told Benzinga.
"Wall Street guidance got out of whack after the endless parade of raised numbers and price targets after last quarter's results... [and] needed to be knocked down to more reasonable levels," he added.
Udall also took note of the stock's basing pattern on the charts, and said he's willing to test the waters from a "trading standpoint." From an investment standpoint, though, he explained he will lighten up if the stock's current support area is breached, looking to reenter at lower levels. In his opinion, once this earnings season is complete, the big players will reevaluate the issue on a relative basis and may begin to allocate funds to the issue.
Udall mentioned he's seen similar scenarios unfold in the past. He cited Apple's bears at $450.00 (split-adjusted $65.00) who called "for Tim Cook's head." Facebook's $22.00-$25.00 trading range was another case, he said.
Over the long term, he's not abandoning the issue until the "fundamentals really change."
Posted-In: Sean Udall twitter stock Twitter technicalsTechnicals Trading Ideas Best of Benzinga
View Comments and Join the Discussion!