The Importance Of After-Hours And Premarket Trading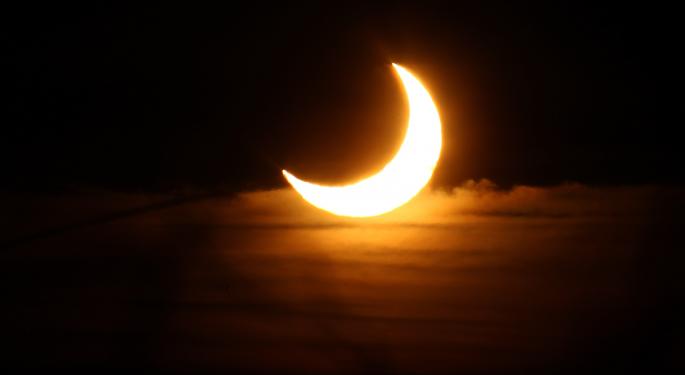 There is another whole realm of trading that takes place between 4 p.m. and 9:30 am. EST.
After-hours trading for equities commences after the 4:00 p.m. close and continues until 8:00 p.m. While the stock index futures continue to trade around the clock, the equities markets reopen at 4:00 a.m. and continues until the open for the regular session at 9:30 a.m.
Reasons For Frenzied Trading Action
There are major fluctuations in equities during these time periods for a few different reasons.
Most companies wait until after the close and before the next day's open to announce earnings or other significant news that may have an impact on its price.
Most Wall Street analysts publish their ratings changes during that same time period.
Equities will fluctuate with the movement in the S&P 500 index futures contract. Since the discrepancy between the cash and futures is resolved in the first minutes of trading, savvy traders can take advantage of any mispricing off the open and scalp a quick profit.
Whatever the catalyst may be for the fluctuations in price, big and small traders will try to capitalize on the action. Smaller traders that are buying lottery tickets on a company's upcoming earnings announcement may want to try and cash in an overreaction before the primary market opens.
Related Link: How Netflix Could Drop To $250 In 90 Days
Muted Presence Of High-Frequency Traders
Big institutions that have a lot of stock to move in either direction will spring traders into action if their price alerts are triggered.
One advantage for the bigger players in these sessions is that the high-frequency traders are less active than during the regular session. The reason for this being that they have no retail orders to lean on and, therefore, their risk is not as well defined. The HFT crowd does not like risk and many times will not participate in premarket trading. as well as the first few minutes of the opening for the regular session.
Example: Netflix
An example of the premarket action dictating the action for the regular session was the frantic trading in Netflix, Inc. (NASDAQ: NFLX) in Wednesday's after-hours and Thursday's premarket session.
After delivering mixed Q3 results and providing ugly Q4 guidance, shares plummeted in after-hours trading. Netflix ended Wednesday's session at $448.59, but within minutes of its announcement was trading more than $100.00 lower. Within another 30 minutes, it bottomed at $324.33 and attempted to rebound.
Related Link: The Risks Of PreMarket And After-Hours Trading, Part 1
Over the remainder of the after-hours session and several times during the pre-market session, it tried to revisit the current low but was rebuffed in the area of $330.00 zone. This could have been due to a large institution or band of short-sellers that were attempting to cash in on the instant windfall in profits from the negative news. Purchasers of weekly put options who were sitting on enormous profits and also may have wanted to cash in and could buy stock to lock in profits. Since the options market does not open until 9:30 AM, buying stock can act as a substitute for selling of the put position.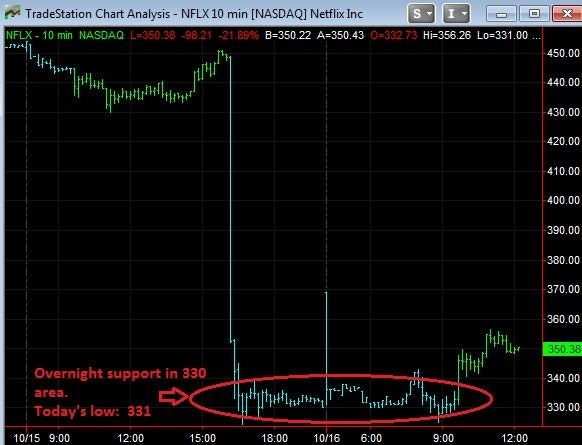 Once the true liquidity came in at 9:30 a.m., Netflix bottomed at $331.00 early in the session and rallied as high as $361 at time of writing. Traders that were waiting for the continued downside to the premarket low were disappointed and had to chase the issue in a rising market instead of going bid in the face of panic selling that was taking place earlier.
Not For Everyone
Trading during these time periods is extremely risky and is not available on all trading platforms. On many occasions during these time periods, however, it will establish key levels for the upcoming trading session.
Tune in every morning, Monday-Friday, from 8-9:45 AM EST to hear Joel Elconin and Dennis Dick discuss what's moving the markets and why on Benzinga's #PreMarket Prep.
Posted-In: Technicals Movers & Shakers Intraday Update Trading Ideas General Best of Benzinga
View Comments and Join the Discussion!