Consolidation In Chipotle Mexican Grill Continues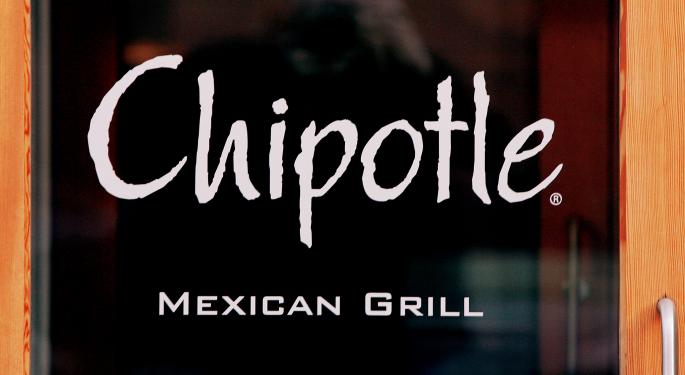 Chipotle Mexican Grill, Inc. (NYSE: CMG) has been a top performer in 2014, adding $150, or 28 percent, since January ($532.00 to $682.00).
A good portion of the increase has taken place after its latest earning announcement on July 21.
Earnings Catalyst
After crushing Wall Street estimates by $0.43 ($3.50 versus $3.07) on better than expected revenues of $1.08 billion instead of $987 million, the stock added $60 in premarket trading and tacked on another $20 during to the regular session to leap from $689.93 to $659.77.
Related Link: A Technical Look At Berkshire Hathaway's Recent Sell-Off
On many occasions, such a move will be followed by a day or two of continued strength and, barring more news, an issue will drift lower and attempt to fill the gap in pricing. However, this has not been the case with Chipotle.
Instead, it continued to move higher and make incremental new all-time highs. That all changed on August 21, when Cleveland Research announced that it expects the restaurant chain same-stores growth to accelerate in the wake of menu price hikes.
Cleveland Group Provides Boost To Nearly $700
If the pop-to-fade off the earnings beat was the wrong move, then the rally off this news certainly was.
After closing on August 20 at $678.41, it opened $19, rallied less than another $1 and then collapsed, ending the session marginally higher at $681.07, which still remains its all-time closing high as of Tuesday's session.
Traders that were looking for a key reversal day were disappointed, as the issue could not breach the previous day's low of $675.02 and close below it.
If the blip to the all-time high is eliminated, Chipotle has zig-zagged in a $673.76 to 689.45 trading range over the previous 13 trading sessions, finding willing buyers eight times when it dipped under $675.00 and willing sellers in the mid-upper $680.00 handle.
Crazy Consolidation
This is very unusual trading activity for such a high-priced issue. The shorts that were in before earnings have had no chance to break even and have been competing with new longs to purchase shares on any pullbacks.
Traders that were fortunate enough to short Chipotle off its latest news have been able to bring their shorts for a profit, but in no way have they been able to hit a home run. The end result is a nauseating trading range that persists even into today's session.
Analysts Quiet
Most Wall Street analysts have been quiet on Chipotle since the earnings beat; only two analyst have chimed in.
On July 28, Citigroup maintained its Buy rating and raised its price target from $648 to a near street-high of $793. Baird is a bit more bullish and has the street-high price target at $800.
Longbow Research downgraded the company on August 8 from Buy to Neutral and removed their price target of $697. It should be noted that on the August 21 rally, the issue did reach its former price target by reaching $697.93, before retreating to its current level.
What's Next For The Issue
As difficult as it might be to remain bullish with an issue that exhibited such a move, it hard not to maintain that stance, especially if the major support at the $675 level continues to hold.
The bulls have successfully defended that level several times and may very well may be there again if Chipotle was to retreat. If Chipotle does breach that level on a closing basis, there may be a chance for continued move to the downside.
For those sitting on huge profits, enjoy the rally until at least its next earnings reports. Perhaps a move over the only psychologically significant $700, which is just above its all-time high, will signal another leg higher.
With loftier expectations next quarter, Chipotle will need to see a lot of burritos at higher prices to continued its impressive run.
Posted-In: Technicals Movers & Shakers After-Hours Center Trading Ideas General Best of Benzinga
View Comments and Join the Discussion!