A Technical Look At Berkshire Hathaway's Recent Sell-Off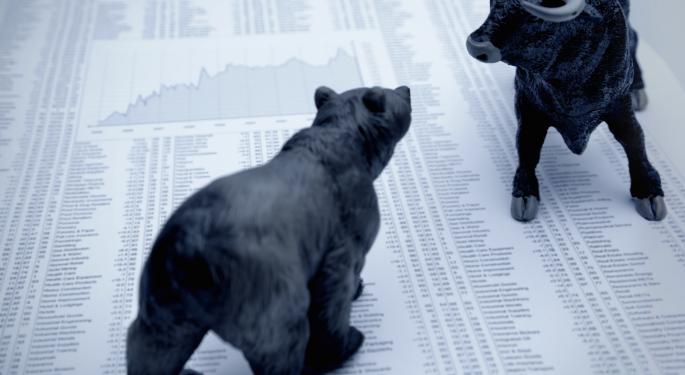 Berkshire Hathaway (NYSE: BRK-B) has rallied in a very uncharacteristic way from its August 1 low ($122.72) to its all-time high on August 21 at $136.82. That same day, it posted its all-time closing high at $136.81.
The issue was dormant for most of 2012, trading between $76.30 and $89.70. It began to gain some momentum in 2013. Although still lagging some of the high-flying momentum stocks, it did have an impressive 32 percent gain in 2013 and finished the year at $118.56.
Major Rally
After a brief decline in February 2014, it busted through the resistance at the $119.00 level in March and never looked back. Even the decline on August 1 did not take the issue down to its former resistance level that would have acted as new support.
Related Link: Barron's Cover Story Possible Driver Of PepsiCo Movement
During the month of August it has added $10.00, or 8 percent. The rally represents one of the biggest monthly gains for the issue over the last several years. However, someone may have identified an area where they want to sell or short the stock.
Clearly Defined Resistance
In the last five trading sessions, it has topped out in a narrow $0.17 range ($136.60 and $136.77), just below its all-time closing high. This type of trading action may represent a large institution or even Warren Buffett himself letting go of some stock ahead of the month-end mark.
Another possible resistance for this type of trading action may be that the high-frequency trading crowd has identified a large seller at $137.00.
Instead of stepping in front of large, slow-moving issue like General Electric by only a penny or sub-penny, the HFT crowd may be willing to take a bit more risk in a higher-priced issue that does not trade nearly the same amount of volume. High-frequency traders may also have identified an algorithm that has targeted this area as a selling point and joined the party.
Sympathy Move With The Broad Market?
The issue, which is highly correlated with the S&P 500 Index and one of its biggest components, may be attracting sellers as the futures index attempts to put a top in above the 2000 level.
Repeat Of Earlier Pattern Or The Top Is In?
During its historic run this month, Berkshire Hathaway has displayed a similar pattern at the $130.00 level. From August 4 through August 7, it put in place four consecutive highs between $129.57 and $130.03. A large seller may have been perched at $130.00 and once it was cleared on August 8, it quickly moved up nearly another $7.00 to its new all-time high over the next 10 trading sessions.
In Thursday's session, Berkshire Hathaway tested Wednesday's close ($136.52) off the open and briefly declined under $136.00. It is attempting to rebound along with the broad market. Based on the muted trading activity ahead of the long weekend, it is not likely to clear this critical resistance in Thursday's session.
Depending on whether geopolitical events rile the markets over the Labor Day holiday, Berkshire Hathaway could move substantially lower Tuesday.
What To Look For
Whatever the case may be, investors should pay close to major resistance level that the market has provided. For Warren bulls, a breach of this level may signal another leg higher to $140.00 and beyond. However, the longer this level holds, the more likely a short-term top has been put in place and a move lower to the former breakout level ($130.00) is on the horizon.
Posted-In: Berkshire Hathaway high-frequency trading Warren BuffettTechnicals Movers & Shakers Intraday Update Trading Ideas General Best of Benzinga
View Comments and Join the Discussion!