Will Aeropostale Be Cool Again?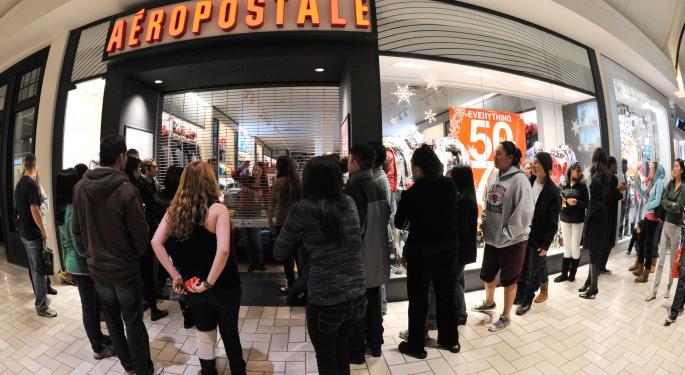 Remember the days when teens would flaunt their wealth (or their parents' wealth) by sporting attire with the Aeropostale (NYSE: AEO) logo?
Regardless, this was during a time when the economy (not just the stock market) was booming and optimism reigned throughout the country. Expensive teen attire was a good fit.
Unfortunately for Aeropostale, as well as other teen retailers, those days are over.
Today's teens see wealth-flaunting attire as uncool. They deem vintage and urban attire as in. This trend has led to sales declines for "The Big Three" in regard to teen retailers.
Over the past year, Aeropostale suffered a revenue decline of 10.9 percent. That's significantly worse than American Eagle (NYSE: AEO) and Abercrombie & Fitch (NYSE: ANF), which suffered revenue declines of 3.71 percent and 4.33 percent, respectively.
Related Link: 3 Retail ETFs To Consider Heading Into Year-End
In the second quarter, Aeropostale's net sales declined 13 percent to $396.2 million year over year. The company also projected an operating loss up to $64 million. In order to cut costs, Aeropostale has closed 125 P.S. stores as well as 50 namesake stores.
In order to turn this ship around, Aeropostale rehired Julian R. Geiger as CEO. Geiger led the charge for Aeropostale when the company enjoyed significant growth.
More importantly, the company has already stated that its former strategy of relying on logo and price won't be effective in the future. Aeropostale will instead partner with popular names that have an established connection with teen shoppers. Bethany Mota, a YouTube sensation, is one example.
Will this strategy work? Nobody knows for sure, but it's good to see that the once-popular teen retailer is aware that it needs to change. Over the past year, Aeropostale's stock price has plummeted 59 percent, a much steeper decline than American Eagle at 3 percent.
Abercrombie & Fitch actually saw stock appreciation of 35 percent over the past year. Getting back to Aeropostale, the stock is up approximately 18 percent over the past month. It appears that some investors are betting on a turnaround.
Posted-In: Bethany Mota Julian R. GeigerMovers & Shakers General Best of Benzinga
View Comments and Join the Discussion!