A Pair Trader's Nightmare: Coca-Cola Vs. PepsiCo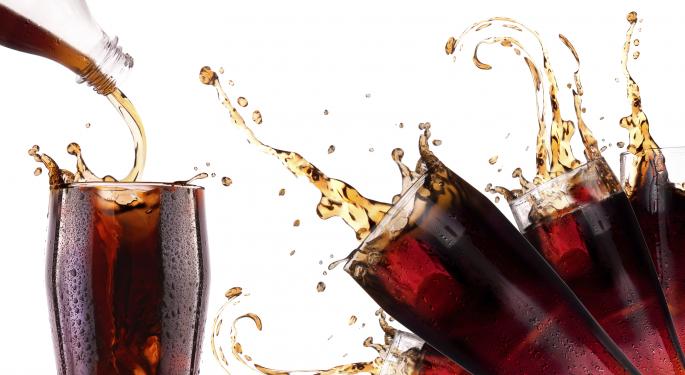 There are different ways to invest and/or trade issues in the stock market.
Beside the traditional forms of either the outright purchase or options of an issue, there is another, less well-known form of investing known as pair trading.
As defined by Investopedia, pair trading is "the strategy of long position with a short position, in two stocks of the same sector. This creates a hedge against the sector and the overall market that the two stocks are in.
"The hedge created," it continues, "is essentially a bet that you are placing on the two stocks; the stock you are long in versus the stock you are short in."
Sophisticated traders follow years of historical price action and place their trades accordingly.
Related: The Whole Burrito: What's Behind Chipotle's Earnings News
On most occasions, two stocks in the same sector trend together over the long run. However, as with Coca-Cola (NYSE: KO) and PepsiCo (NYSE: PEP), their recent earnings announcements have sent the companies moving in opposite directions and have annihilated their previous historical price patterns.
Coke's Woes
On Tuesday, Coca-Cola reported better than expected earnings for the quarter by $0.01, but missed on its GAAP-adjusted result of $0.58. Also, it missed on revenue estimates ($12.57B vs. $12.82B) and posted a one percent decline in sales. The disappointing report may have been because of slowing sales of carbonated soft drinks in North America.
As a result, Coca-Cola shares were destroyed in Tuesday's trading. After reaching its highest level on Monday ($42.57) since May 2013 when it made its all-time high of $43.43, Coca-Cola opened sharply lower and matched its lowest level since June 17 at $40.61. Although it did recover to close at $41.19, it is once again under selling pressure in Wednesday's trading and has revisited that key support level, reaching $40.63 during Wednesday's session.
A breach of this support level may take the issue under $40.00 to its next support level, from its April 15 low ($39.50). If Coca-Cola is able to rebound, there are going to be plenty of willing sellers from $41.33 to $42.57 who are caught long from the extended consolidation period from June 23 to July 22.
PepsiCo Pops
On Wednesday, PepsiCo posted upbeat Q2 earnings, beating Wall Street estimates by $0.09 ($1.32 vs. $1.23), with better than expected revenue ($16.89B vs. $16.79B). In addition, the company raised its full-year outlook from constant currency EPS growth target from seven percent to eight percent. It is now projecting organic revenue to grow mid-single digits compared to 2013. PepsiCo is targeting more than $10 billion in cash flow in 2014.
As a result, PepsiCo exploded to the upside in Wednesday's session. After eclipsing its former all-time high ($91.39) during premarket trading, it continued even higher off its 9:30 a.m. open. In fact, it tacked on nearly two more points in its first 13 minutes of trading, reaching $93.09, putting it nearly four points from its closing price on Tuesday of $89.17.
Since making the high, PepsiCo has been subject to some profit-taking in the normally mild-mannered issue and is consolidating at the $90.91 level.
A Disconnect?
Most likely, the shorts and pair trading crowd, who may have been anticipating bad numbers from the company based on the Coca-Cola earnings, were caught like a deer in headlights and scrambled to cover. All this is taking place as Coca-Cola continued to decline off Wednesday's open, exacerbating the disconnect between the two issues that was already beyond its pattern of prior historical standard deviations.
It should be noted that both companies have more than doubled since their 2009 lows: Coca-Cola stalled out from its May 2013 high ($43.43 to $40.80) and declined six percent, while PepsiCo has added eight percent over the same time period ($84.78 to $91.65.)
The trading action over one year, let alone two days, does not necessarily determine a total disconnect between two companies. Nevertheless it is hard to argue that price patterns of Coca-Cola and PepsiCo are moving in different directions. Perhaps Pepsico's diversification into several other products, as opposed to Coca-Cola's reliance on beverage sales, is one of the reasons for the price disconnect, especially if the overall consumption pattern for carbonated beverages continues to move in its current direction.
With PepsiCo boldly breaking out to new all-time highs and Coca-Cola well off its all-time high and struggling to rebound from an earnings miss, Wall Street has certainly expressed its choice of PepsiCo over Coca-Cola .
View Comments and Join the Discussion!
Posted-In: Beverage Industry pair trade pair tradingTechnicals Movers & Shakers Intraday Update Trading Ideas General Best of Benzinga