Next Momentum Stock Poised For A Breakout? Amazon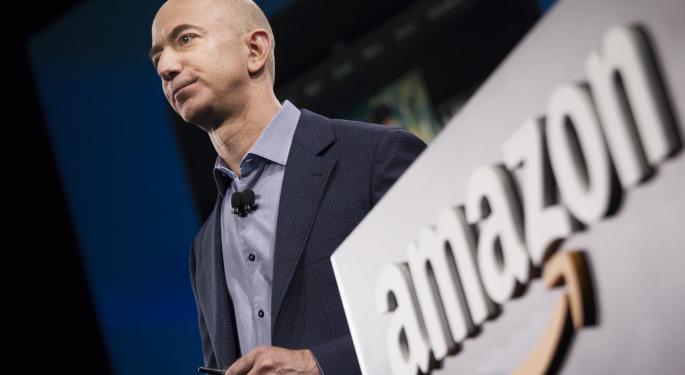 With the broad market surging to new all-time highs, it is getting more and more difficult to invest in stocks with good risk/reward ratios.
The bottom-fishing that took place for much of the second quarter has rewarded investors in many different sectors. Bottom-fishers in momentum stocks, however, have reaped the most profits.
One issue that has rallied, although pales in comparison to the others in that arena, is Amazon (NASDAQ: AMZN).
Based on the charts, that may soon be changing.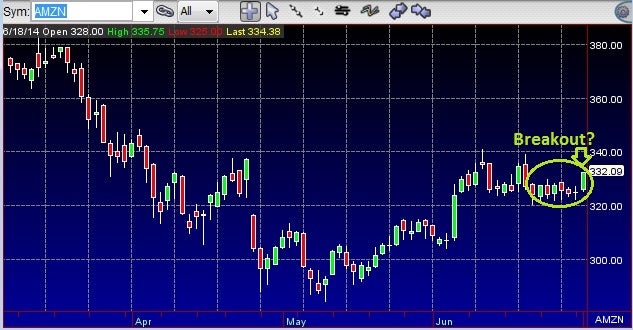 Amazon, which declined from its all-time high in February ($408.06) to its recent low in May ($284.38), has yet to recover even half of that major decline ($346.22). This is an example of the 50 percent retracement rule that has yet to come into play during the recent rally. The rule is a common measuring stick to determine whether a correction of a prior move has ended and that the long-term trend is still in tact.
It instead has languished in about a 10-point trading range ($320.42 to $329.73) over the past seven trading sessions. The long consolidation period may be coming to an end any day now, as Amazon has cleared the former high of the range and is poised to post its first close over $330.00 since April 24 ($337.15).
Related: Friday's Russell Reconstitution Sets Tone For Next Big Move
Interestingly, the day after (April 25) the company released a disappointing earnings report, the rout was on. After shedding over $33.00 during that session, the issue continued lower until it bottomed at $284.38 on May 9.
On the way the way back up, Amazon had a similar consolidation period back in late May. During that time period, it traded in a nearly 12-point trading range (between $303.01 and $314.87) over nine trading sessions. That consolidation period was resolved to the upside as it sprinted to $327.94, before closing June 5 at $323.57.
With analysts pretty much on the sidelines since it last earnings release, aside from a coverage initiation by Barclays with an Equal-Weight rating on a modest $300.00 price target, what may be the catalyst to take the issue higher?
Prime
It may be the expansion of Amazon Prime, which offers free shipping and returns. Although it is restricted to designated products and does not include used items, it can still reinforce the buying habits of the Amazon junkies out there.
Streaming Content
In addition, the improvement of the content on Prime may help narrow the gap between Prime and Netflix (NASDAQ: NFLX) users.
Amazon announced Tuesday that the company has added the hour-long thriller Hysteria (a product of Amazon Studios) to its third pilot season, which will debut later this year on Amazon Instant Video.
Amazon Studios, launched in 2010, is a new way to develop films and episodic series, as it is open to ideas from creators and audiences around the world. Anyone can upload a script to Amazon Studios and it will be reviewed.
Fire
The boost to earnings from sales of its new phone, Fire, will not be determined for quite some time.
Apple enthusiasts will most likely not be not converted as they await a larger screen to finally come on the market. However, there are still millions of Android users out there that may be attracted to the unique 3-D feature Fire provides. The game-loving crowd may also find the 3-D enhancement adds to the overall gaming experience.
Looking Forward
Amazon, proven itself to be solid a cash cow, has attracted investors despite its outrageous price-earnings ratio (516). These investors are banking on the company to prosper from its recent expansion of its business model and the deployment of new products. Any improvement in the next earnings release may be a signal whether or not Amazon is headed in the right direction.
From a strictly technical perspective however, this momentum stock left behind in the recent rally is poised for a breakout to the upside. Sustained closes above the $330.00 area will result in the former resistance becoming support and may provide the base for the next leg-up in the rally.
Posted-In: Amazon Amazon Prime FireTechnicals Movers & Shakers Intraday Update Trading Ideas General Best of Benzinga
View Comments and Join the Discussion!