Now That The 'Little Guy' Is In Apple, Time For The Flush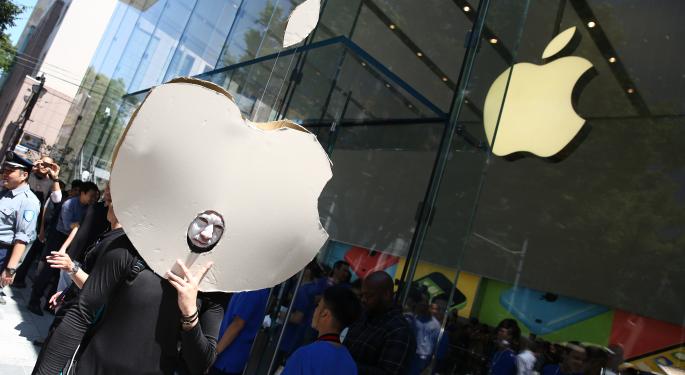 It has been over two weeks since Apple's (NASDAQ: AAPL) 7-for-1 stock split, and every investor that has purchased Apple shares since that day is under water.
Investors that purchased shares on the record date are now feeling some heat as well.
On many occasions, when high-flying issues have split their shares, they have done so to make their stock price more appealing to smaller investors. However, as the "little guy" buys into the issue, it often marks a short or long-term top in the share price.
For example, when Mastercard (NYSE: MA) split its shares 10-for-1 in January, it put in place its all-time high ($84.75) one day after its recorded date, which has yet to be seriously challenged since that time. The issue instead retreated to $68.68, but has since rebounded to the $73.00 level.
Related: Twitter Finally Warms Up To Wall Street
Not all stock split/high for the issues are as textbook as the Mastercard example, but many times the scenario comes to fruition.
In fact, one long-term investor in Apple, Dennis Dick (CFA and co-host of Benzinga's #PreMarket Prep), who had been a long-term holder of the issue, exited his entire position in Apple ahead of the split.
"Historically stocks tend to be strong prior to the split and weak after the split," he said. "And with the 100 point run up in the Apple share price prior to the split, it seemed like the easy money had already been made."
His strategy was to book his profits ahead of the split and look to re-enter the position at a substantially lower price. So far, his strategy is working.
Would Steve Jobs Have Approved?
After the split on June 9, Apple shares reached nearly a two-year high the following day at $95.05. That was within six points of its all-time high of $100.72 in September 2012. It was as if all the big boys that got caught holding the bag during its swoon to $55.01 were not going to miss the golden opportunity to sell this time. Especially since this rally was predicated on much different circumstances than its original one.
Instead of the frenzy in the issue being driven by a rollout and distribution of new products, this rally was the result of financial engineering aided by the boisterous efforts of Carl Icahn. All the things its original founder Steve Jobs abhorred -- paying a dividend, gargantuan stock buyback program and a stock split -- were the driving forces behind the rally.
In addition to the financial engineering that was taking place, a broad market rally from June 9 to June 24, to new all-time highs, dragged Apple along with it. Being the top component in the S&P 500 Index, indexers were forced into the issue in order to maintain its proper weighting in their portfolio.
The Dreaded Head And Shoulders
Now that the broad market has exhibited some weakness, it will be interesting to see if Apple will be the leader on the downside as it has been the leader on the upside.
From a technical perspective, Apple may be in the process of establishing a dreaded head and shoulders pattern. Establishing the left shoulder in late May and early June, the head at the recent high ($95.05), it's now in the process of developing an extended right shoulder and is teetering near the neckline in Wednesday's session. A modest downside projection, based on this fairly reliable pattern, would be $84.00.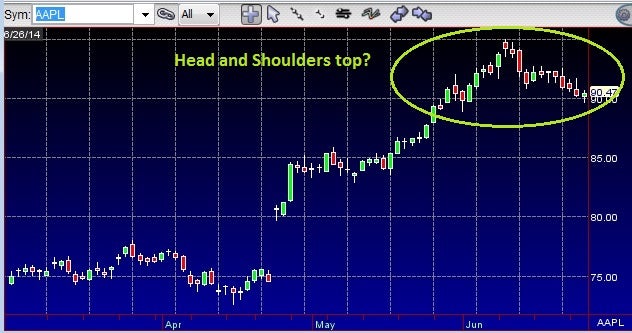 A sharper decline could easily lead to a decline in Apple to $80.00, and may even fill the gap from its last earnings surprise down to $75.88.
With much of the good news already out (buyback and split) and no new products on the horizon (except for a watch, which fewer and fewer people seem to be wearing nowadays), what will be the driver to take the issue to new all-time highs before its next earnings announcement?
It will also take some time to gauge whether or not Amazon's (NASDAQ: AMZN) new phone will put a dent in the cash cow from iPhone sales. Even a small decline in market share for cell phones could have a disastrous effect on its long-term earnings stream.
Along these lines, another formidable challenger to its iPhone dominance is the new phone on the market from the Chinese company Xiaomi. An article written by Bloomberg's Brad Stone cites that more than 50 million people use the company's MIUI operating system.
More importantly, Xiaomi is attempting to get into new products, such as a smart TV that can be controlled with an app on an Android-powered tablet computer. Called the Mi Pad, it reportedly comes in five colors and is priced to undercut the iPad mini. The company's founder Lei Jun said, "I hope through our endeavor, we can make Apple feel some pressure." At a minimum, the new phone may put a crimp in the huge sales expected to come from China Mobile's (NYSE: CHL) distribution of the iPhone.
Based on these set of circumstances, investors may want to pay close attention to the trading action in Apple over the next few trading sessions. If indeed it does successfully fulfill the tenets of the head and shoulder pattern, its decline from its recent high of $95.05 may continue for quite some time.
Posted-In: Apple Apple shares split Carl IcahnTechnicals Movers & Shakers Intraday Update Trading Ideas General Best of Benzinga
View Comments and Join the Discussion!