How Long Can Tesla's Rally Continue?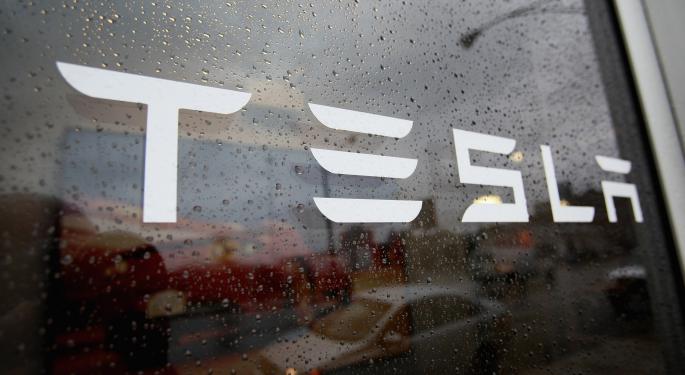 With many momentum stocks coming back into favor this week, it will be interesting to see if the moves can continue to see upside.
One issue that may have found resistance and may be preparing to reverse course is Tesla (NASDAQ: TSLA). Since beginning the week at $206.42, it sprinted to $235.54 on Tuesday, but has not been able to reclaim that level. It did make one more attempt at the area on Thursday, but was rebuffed at $235.31 and ended up closing just off its lows for the day at $227.79.
Off Friday's open, Tesla attempted to revisit that level once again, but sellers in the lower $230 range capped the rally at $231.29. Interestingly, that was in the vicinity of Wednesday's high ($231.71). Therefore, the market has identified two groups of sellers ($231.00 and $235.00) levels, that are attempting to exit their longs or attempt shorts into strength.
The big move on Monday appeared to be a delayed reaction to the news on Friday that the company would be opening its patents to the public. Musk explained the company was created to accelerate the the transition towards sustainable transportation and to lay "intellectual property landmines" in their wake would be in contradiction of that goal.
Furthermore, the team at Tesla actually believes that allowing patents to be open-sourced will actually strengthen the company. Musk noted that patents serve a little more than a road bump to a determined competitor and that the true advantage comes from attracting and motivating the world's best engineers.
Related Link: Twitter Finally Warms Up To Wall Street
In addition to this news, Financial Times reported on Sunday that Tesla had struck a deal with Nissan and BMW to create a supercharger network for its vehicles. This news hit the wires while the US markets were closed and was slow to circulate Monday morning as the issue opened only slightly higher before it exploded to the upside.
More good news came out later on Monday that the company had struck a deal with New York regarding its retail locations in the state. Governor Andrew Cuomo signed legislation that will allow the company to maintain its five retail locations currently in New York. That news instigated follow through in Tuesday's session that took Tesla to its highs for the week. After ending the session on Tuesday at $231.67, its highest close since March 20 ($234.91), Tesla posted back to back closes in the $227.00 handle and traded significant volume at this area in Friday's session.
With the wires quiet the remainder of the week, Tesla traded in a narrow range from $226.12-$235.31. During Friday's session, Tesla tested the lower end of the range and was not able to breach the $230.00 range, let alone other resistance levels.
From a technical perspective, if one discounts the spike in late February to its all time high of $265.00, the entire $230-$240.00 area served as major resistance for several trading sessions. This adds further significance to the $235.00 area, which is smack dab in the middle of this former resistance range. Finally, Tesla cratered from the top of this range in late March to its May 9 low ($177.22).
With its next earnings release not due out for another few months and the issue trading above many of Wall Street's price targets,it is not likely the Street will push the issue higher. Therefore, the absence of another news catalyst may be enough to instigate some profit taking from its recent rally.
Investors wanting to lock-in profits from the rally or ones trying to wiggle out of a wayward buy from the spike high, may want to focus on the major support at $226.00. A breach of that level may determine whether or not the issue will revisit its all time high or retreat to the psychologically important $200.00 technical level.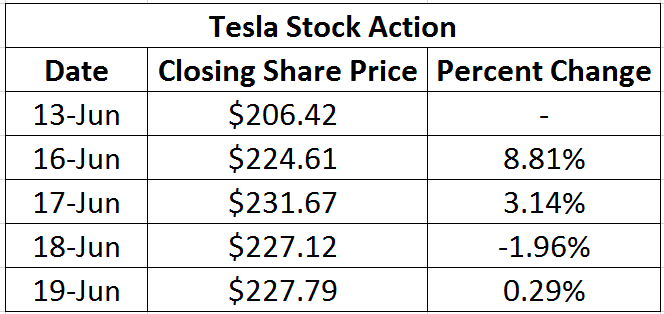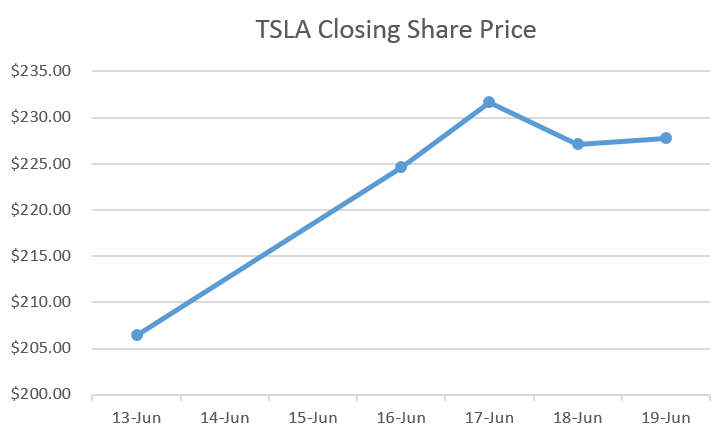 View Comments and Join the Discussion!
Posted-In: Andrew Cuomo BMW NissanTechnicals Movers & Shakers Trading Ideas General Best of Benzinga