Fund Managers Believe The Recession Is Over Already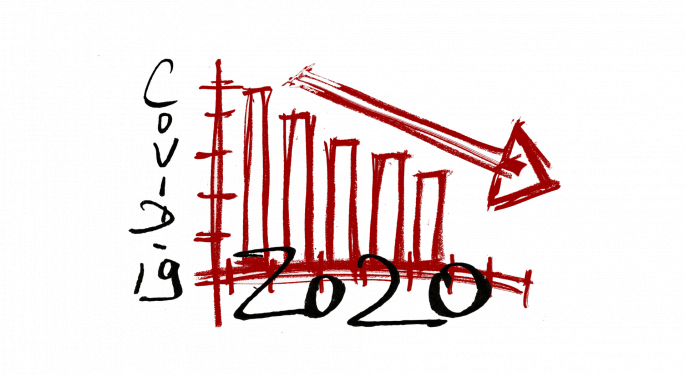 The world's hedge fund managers believe the recession is over (despite Moody's warning about a potential double dip recession) and that it's time to reduce cash and pause the cyclical rotation, according to Bank of America's October Global Fund Manager Survey. They also believe investors should price in a contested election and a coronavirus vaccine for February.
Fund Managers Cut Cash As Recession Expectations Plunge
The survey reveals that fund manager cash levels declined to 4.4% from 4.8% the month before. Bank of America Chief Investment Strategy Michal Hartnett defines cash levels at less than 4% as greed or anything more than 5% as fear. Retail funds like mutual funds cut their elevated cash levels to 4.3%, while institutional funds like pension funds and insurance companies cut their cash levels to 3.6%. Uncategorized funds kept their cash levels high at 7.1%.
Hartnett said fund managers' cash levels have collapsed 1.5 percentage points over the last six months, which is the fastest drop since 2003. BofA's Bull and Bear Indicator is at 3.8, which suggests a final capitulation into risk for the fourth quarter.
BofA found that 59% of global fund managers are looking for either a W- or U-shaped recovery from the coronavirus pandemic, while only 19% say it will be a V-shaped recovery. A W- or U-shaped recovery would be a much bumpier ride than a V-shaped recovery. They hold these views despite what Hartnett describes as "fiscal policy kabuki" in the U.S.
Recession expectations have collapsed, and now 60% of fund managers say the market is in an early-cycle part of the economic cycle. The net percentage of fund managers expecting a recession in the next 12 months has plunged from -28% in September to -54% in October.
Biggest Tail Risks According To Fund Managers
On the coronavirus, fund managers said the pandemic is the number one tail risk. They expect an effective vaccine to be released in February, which is a month later than what fund managers were predicting last month. Net 39% of fund managers expect the vaccine to become available at some point during the first quarter, although second-quarter expectations have increased.
The survey found that the U.S. election is seen as the second largest tail risk. When asked what outcome will cause volatility, 74% said a contested election, which was an overwhelming majority. Another 14% said a "blue wave" would cause volatility, while 8% said a divided Congress and only 4% said a Trump victory would cause more volatility.
Of the fund managers surveyed, 61% of them expect the results of the U.S. election to be contested, according to the survey.
Fund Managers Feel Optimistic About Equities
Fund managers are optimistic on stocks, according to BofA's October survey, which found a net 27% overweight positioning, up from 18% last month. However, they're not yet extremely bullish at more than 50% overweight.
Hedge funds in particular raised their net equity exposure to 42%, which is the highest since June. Hedge funds were at 30% net equity exposure in September. Both stock and bond allocations are back to pre-coronavirus levels, Hartnett added. Twenty-eight percent of fund managers say the stock market is overvalued, which is a decline from 41% in September.
The October Fund Manager Survey also found that fund managers have taken the fifth-largest short in energy in two decades. They are the most underweight energy since April and the most overweight healthcare since May. Fund managers' healthcare overweight has climbed to the number one spot.
Fund managers again see the long tech trade as the number one most crowded trade by a large margin. Half of fund managers expect tech stocks to continue leading the market. Fund managers also said the cyclical rotation paused in October.
Image by Gerd Altmann from Pixabay
About the Author
Michelle Jones is editor-in-chief for ValueWalk.com and has been with the site since 2012. Previously, she was a television news producer for eight years. She produced the morning news programs for the NBC affiliates in Evansville, Indiana and Huntsville, Alabama and spent a short time at the CBS affiliate in Huntsville. She has experience as a writer and public relations expert for a wide variety of businesses. Email her at Mjones@valuewalk.com.
View Comments and Join the Discussion!
Posted-In: contributorHedge Funds General