Floyd Mayweather And 5 Other People Who Made $300 Million In One Day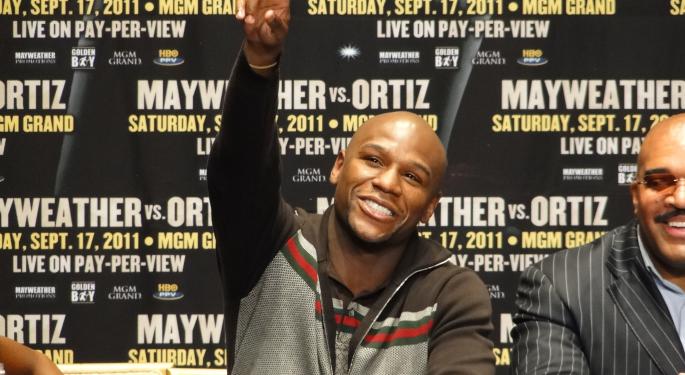 On Saturday night in Las Vegas, boxer Floyd "Money" Mayweather earned one of the largest paychecks in history. The victorious Mayweather's total purse from the record-breaking fight will reportedly be in the $300 million range, far exceeding the $100 million purse Conor McGregor is expected to take home.
Mayweather's big payday makes Saturday one of the most profitable days in history for any human being on the planet. But earning $300 million in one day isn't unprecedented. In fact, here are five other people who have earned at least $300 million in one day.
Giancarlo Stanton: $325 million
Technically Miami Marlins star Giancarlo Stanton is earning his $375 million over a 13-year period. But since MLB contracts are guaranteed, Stanton guaranteed himself every cent the day he inked the deal back in 2014.
LeBron James: $400-500 million
LeBron James is the third-highest-paid athlete in the world, but his NBA contract pales in comparison to the lifetime endorsement deal he inked with Nike Inc (NYSE: NKE). Nike didn't release the terms of the deal, but estimates suggest LeBron's John Hancock earned him somewhere in the $400 to $500 million range.
See Also: The 'Money Fight' Lives Up To Its Name: Where Mayweather–McGregor Purse Ranks Among Boxing's Biggest Bounties
Warren Buffett: $1 billion
Buffett has probably gained and lost $300 million in a single day plenty of times throughout his investing career. In fact, earlier this month, Buffett generated more than $1 billion in a single day when Apple Inc. (NASDAQ: AAPL)'s earnings report sent the value of Buffett's Apple stake soaring.
Jeff Bezos: $4.6 billion
Amazon.com, Inc. (NASDAQ: AMZN) CEO Jeff Bezos was briefly the wealthiest person in the world earlier this year. When Amazon's share price spiked 9.5 percent following its Q1 2016 earnings report, the value of Bezos' nearly 17 percent ownership stake in the company jumped by $4.6 billion in a single day.
George Soros: $1 billion
Hedge fund manager George Soros famously earned $1 billion in a single day way back in 1992 when a big bearish currency bet paid off in a big way.
Soros's massive $10 billion short bet on the British pound earned him a reputation as "the man who broke the Bank of England." When his trade drove down the value of the pound by 10 percent the following day, Soros earned a $1 billion profit.
Image credit: Bryan Horowitz, Flickr
Posted-In: Floyd Mayweather George Soros Giancarlo Stanton Jeff BezosHedge Funds Sports Top Stories General Best of Benzinga
View Comments and Join the Discussion!