Bridgewater's Ray Dalio: "Gold is a Currency"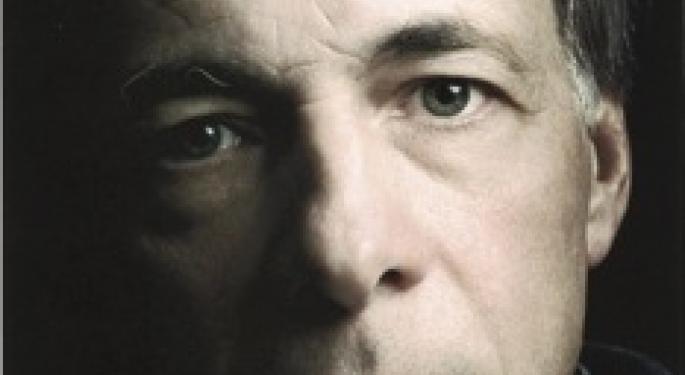 Bridgewater Associates founder and co-chief investment officer Ray Dalio recently spoke at the Council on Foreign Relations. As of January 2012, Bridgewater was the largest hedge fund in the world, with nearly $120 billion under management. The success of Bridgewater has made Dalio one of the richest men in the world, with Forbes estimating his net worth at $10 billion as of March 2012. This made him the 44th richest American and the 88th richest person in the world.
In his comments to the Council on Foreign Relations, Dalio had some interesting thoughts on gold, which is rising once again in the wake of the Federal Reserve's announcement of QE3. In response to a question about gold being a "shadow currency," Dalio said that indeed "gold is a currency." He added, "throughout the history -- I won't go on in length -- but money was like a check in the checkbook and what you would do is you would get your gold. And gold was a medium. And so gold is one of the currencies. So we have dollars, we have euros, we have yen and we have gold."
The questioner then asked Dalio if he "wants gold?"
He responded, "Oh, yeah. (Laughter.) I do. I think -- well, I think anybody -- let's be clear that I think anybody who doesn't have any -- there's no sensible reason not to have some -- if you're going to own a currency, if you don't -- it's not sensible not to own gold. Now, it depends on the amount of gold, but if you don't own, I don't know, 10 percent in -- if you don't have that and then it depends on the world, then you -- then there's no sensible reason other than you don't know history and you don't know the economics of it. (Laughter.)"
Dalio also talked about the hedging properties of gold. He said that it is a strong diversifier and that most investors' portfolios would benefit from holding gold. Based on his comments, it seems safe to say that Bridgewater likely has a position in physical gold and/or gold-linked funds. Despite being bullish on the yellow metal, Dalio said that it will not be the best long-term investment because it is just an alternative to cash.
One of the most interesting exchanges came when Dalio was asked about Warren Buffett's view of gold. The Berkshire Hathaway (NYSE:BRK.A, BRK.B) has made his negative view of gold as an investment well-known in recent years. Dalio, however, said that "I think he's making a big mistake" in staying away from gold investments.
Posted-In: Bridgewater AssociatesHedge Funds Commodities Movers & Shakers Psychology Economics Markets General Best of Benzinga
View Comments and Join the Discussion!