Betting On Cancer Treatment? Keep An Eye On This Company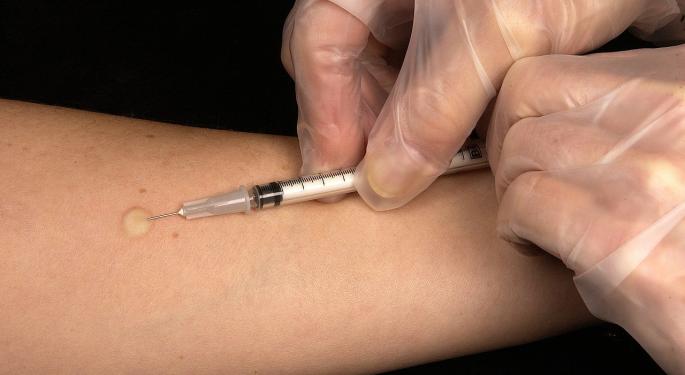 NeoStem Inc (NASDAQ: NBS) recently received a grant of $17.7 million to fund the company's effort in research of cell therapy products for cancer from California Institute of Regenerative Medicine. Following the announcement of the grant, shares of NeoStem rose by over 20 percent.
NeoStem CEO Dr. David Mazzo was on Fox Business News recently to talk about the company's new cancer drug.
NBS20
"Our product is called NBS20; it's too early for it to have a name, but it's in late-stage clinical development," Mazzo said.
"It works by actually identifying within a cancer those cancer stem cells that proliferate and teaching the immune system to actually kill those selectively. So, it's a way to prolong survival in a way that no other treatment does."
Related Link: New Drug Could Transform Pancreatic Cancer Treatment
A Simple Procedure
On how the therapy would be delivered, Mazzo said, "It's actually quite simple. This is what many people call a cancer vaccine.
"So, it's administered as a subcutaneous injection. It's a very simple procedure to administer the drug, a little injection under the skin once a week for three weeks and then once a month for five months and that's it."
The Grant
Mazzo was asked about the kind of results the company got for NBS20 that led it to being awarded the $17.7 million grant. He replied, "We actually generated really phenomenal results and two phase-II trials and the most recent of those two was a controlled, randomized study where the patients received our treatment had a 72 percent survival rate at two years in comparison to a control group, which only had a 31 percent. And even in that study, that control group was an active control.
"So, the historical norm for those patients would have been a 25 percent survival rate. So, really a remarkable prolongation of life," Mazzo said.
Image Credit: Public Domain
View Comments and Join the Discussion!
Posted-In: California Institute of Regenerative Medicine David Mazzo Fox Business News NBS20Health Care Media Best of Benzinga