Exclusive: Nautilus CEO And CFO Dish On Big Earnings Beat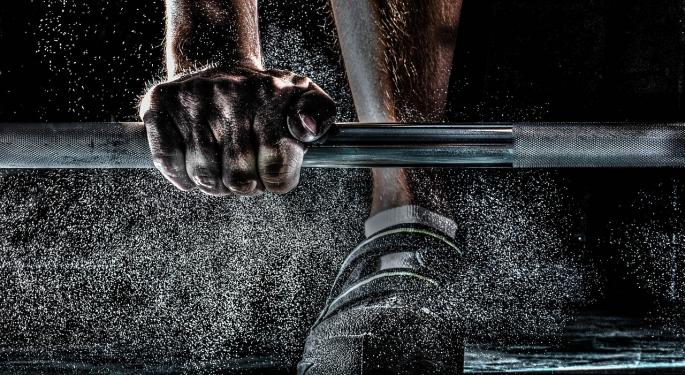 Shares of home fitness equipment maker Nautilus, Inc. (NYSE: NLS) have surged more than 20 percent this week after the company released exceptional Q1 earnings, handily beating consensus estimates. While the market cheered Nautilus' bottom and top line numbers, Benzinga had a chance to speak to CEO Bruce Cazenave and CFO Sid Nayar about the business behind the blowout numbers and what the company has in store for the remainder of 2015.
What Caught Wall Street Off Guard?
According to Cazenave, the Bowflex Max Trainer was a major driving force behind the Q1 earnings beat. Since the Max Trainer was launched last January, it has consistently outperformed both internal and external sales expectations.
In addition to Max Trainer strength during the quarter, the company successfully navigated the West Coast port strike better than many of its peers. While the company is not completely out of the woods yet, Nautilus anticipates that any remaining port-related backlog issues will completely dissipate by the end of Q2.
Related Link: CVS Health Tops Q1 Expectations
Riding The Healthy Lifestyle Wave
Global awareness of the benefits of healthy eating habits and routine exercise has never been higher, and Nautilus has been well-positioned to capitalize on increasingly health-conscious consumers.
Benzinga asked if Nautilus' recent success is due more to company-specific performance or the overall strength of the fitness business.
"The one industry source that tracks wholesale shipments into retail and to consumers showed that the market was only up about 3 or 4 percent last year," Nayar explained. "I guarantee you the industry is not growing at a 35 percent rate," he added, referencing the company's year-over-year revenue growth in Q1.
"Our success has to do with the focus we put on products and the way we take consumer insights and translate that into a great product package with the features people want."
Related Link: Save On Groceries Without Sacrificing Health
The Market Doesn't Lie
Clearly, the market has recognized Nautilus' performance as exceptional within the fitness and sporting goods space. While fitness names like Nike Inc (NYSE: NKE), Under Armour Inc (NYSE: UA) and Lululemon Athletica inc. (NASDAQ: LULU) have drastically outperformed the market in the past year, none of them come close to the 135 percent gain that Nautilus shareholders have enjoyed.
Pioneering The Next Wave Of Fitness Innovation
While shareholders are still celebrating Q1, Nautilus management is looking toward the future, including the company's smart technology initiatives. With the next generation of TreadClimbers coming later this year, Nautilus continues its focus on increasing the connectivity of its products, incorporating Apple Inc. (NASDAQ: AAPL)'s HealthKit and Google Inc (NASDAQ: GOOG)(NASDAQ: GOOGL)'s platforms into its product designs.
Nautilus is also continuing to innovate with its ST560 "smart" dumbbells. "The reason it's smart is because it's going to basically tell you what to do and how to do it correctly, including digital integration and tutorials for more advanced training sessions," Cazenave told Benzinga.
With its next wave of devices, Nautilus will be looking to incorporate and expand on many of the innovations that have made the Max Trainer such a huge success.

Image Credit: Public Domain
View Comments and Join the Discussion!
Posted-In: Bowflex Max Trainer Bruce Cazenave HealthKit Sid Nayar TreadClimbersHealth Care Exclusives Interview Best of Benzinga