Exclusive: Physicians Realty CEO Discusses Legislation, Interest Rates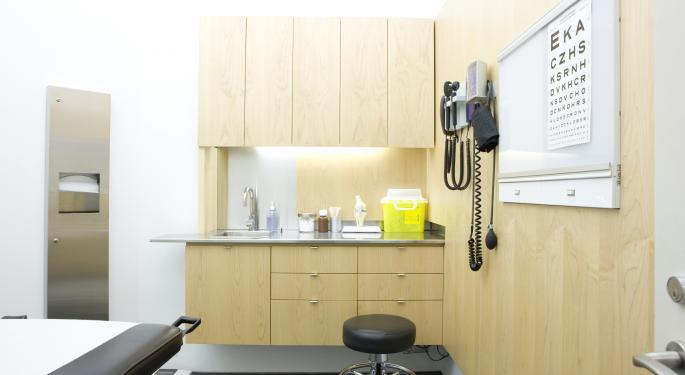 Physicians Realty Trust (NYSE: DOC) is a REIT that invests in and manages properties for healthcare facilities.
Since the company's IPO less than a year ago, shares of the REIT have appreciated more than 26 percent, on top of a six percent annual dividend yield.
In an interview with Benzinga, CEO John Thomas discussed the most pressing issues in his sector.
The Affordable Care Act
One of the most discussed topics in healthcare is the effect the Affordable Care Act will have on care providers and pharmaceutical companies. Thomas explained how the act can change the healthcare realty space and Physicians Realty, specifically.
"Getting more people insured and more people able to pay for their medical care is certainly good for the tenants in our building to pay our rent and general cash flow," he began.
Related: Exclusive: Engility CEO Tony Smeraglinolo On His Company's Wave Of Contracts
Thomas also pointed out that doctors are being absorbed into hospital systems, which will in turn give Physicians Realty Trust's business a boost.
"For those physicians and those hospitals who are pursuing that strategy [bringing more doctors into the hospital], we as a landlord get better credit," he noted. "Instead of a 1,500 square foot office lease, we are signing a 15,000 square foot hospital system who is leasing that space for their physicians and employees."
For doctors who do not want to be employed by hospitals (Thomas estimates this figure at around 40 percent), the situation will be similar from the standpoint of the REIT.
The doctors will "aggregate themselves into some kind of economic relationship where they can create that scale on to themselves," he said. "Again, they are looking for larger space. They are looking for capital. They are looking for opportunities to align themselves with bigger groups… that has become a great target for us to lease them a bigger space."
Interest Rates
The other hot topic in the space is interest rates. With rates at record low levels and the Federal Reserve hinting about an increase, there is little doubt rates will remain as low as they currently are for an extended period of time. Thomas explained the impact higher rates may have on his business.
"A rise in interest rates does not necessarily mean either a slowdown in our business or a diminishing opportunity in our business," he said. "It may affect the near-term value of equity, but over the long term, if you manage your balance sheet well, fluctuations in interest rates should not have an impact on the long term success of the company."
Looking Forward
"An important part of our strategy is to get to an investment grade rating as quickly as we can," Thomas explained. One of the key criteria ratings agencies look for to award an investment grade rating is $1 billion of assets; Physician's Realty Trust currently has about $450 million of assets.
"We want to and believe we can get to that $1 billion asset base within the next couple years," he said, "but perhaps even by the end of the year."
The hope is to reach that level before interest rates shoot higher.
Posted-In: Affordable Care Act health care healthcare John Thomas obamacareHealth Care Interview General Best of Benzinga
View Comments and Join the Discussion!