Who Is Michael Gruen, And How Did He Become So Well Connected?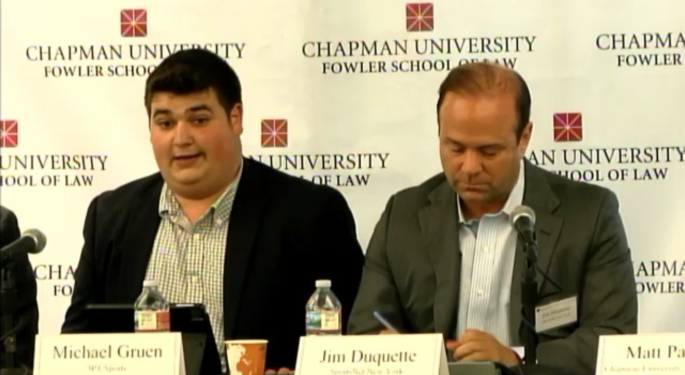 "You can't be a real networker unless you're connected."
That's according to Michael Gruen, an entrepreneur, angel investor, consultant and media personality, who Barstool Sports founder Dave Portnoy has called "one of the most mysterious, obnoxious, interesting humans who ever walked the world."
Gruen is heralded for his network of celebrities, based on an analysis of his media posts and followers, like hedge fund manager Steve Cohen, Houston Rockets owner Tillman Fertitta, Netflix co-founder Marc Randolph, Twitch co-founder Justin Kan, Miami mayor Francis X. Suares, and TikTok star Josh Richards, among others.
In a conversation with Benzinga, Gruen spoke about his origins, as well as tips for scaling networks to grow brands. The following is part 1 of an exclusive series on Gruen.
Michael Gruen (far right) alongside hedge fund manager Steve Cohen (middle).
Motivations: At the outset, Gruen was ambitious, but pressured to fit into his community's belief system.
"When I was 9 or 10 years old, I was already thinking about what my future would be," he said in a conversation on his aspirations to be a Los Angeles-based entrepreneur and investor. "I grew up in an Orthodox Jewish family, and I was considered somebody who was not within the norm."
Though Gruen's parents were supportive, his community, in observance of the Jewish Talmud, was against his ambitions.
"One of my rabbis said, you can't change people's DNA, and too many people were trying to change mine," said Gruen. "He was the first person to realize that I was super unique, and think differently."
Early Start: Gruen got his start in entrepreneurship and networking with drop-shipping, autograph collecting and news writing.
"I was an autograph collector," he said, "and I would try to get autographs from hundreds of celebrities. I also ran a news site because I wanted to network. That was my start in networking — which was — getting to know publicists, through trying to interview their clients."
Despite difficulty in procuring interviews with big stars like Mark Wahlberg, due to his age, enough executives and publicists were sympathetic to Gruen, making his efforts worthwhile. He also purchased an IMDB subscription at age 11, and defaulted to cold emailing, due to its efficacy in soliciting a response.
Get Comfortable Being Uncomfortable: At 13, Gruen would purchase $9 tickets and attend New Jersey Nets and New York Knicks games where he would scout the venues for team executives.
Because of his interest in working within the sports industry, he thought learning from the largest executives was the way to go.
"Most people would go to NBA games and try to get to the players," Gruen said in a conversation on getting comfortable with in-person conversations. "I would print out a sheet with the photos of every major executive at every stadium I went to, and I'd make it my mission to find every one of them."
Executives aren't often recipients of all the fanfare, according to Gruen. As a result, his interest in them would often be welcomed.
"I would approach them, and some were really nice," he said. "The CEO of the Nets, Brett Yormark, gave me merch and was super nice. Like, even his brother, who was at the time CEO of Roc Nation, invited me into his offices. People were really trying to encourage the work ethic that I had."
Career Takes Shape: After early success in networking with sports executives, Gruen opened up a sports management company with an NBPA and FIBA agent. After exiting the sports world, he founded Creator Edge Media, a marketing company for influencers.
"I was at a Brooklyn Nets game, next to a random player, got to know him, and made him a couple of dollars," Gruen said on facilitating marketing deals with lower-level players and local businesses.
"I made commissions on marketing deals. I would go over to athletes and say you have no risk, I'll take you on with no contract … and I'd literally call up every local shop. I signed a Giant -- I literally booked him a meet and greet at the local pottery store."
Since then, Gruen has been mentored by the likes of Anthony Scaramucci, been involved in cryptocurrency and DeFi innovation at FRAX and Everipedia, and, more recently, co-founded TalentXEntertainment, a talent development company for digital creators. He is also the founder of multiple CPG brands, including his energy drink Ani Energy.
In part 2 of this exclusive series, Benzinga will unpack Gruen's tips for networking and staying in the know.
View Comments and Join the Discussion!
Posted-In: Ani EnergyEntrepreneurship Sports Success Stories Exclusives Media Interview General Best of Benzinga