Principle-Driven Small Giants Profit Without Compromising Integrity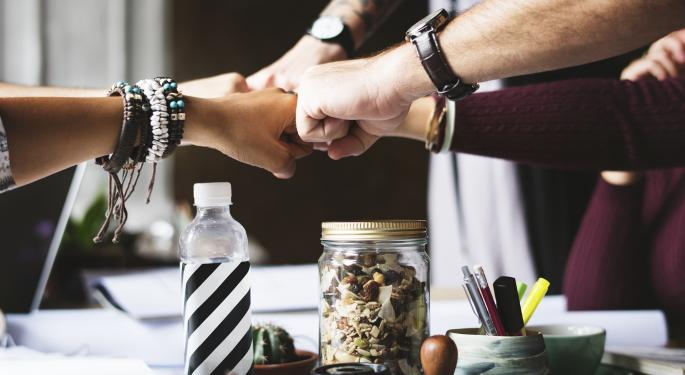 At the ninth-grade lunch bell, Rob Dube darted past the cafeteria to the locker he shared with Joel Perlman. Clients had already begun to line the hall as Dube retrieved his stash of Blow Pops, bought from Perlman's uncle for a nickel a piece, and turned a 20-cent profit.
That was just the beginning of his serial entrepreneurship. The journey, which gained momentum with the pair's 1991 founding of imageOne, had a few pivotal moments, but none more salient than a simple college discovery: Zingerman's Deli, a small Ann Arbor cafe.
While the food was the initial draw, "Joel and I were really more fascinated by their business" and unique customer experience. "We would just sit there and marvel at how they would do this and how they would do that, and we would always say if we ever had a business of our own we'd want it to be like this."
It wasn't until years later that Dube realized the painstaking meaningfulness of Zingerman's model.
See Also: The Tao Of Zingerman's, The Deli That Grew Into A $62 Million Business: 'We Exist To Give People Better Lives'
Waking The Small Giant
In Zingerman's, Dube had stumbled upon one of the earliest Small Giants, a national community of "purpose-driven" leaders working to change the nature of American business.
"They come up with a set of values, purpose and vision, and that sort of guides the way," Small Giants executive director Hamsa Daher said. "It's kind of like the North Star for how they practice their business."
The philosophy aligns with that of Conscious Capitalism, a sister organization founded by Whole Foods Markets CEO John Mackey, but, as the name implies, involves smaller, non-national firms.
"They're all sort of unique in their own ways, but the common thread among them is that they are prioritizing purpose over profits," Daher said. "They are putting people before everything else. They are focusing on culture. They may do that differently in each organization, but essentially they're just very purposeful and thoughtful about their growth."
People Over Profits
For Zingerman's, a 35-year-old firm that embraced the spirit of Small Giants well before the community emerged in 2006, that fundamentally human emphasis has meant a few things.
For one, it's meant pressing a cause beyond basic enterprise.
"Business can be a powerful tool for social justice and economic justice," co-founder Paul Saginaw said. "How much good could a business do in a community? What kind of impact would we be able to have on the social and the educational and the cultural vitality of a community where we did business?"
It's also meant acknowledging that "the greatest asset that any organization could have" is trust. It's meant a balance of power ━ corporate decision-making by consensus rather than majority vote. It's meant calculated risk-taking, local job creation, incremental wage increases and partner management.
For Dube, now the chief operations officer of imageOne, a print technology shop in Oak Park, Michigan, the Small Giants values demand democratic, open-book financial practices, vulnerable leadership, and humble detachment from ideas.
"We need to be profitable to keep going, but the purpose of this business was not just to create wealth for its shareholders but to provide a good life and meaningful work for everybody involved," Saginaw said.
The Costly Principles
Upholding these standards can prove painful. Small Giants pledge themselves not to profit-driving best practices but to guiding principles — uncompromisable, operational values adhered to without exception.
"Guiding principles aren't principles unless they cost you something," Saginaw said. "If you're principally driven, there are times when it's going to be awkward and uncomfortable and embarrassing and expensive."
For some Small Giants, this has required the forfeiture of a new customer or account that would jeopardize the rate of growth or well-being of employees. Zingerman's has had to terminate a partner's contract for acting out of integrity with the organization.
For Dube, those risks aren't worth a second thought. In fact, they look pretty good against the alternative — the cognitive dissonance of violated principles.
"I'm not all about … trying at all costs to win something or win it back," Dube said. "That's not within me. What's me is to just be authentic, and if we connect well, fantastic. If that means we can have a really good business relationship, even better, but let's not compromise each other's values and stay true to ourselves, and if that means we can't do business together, then so be it. It's OK."
View Comments and Join the Discussion!
Posted-In: Conscious Capitalism Hamsa DaherEntrepreneurship Psychology Small Business Exclusives Interview General Best of Benzinga