The Boxer And The CEO: A Detroit Love Story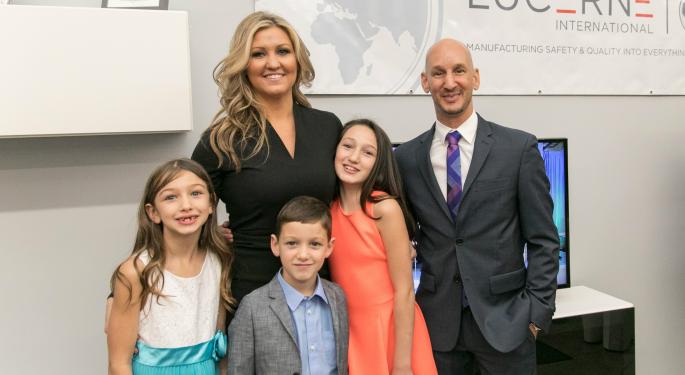 She's a lifelong factory worker who now runs her own auto-supply business and spends half her time in China. He's a former professional boxer who is content raising their three kids.
Mary and Scotty Buchzeiger are a power couple who spent years figuring out how to make their unorthodox marriage work.
"We understand each other. We don't try to change each other," said Scotty, a scrappy junior lightweight who retired with a record of 13-12-1, with nine knockouts.
"I gotta tell you something about my husband, when he puts his mind to something, he just does it. He's got willpower," said Mary, CEO of Lucerne International of Auburn Hills, Michigan, which provides cast, stamped and forged components and assemblies to General Motors Company (NYSE: GM), Fiat Chrysler Automobiles NV (NYSE: FCAU), BMW and the heavy trucking industry.
It wasn't always so rosy.
Growing Up In The Auto Industry
Mary, the daughter of a GM executive, had factory jobs growing up and was expected to work. Her father started Lucerne in 1993 and Mary went to work there. It was her idea to move manufacturing to China.
"We were barreling along, a million or two a shot [per year]," she said. "Now we're about $32 million in sales."
She took over operations in 2006 and bought out her father in 2015. "It's all mine now," she said.
She employs 34 people in Michigan and another 16 through her joint ventures in Asia.
Her work is all over the road. The trademark door hinges on the Jeep Wrangler? "I actually make every one of those door hinges," she said.
"We make the battery tray for the Chevy Volt. We make 600-pound axle housings for heavy trucks."
She has a Corvette in the garage at home. "I made the piston, so why not?"
She also did a little boxing back in the day. Which is how she met Scotty.
See Also: Failing To Decentralize State-Run Economy Could Be Big Trouble For China
A Street Fight That Led To A Career
Scotty, 45, was an indifferent student growing up in the suburbs of Detroit. When he was 18, he clobbered another young man who provoked him. He shattered the youth's nose and got arrested.
An uncle took him to a gym where he studied kickboxing. There were regular boxers there, and they would tease the kickboxers about not being real fighters. One of them happened to be James Toney, a three-time world champion in three weight classes.
"One day I was in the gym and they asked me if I wanted to box," Scotty said. "And I fell love with it. James Toney became my mentor. He helped me get fights at one point. "
After only three amateur bouts, Scotty turned pro. He fought from Los Angeles to New York to Las Vegas, often on the undercard of a Toney bout.
"All I wanted to be was like James Toney, I wanted to make him proud."
He fought on a Toney undercard on ESPN in St. Louis. He lasted eight rounds against a boxer who was 20-0. He fought an Olympic medalist. He fought another boxer who was 5-0.
"They even told me they were bringing me in to lose," he said. But he won anyway.
Fighting out of Detroit's Galaxy Boxing Gym, which was run by the legendary Jackie Kallen, he fought a boxer from archrival Kronk Gym for the Michigan junior lightweight state title and won.
But after starting out 11-5, he skidded to a 2-7 record and decided to get out after six-and-a-half years. He became a personal trainer.
Mary, an amateur boxer herself, was looking to buy her own gym, and friends thought it would be fun to fix her and Scotty up. They met at a bar 14 years ago, and he got off to a bad start by insulting her gym.
"She was actually married at the time we met. We became friends and she got divorced," Scotty said.
They met at another gym a couple months later, and something clicked. They married and had three kids.
Death In The Family
Six years ago, their marriage was tested when their 25-year-old nanny, Sarah, died of a brain aneurysm. Scotty found the body. He was barely making what they were paying the nanny, $40,000 a year, and it was decided Scotty would be a stay-at-home father.
"The first three years, I had a really hard time," he said. "My wife is traveling the world in a male-dominated business and I thought I was being punished. I became very jealous. I'm sure any guy would become jealous. It was not pretty. I lost interest in my kids, my life, I stopped working out."
"Losing our nanny, it was a horrible time for us," said Mary, 42. "My business was starting to grow and I was starting to travel. I'm gone most of the time. I didn't realize how hard it was for him. It was a real tough patch. I am entertaining clients and we would fight over the phone."
One morning he woke up and decided to change.
"My epiphany was my kids," he said. "What I didn't realize was how important I was to my family."
"I always say I feel like I don't contribute financially. You need to tell yourself that if I didn't do what I do, she couldn't do what she does."
The couple has an 11-year-old daughter, Ryan, and another girl, Shane, 8, and Cody, their six-year-old boy.
"We had total role reversals," said Scotty, who blogs about the Detroit boxing scene. "She's like one of the guys, I'm like one of the girls, having coffee with the moms."
Posted-In: Chevy VoltEntrepreneurship Sports Top Stories Success Stories Exclusives Interview General Best of Benzinga
View Comments and Join the Discussion!