Detroit: A Bastion For Women-Owned Businesses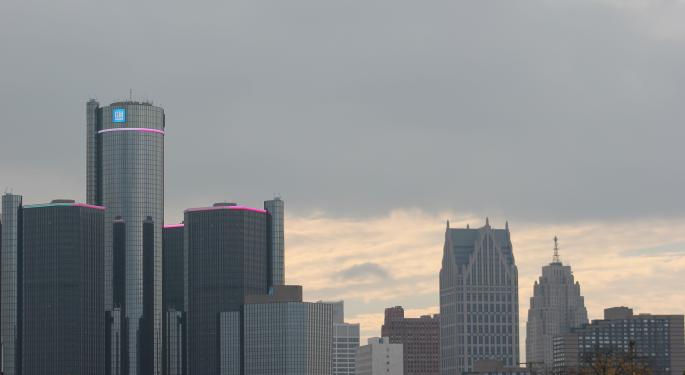 In the last 10-20 years, American Women-Owned Businesses (WOB) have come a long, long way. Simply put, the number of WOB have grown 45.2 percent in the past decade and 108.8 percent in the last 20 years.
The growth of employment within those same firms and time periods were fairly modest (by comparison) at 7.1 percent and 26.8 percent, respectively. Sales on the other hand from WOB over the last 10-20 years have had almost spectacular increase of 46.8 percent and 98.2 percent, respectively.
We shall analyze WOB by the 50 biggest Metro Areas. Our focus shall be on Metro Motown because that's our home area and because the growth of WOB have been outstanding here both in terms of numbers and sales.
The Study
From 2007–2016, the number of WOB has increased 121.4 percent (ranking No. 2 in percentage growth). Sales/Revenue from the WOB in metro Detroit have been wonderfully robust, increasing 63.8 percent. Detroit is winning by growth in number of Businesses and Sales.
Related Link: Detroit Tigers Are MLB's Least Efficient Team, While Atlanta Braves Are On Top
American Express Company (NYSE: AXP) (the publisher of the WOB study) has developed a "power index" of sorts that combines all three variables (number of Businesses, Employment & Revenues) from a growth perspective. It lists Metro Motown as No. 8. No surprise that New York City and Los Angeles are No. 1 and 2 in each category by totals.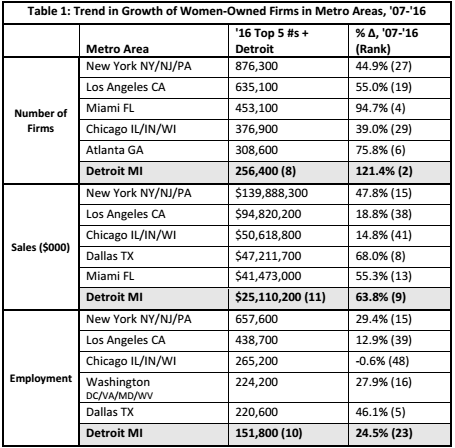 Detroit's Growth
We can all understand why places such as New York City, Los Angeles, Chicago and Dallas succeed: Size matters. As for Metro Detroit, it's only the 14th most populous Metro Area in the US. So its success isn't based on size but on its "newness" as an entrepreneurial haven or hot spot. While very old (Detroit was incorporated in 1806) its "newness" as an entrepreneur's playground and a wonderful opportunity for success is very recent.
Local and state governments have been very supportive of entrepreneurs (especially women entrepreneurs), offering new programs and funding certain markets such as tech and real estate like the Michigan Small Business & Technology Development Center (SBDC). In 2015, the SBDC counseled over 5,000 businesses, helped start 354 new businesses, created 2,041 new jobs and provided $206 million in capital to new businesses. Others include NEIdeas the Small Business Association of Michigan, and the Michigan Women's Foundation.
Not The Only Place
Detroit shares some of these characteristics with Memphis (National Association of Women Business Owners, etc) and San Antonio (Small, Minority, Women and Veteran Owned Business Enterprise Program, among others). Young people with great ambition, and especially young bright women are attracted to such an environment and to such an opportunity.
Today, WOB is a hallmark of new growing bizes themselves. Their subsequent success breeds more success. Truly more than ever before, women find it relatively easy to succeed here, to get funding here, and to find productive partners, here. The "new" Detroit is truly a renaissance for business and in particular for Women-Owned Businesses.
View Comments and Join the Discussion!
Posted-In: DetroitEntrepreneurship Economics Success Stories Small Business General Best of Benzinga