What Is It Like To Be A Female Entrepreneur?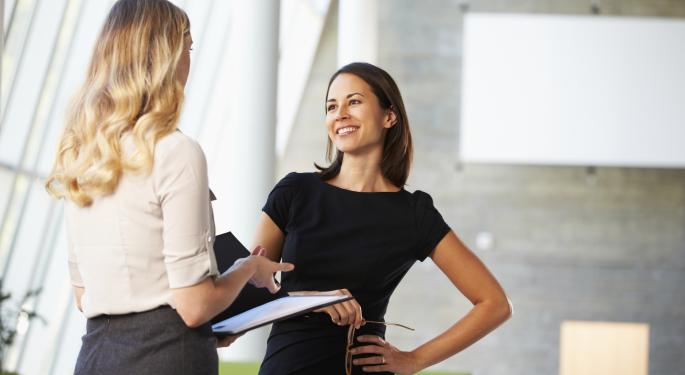 According to "The 2014 State of Women-Owned Business Report," there are approximately 9.1 million businesses owned by women in the United States.
Since 1997, there has been an average increase of 591 women-owned businesses each day.
In honor of Women's Entrepreneurship Day, Benzinga reached out to 10 women who own their own businesses to see what it's like to be a female entrepreneur.
Tia Johnson
Founder and CEO of the Violet Sanctuary Spa
"To be a female entrepreneur is to be a heroine in the making; a heroine who is discovering her ability of endurance and belief system while on the road of being a successful entrepreneur.
"There are two road blocks for many female entrepreneurs: a sense of value and tooting one's own horn. In other words, knowing what to charge for products and services and possessing sufficient confidence to not be overshadowed or underappreciated by our counterparts.
Related Link: 5 Companies That Are Empowering Women
"It's a journey of self-discovery."
Terri Orlowski
Founder of beyond the office
"Being an entrepreneur is difficult in and of itself, but as a women, I feel it is especially so. A lot of the social mores (child rearing, taking care of the household, etc.) are still applied, sometimes for forcefully than if the woman was traditionally employed.
"But, at the same time, I feel it is very gratifying to be able to come out on top, to be able to say 'Look, you expected me to do all of this and build my business, and I did. Let me see you do that.'"
Tina Forsyth
Founder of Tina Forsyth's CEO Business School
"Being a woman entrepreneur has allowed me to create a legacy for my two daughters. I am a single mom and the sole provider for our household. If I can teach my girls that they can make a great living and have their freedom while doing what they love, then I know I've done my job well."
Bonnie Joy Dewkett
Founder of The Joyful Organizer
"It¹s not easy being a woman entrepreneur. I have been brushed aside by men many times at networking groups. People think your business is a hobby and not something you take seriously.
"However, I think there are some positives to being a female business owner. Other female business owners are so supportive and even if you¹re not local, form a community of advice and understanding that I¹m fairly certain men don¹t do for each other."
Donna Moyer
CEO and Co-Founder of Preferred HealthStaff
"Women have come a very long way in the workplace. Today, more women are in leadership roles in Fortune 500 companies than ever before. And as more women climb corporate ladders, and become successful entrepreneurs, the view of women in the workplace will continue to evolve."
Kelly Marchetti
Founder and CEO of My Recovers
"I think women bring a unique perspective to business and seem inherently equipped to juggle a lot of moving targets that come with launching a business. More and more of our strategic partners, more by happenstance than design, are women.
"That wasn't the case 10 years ago and it speaks to not only the positive gains women are making in business, but also the increased interest by women to take risks and do their own thing."
Karen Canady
Founder of Bikie Girl Bloomers
"How might my experience differ from that of a man entrepreneur? Perhaps, as a woman, I am more focused on my mission and building relationships with my customers and others in the bicycle industry and the women's bicycling movement.
"I care about the bottom line because I know it is essential to the viability of the business, but for me, maximizing revenue takes a back seat to maximizing my mission to encourage bicycling and broaden our clothing choices."
Celia Szelwach
Founder of Gift of Words
"Being a female entrepreneur is living a life that celebrates the many strengths of women and enables them to be true to themselves and their unique visions for the future."
Jana Bayad
CEO and Co-Founder of SingldOut
"Being a female entrepreneur is like being a major risk-taker, passionate about the greater good, with an unrealistic drive to succeed. Soon we will be recognized as 'entrepreneurs' simply rather than being identified by our gender first!"
Posted-In: business womenEntrepreneurship Interview General Best of Benzinga
View Comments and Join the Discussion!