Scary Side Of Fintech: Detroit Startup Helps Haunted Attractions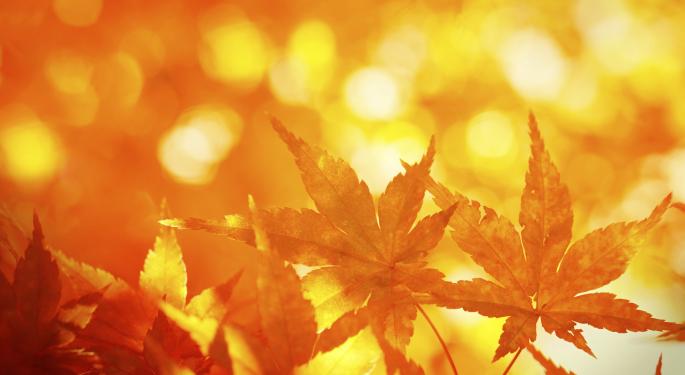 Sometimes, fintech startups get a little spooky... or at least the customer base does.
Take HauntPay, for instance. It's a payments and event ticketing system for haunted attractions.
Born out of experience in the payments industry and intrigue into the world of Halloween entertainment, HauntPay officially launched in the 2014 season and already has more than 17,000 new users, 60,000 tickets sold and $1 million transacted.
Related Link: This Startup Is Eating Adobe And IBM's Lunch
CEO Alex Linebrink has run the parent payments company, Core Merchant, for four years. He told Benzinga in an email that he comes from a family that had always put together elaborate Halloween setups on their own property and even attended haunted attraction conventions. That's how he got the idea for HauntPay.
"Through my interest in haunted attractions, I knew that they desperately needed a low-cost and low-effort solution," he said."I also knew where they did their buying every year (the conventions!) so I gathered some developer buddies, and we started working on our proprietary technology in early 2013."
I just bought tickets to Statesville Haunted Prison on October 3 2014! Join me - https://t.co/dXoI4OVGD7

— Alex Linebrink (@AlexLinebrink) October 17, 2014
How It Works
Linebrink said HauntPay allows event owners to get set up in a few minutes, collect online pre-sales and in-person sales, and even add merchandise sales. The goal was to create a system for haunted attraction owners that was "low-cost, high-tech and super simple."
The process is brisk, given that business owners have all of the information prepared, and accounts are automatically approved. HauntPay also gives owners access to the payments much sooner than other systems.
"Unlike other providers, we don't make event owners wait until after the event to get their funds," Linebrink said. "All funds show up in their bank accounts in one to two business days after a transaction takes place."
Zombie Paintball is here! Board a 5-ton military truck & hunt live zombies at @fieldofscream in West Greenwich, RI. - http://t.co/VFEk63cf1I

— HauntPay (@HauntPay) October 6, 2014
It's more than just the set up that's simple. At the event itself, attraction owners can use the mobile app to scan purchased tickets -- both printed ones and those displayed on mobile devices -- look up guest names to redeem tickets or even sell tickets right there with a card swiper.
"The system has been incredibly well received," Linebrink said. "Just one year in, we're already the de facto leaders for online and in-person ticketing for haunted attractions."
Why The Niche System Clicks
The team at HauntPay did a little research and found that the most likely future buyer of a ticket to a haunted attraction is someone who has already bought tickets to a haunted attraction in the past.
"Our biggest value over competitors to haunted attraction owners might just be that by using HauntPay, they'll actually see more ticket sales just based on the fact that more than 100,000 other haunted house tickets are being sold on HauntPay," Linebrink said.
He explained that just by listing their own event on HauntPay, attraction owners are getting exposure to their target market.
"People looking for haunted attraction tickets don't go to Eventbrite. They go to HauntPay," he said.
Post-Haunting Season
The team behind HauntPay has already begun the transition for when Halloween is over. This past August they launched Passage, which is essentially a non-haunted version of the event ticketing system.
Passage has done a potpourri of events so far, including beer and wine festivals, pet costume parties and even a Bone Thugs N Harmony concert. While Passage remains somewhat generic right now, Linebrink said the plan is to utilize the success they found in the haunted attraction space across other niches.
"We plan to continue building out the system so that we can have that same value through specialized landing sites for other event verticals as well," Linebrink said.
He said their next ventures will include beer and wine festivals, renaissance fairs, living history museums and paintball.
Posted-In: Detroit electronic paymentsFintech Entrepreneurship Startups Tech Interview General Best of Benzinga
View Comments and Join the Discussion!