How Parkmobile Helped Cities Raise Parking Revenue By 20%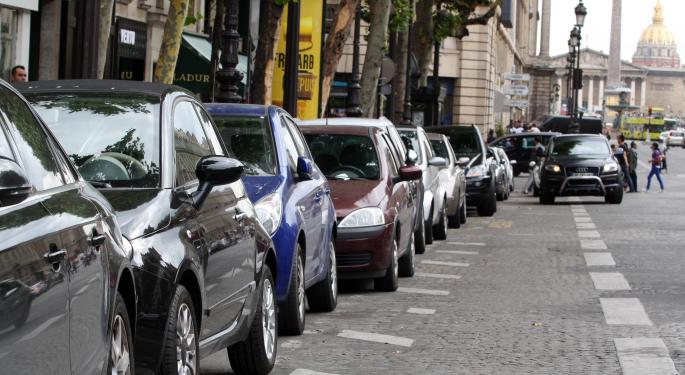 Parkmobile, an online parking service, first entered U.S. markets in 2008. More than 30 states have adopted the service, allowing consumers to pay for parking at more than 600 locations. "Parkmobile was the first provider of pay-by-phone parking," Cherie Fuzzell, CEO of Parkmobile, told Benzinga. "We were founded in 1999 in Amsterdam. The technology was brought over to the United States about 10 years later." Parkmobile's adoption has come with an interesting side effect: an increase in parking revenue. "The city's parking revenue actually goes up without a rate increase, and that's because more people will pay if you make it easier to pay," said Fuzzell. Revenue tends to increase by about 20 percent once Parkmobile is fully deployed in a mature market.
Related Link: Is Ford Open To More Startup And Technology Acquisitions?
Mobile Payments
Somewhere around 2.5 million people have registered to use Parkmobile in North America. They pay a small fee ($0.35 to $0.45 per parking session), allowing cities to implement the service without any added expenses. Parkmobile is used by roughly 10 million people worldwide. Those are impressive numbers considering the slow growth of mobile payments in other sectors. Fuzzell thinks Apple Inc. (NASDAQ: AAPL) could make a difference. "Personally, I believe that Apple Pay is going to do a lot to accelerate the adoption of mobile payments for everyday spend," said Fuzzell. "About 75 percent of the phones used for our members are iOS devices." Fuzzell said that once phones and vendors are equipped with the same mobile payments technology, overall utilization will rise. "In Washington DC, we collect over 56 percent of all their parking revenue through our mobile payments app," she said. "That's unprecedented. The reason why is that paying for parking with your phone is just an incredibly valuable consumer use case." Parkmobile allows users to pay for parking without leaving their car. The company also sends alerts 15 minutes before each session is about to expire. Users are then able to extend their parking time remotely. "That's why I believe that consumer adoption of pay-by-phone parking solutions has really taken off," said Fuzzell. "It's just a great consumer convenience."
Growth Spurt
Parkmobile isn't ready to announce where the service is headed next, but Fuzzell said that more cities are coming soon. "We just announced that BMW Group made a substantial investment in Parkmobile," she said. "Our next big thing is we're going to continue to roll out new cities and markets, universities, transit lots. Anywhere people pay to park is a good market for us. We're also implementing reservations for parking. That's sort of the new product offering that we'll be rolling out." Parkmobile is also coming to connected car systems from Ford Motor Company, Volvo and BMW. "We think there's a need for a central player in this parking space to emerge as the industry winner," Fuzzell concluded.
Disclosure: At the time of this writing, Louis Bedigian had no position in the equities mentioned in this report.
Posted-In: BMW Group Cherie Fuzzell comments FordEntrepreneurship Travel Success Stories Tech Best of Benzinga
View Comments and Join the Discussion!