PayPal Co-Founder Peter Thiel Explains How PayPal Led To A 'PayPal Mafia'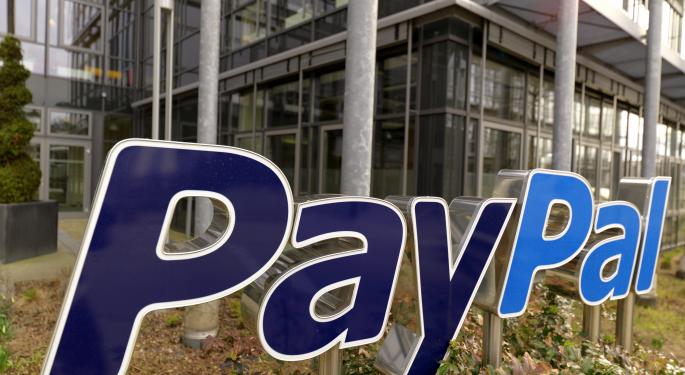 PayPal co-founder Peter Thiel appeared on Benzinga partner James Altucher's podcast this week and talked about everything from being Facebook's first investor to retirement.
One particularly interesting topic Thiel covered was PayPal itself, which he founded in 1998 with Elon Musk, Max Levchin, Ken Howery and Luke Nosek. Just four years later, the e-commerce platform was acquired by eBay Inc (NASDAQ: EBAY).
A 'PayPal Mafia'?
Speaking with Altucher, Peter Thiel explained what the characteristics of PayPal were that led to a "PayPal mafia" (in Altucher's words) -- a group of uber-successful, extremely talented entrepreneurs who once worked with the company.
"PayPal was probably the single company in Silicon Valley that produced most entrepreneurs and the most startups... there'd been something like seven companies started by ex-PayPal people worth over a billion dollars," Thiel said.
He lists YouTube, Yelp, LinkedIn, Tesla, SpaceX, Palantir and Yammer. "We had a lot of strong personalities who found a way for it to work," Thiel explained, adding that PayPal was a "tough business to build.
"We had a lot of competition, a lot of regulatory challenges, but we figured out ways to overcome them... it was not easy, it was not impossible," he said.
Related Link: PayPal Co-Founder Peter Thiel: Facebook Was Systematically Underestimated
Peter Thiel also remarked that these difficulties might have better prepared PayPal's executives for life after the company. "When people come out of super successful companies like a Google or a Microsoft, they've often experienced business as too easy, and then they're set up to fail.
"A lot of these great companies are not just sole efforts of a single god-like person who does everything. There are [typically] small teams that really work together well."
Listen To The Full Podcast
In the full podcast, Peter Thiel reveals his thoughts on other subjects, including whether Uber will be a success, how to create the next valuable monopoly and what it was like turning down $1 billion from Mark Zuckerberg.
Posted-In: James Altucher PayPal Peter ThielEntrepreneurship Top Stories Be Your Own Boss Interview General Best of Benzinga
View Comments and Join the Discussion!